Craft Room Makeover – Reveal Day!
This craft room and art studio has come a long way! I've painted and stenciled the floor, refinished an antique table, DIY'd a ceiling fan with a gold finish, made clay labeling tags, reorganized, built art ledges, and reupholstered a chair. Whew!
If you missed any of the projects, you can find them here….
*Some affiliate links used in this post, which means that I may make a small commission, at no additional cost to you, if you purchase through one of my links. My full disclosure is here.
And a big "thank you!" to the One Room Challenge team, Better Homes and Gardens, and all the other sponsors who made this thing happen!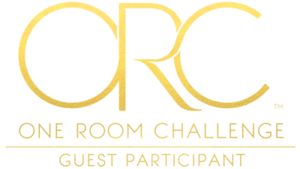 Where the craft room makeover started:
Bad lighting, really bad storage and organization, and floors the color of burnt hummus….this was what I started with in this space.
But with it's planked walls, high ceiling, and built-in bookshelves, it did have a lot going for it.
This room was where my husband worked every day, before we added onto our house and he moved upstairs to his brand new office. Just to refresh your memory, here's where my craft room makeover started…..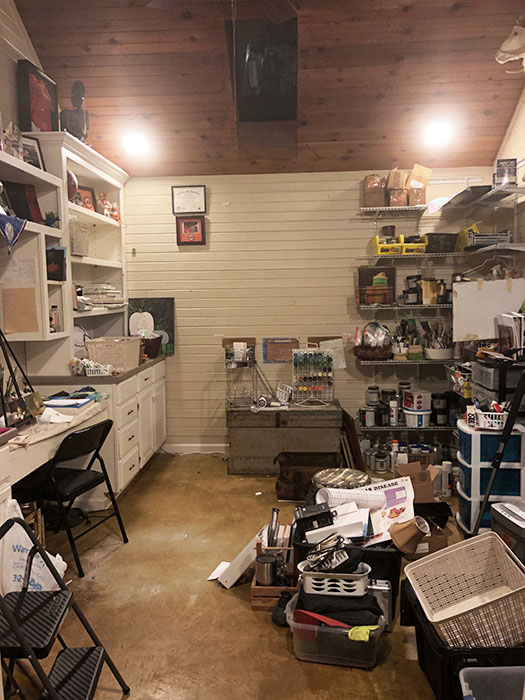 I'd had my eye on this room for a long time, though, in hopes that it would someday become a space of my very own. A space where I could spread out my supplies and work on projects to my heart's content without getting in anyone's way.
The after:
After lots of design planning, a few changes of mind, and many weeks of hard work, this is what the space looks like today….
What a change, right?!
Of course, it all started with the stenciled concrete floor….
The whole space is now light and airy and feminine.
Storage:
It is still a workhorse-type of a room, so there are lots of storage baskets, paints, and supplies in here. And I don't mind seeing supplies on shelves (I have open shelves and even an open pantry in my kitchen), just as long as they are neatly arranged. All of my bottles of paints and stacks of fabrics are "artistic" to me and I'm happy to have them in the open.
But some things are still hidden away. I didn't like seeing all the stuff in the plastic tower of drawers. It just wasn't neat, tidy, or "artistic" at all. So, I did cover that one with a ruffled slipcover….
The open shelves are simply pieces of pine that I stained and then we attached with these brackets.
Also, I have paperwork that I only rarely need and didn't want it taking up valuable drawer space. And I certainly didn't want that to be displayed, so I put it inside of the vintage suitcase under the table. To make it easier to move, I put it on casters.
The air-dry clay tags I made and placed on the storage baskets are working very well to keep my supplies organized. The fact that I can wipe the labels off and re-write on them if (no, definitely when) I eventually reorganize, will be so helpful.
Feminine details:
Earlier, I said that the room looks light and airy and feminine. You might remember that I was having to design around a couple of decidedly masculine items in this room that couldn't be moved….at least for now. One was a trio of taxidermy pieces and the other thing was a large safe.
The deer got some flowers….
And the safe got some oil paintings and a tassel…. ?
The safe is actually very functional in here. Up on top, it's holding some metal drawers with lots of small supplies. The front has a few of my oil paintings attached with magnetic bulldog clips. And on the side, a couple of super strong magnet hooks are holding my tabletop easel and extra ribbons. I love these hook magnets!
I also love these plants in macramé hangers. Who would've thought that macramé would make a comeback? Ha! The plant on the right is a real plant. I ordered if from Etsy (similar plant here) and, unfortunately, it was shipped right when we had a very unusual cold snap. I'm hoping I can nurse it back to health. The plant on the left, is a faux succulent. If the real one doesn't make it, I do have extra faux ones I can plant. ?
I took down the old curtains and ordered this wood shade. I have several of these throughout the house and they are awesome!
The shade is cordless and you just pull it down with your hand and then give it a push and it slides right back up! No dangerous or unsightly cords necessary:)
Unfortunately, due to the current pandemic, the specific shades I bought are on manufacturing hold. But on the same site, there are several other similar shades .
Artistic details:
Also, I hung a mobile above the safe. I took part in a small art challenge last year where we painted or drew on one index card a day for a month. I hung a few of those index cards and some small pieces of clay art on the mobile….
As I mentioned last week, I'm a beginner oil painter and wanted to have a place to display my work.
So we built these art ledges…
I love that when I look at my artwork, I can see my progress over the course of the past few months. It gives me extra motivation to keep painting and improving.
If you are interested in art lessons and an art community, I am a member of Vital Art Sessions. The group only opens to new members a couple of times per year, but you can check it out here.
A 3M hook on the side of the navy bookshelf holds my apron….
Vintage crocks hold some of my paintbrushes and palette knives….
The desk and bookshelves:
The other side of this craft room and art studio has built-in bookshelves. They got a fresh coat of white paint, some upgraded storage and organization, and some decor….
I usually paint here at this desk. In order to give it a little extra coverage, I bought a length of gold polka dotted oilcloth. I still put some paper down before I paint, but the oilcloth wipes up easily and helps protect the desk surface…..
This is a great spot to sit and paint!
And I personalized it by taping some photos of my husband and kids to each side….
Also, I bought a rolling cart that's loaded with extra art supplies. I can just roll it over to the desk when I'm ready to paint….
Functional decor:
Some of the decor in this craft room makeover is functional….like this jar of ribbon scraps with a bird perched on top…..
And some of my extra silk flowers on top of the bookshelf….
And of course, books….
"Free" decor:
And the vignettes that are purely decorative were free because I "shopped" the house to find them…
The end result:
It took quite a bit of work to whip this space into shape (especially the floor!). But in the end, it was totally worth it. No more paint projects on the kitchen counters or sewing projects taking up the dining room table.
I am loving this new crafting room and art studio! It's a wonderful, creative space I can call my own. ❤️
Thanks for following along with my craft room makeover. I hope you've also had a chance to see some of the other talented designers as they've taken the One Room Challenge.
I'd love it if you'd leave me a note in the comment section below and tell me your favorite part of this makeover series or if it helped you find a creative way to organize or decorate a space of your own.
Happy decorating!