Is there something that you really want to do, but for whatever reason, have never gotten around to trying it? I'm pretty sure most of us have at least one thing on that list. Me, I have a few:) One of them is learning to paint. Now, I'm already a wall and furniture painter. I've also done a couple of painting parties, tried a few paintings from a book, and taken one online class. And, while all of this satisfies a part of my creative impulses, I really want more. So, when I read about this index card painting challenge, I was all in.
The challenge was to paint on an index card every day for a month. So, in the month of March, I painted (or drew) each day. I had previously purchased a couple of online drawing classes, so I started out just drawing things I found as I looked around my house.
Here's one of my first drawings…..
You can see when I did each index card based on the number on the top. I drew the sheep pictured above on day 2.
A few more pencil drawings…
After a couple of weeks of pencil drawing, I decided to try painting with acrylic paints. I painted each one with gesso first and then used a variety of acrylic paints that I bought at Michael's. I also started out just using palette/painting knives and no brushes.
This first one is a trio of abstract flowers…
Then I did a palette knife bird's nest…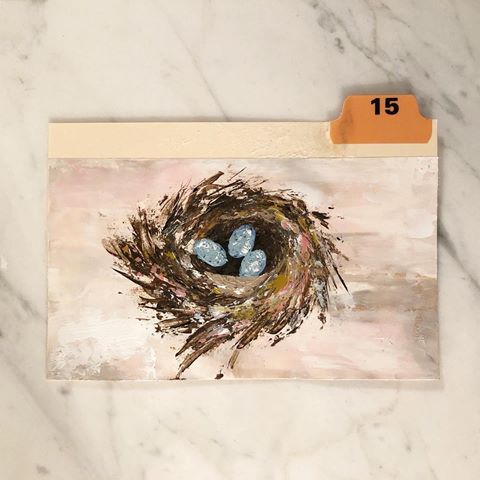 This cute little seaside cottage is based on a mixed media piece by Louise O'Hara…
I found a photo of a church online and, again, used palette knives to paint it…
Finally, on day 19, I decided to try my hand at painting with oils. For this card, I just played with the colors to see how the oils compared to the acrylics….
A couple of days later, I attempted my first landscape. I found the oils to be challenging, but I pressed on…
I drew a picnic basket on day 12. On day 25, I decided to try to paint it. I didn't get the proportions quite right on this one…
Next, I watched a Youtube tutorial by Gary Jenkins. These flowers are based on that tutorial…
I was short on time on this day, so I went back to acrylics for this vase of flowers…
My final card in the index card painting challenge was this impressionist style landscape with oils…

When I was finished with the challenge, I placed some of the cards in little vignettes. Here's a few of them hanging on a beaded garland…
And then propped up in a few spots…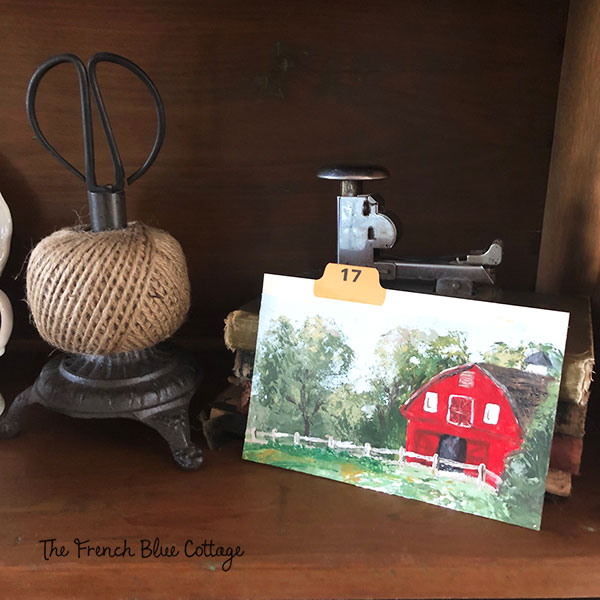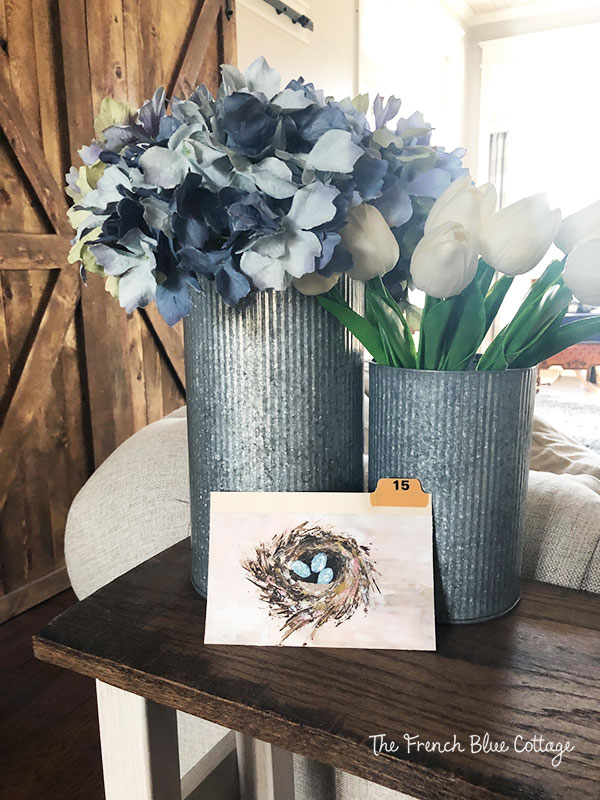 I shared all 31 of these on Instagram. If you don't already, I'd love for you to join me here🙂

Here are some of the things I learned during this challenge:
I love to paint!
Painting with palette knives forces you to give up trying for perfection:)
Inspiration is everywhere! You just have to look.
Painting groups of trees is really hard!
I love to paint! (did I mention that already?)
I thoroughly enjoyed taking part in this painting challenge. The small size of the index cards made it easy to experiment and to keep painting daily. I plan to continue painting and am looking into some more courses (online and local) to help me learn the techniques and develop the skills to become an artist.
So, what do you want to learn? What's on your list?
Don't wait any longer. Whether you start out with something small like my little index cards or jump right into something big and bold, I know you can do it!