A simple, yet elegant fall tablescape in earthy neutrals and metallics

Sometimes when you are a crafter or a DIY'er, you do strange things. ?
My family is pretty accustomed to seeing me create or paint some unusual items. I might be plastering and painting a ceiling fan, shaping sticks into a letter, or adding chicken wire to bifold doors…and they won't bat an eye.
But the other day, my 15-year-old son opened the back door and asked, "Whatcha doin' Mom?"
"Spray painting corn," was my reply.
He laughed and said, "Well, that's a new one!"
Ha! I can still make them do a double take from time to time!
Want to see how I used the spray-painted corn?
Take a look at my simple and elegant fall tablescape and see if you can spot it….
Some affiliate links are used in this post. You can see my full disclosure here.

The faux, dried flower centerpiece
The vision for this year's Autumn table started when I made the aged plaster flowers. I wanted to use some earthy colors in a very muted, tone-on-tone style. It's a bit of a departure for me, but in the end, I still managed to add in some blue.
My color palette for this table is mostly: terra-cotta, blush, rose gold, gold, and navy.
For the centerpiece, I started with a decorative urn filled with floral foam. I attached the plaster flowers to the foam with floral greening pins.
Then I placed a faux pumpkin in the center. It's a fake pumpkin with a real stem.
*Tip: If you find any pretty stems on your real pumpkins, be sure to save them at the end of the season. You can dry them and hot glue them to fake pumpkins to make them look a bit more realistic or at least more interesting.
To cover the plastic stems of the flowers, I tucked in a bit of American moss. I had never heard of American moss before, but that's what Hobby Lobby calls this kind:)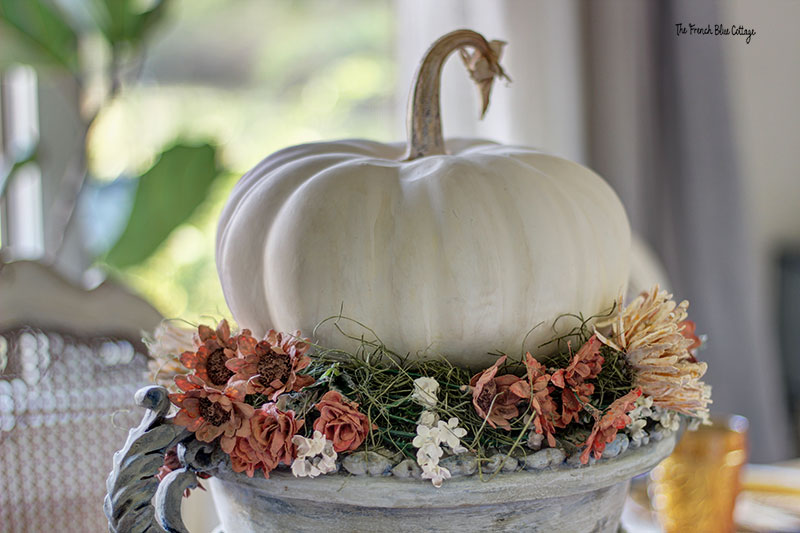 The runner
Next up…the easiest runner I have ever "made". I bought a long length of this satin-y rose gold fabric. I simply created a few folds and draped it down the center of the table and let it hang quite a bit over the edge. How easy is that?!
This is not a fabric type that I generally choose. I'm typically drawn to more rustic fabrics, but I had an elegant fall tablescape theme in mind, so I went with it.
In hindsight, it would have looked better in pictures if I had pressed it first, but it's not bothering me in real life:)
Gold stems and vase filler
Next, I wanted to do a series of single stems in small bottles or vases. I had gold ginkgo leaves in mind, but couldn't find them at the local craft store. I bought a couple of other inexpensive stems instead and painted them with this gold spray paint. I really like the color of this paint.
This is where the spray-painted corn comes into play:)
I bought a bag of popping corn and sprayed the kernels in brown, orange/copper, and gold. I just put a couple of handfuls into plastic sacks and sprayed a few spritzes of paint into each sack. It dried very quickly and then I shook each bag and sprayed again. I repeated a couple more times until the corn kernels were mostly covered.
Then, I mixed all the colors together and put them in the bottom of the glass bottles with the gold stems. It gives them a little interest and texture and reminds me of Indian corn.
I kept the symmetrical feel of the table by adding a few brass candlesticks down the center.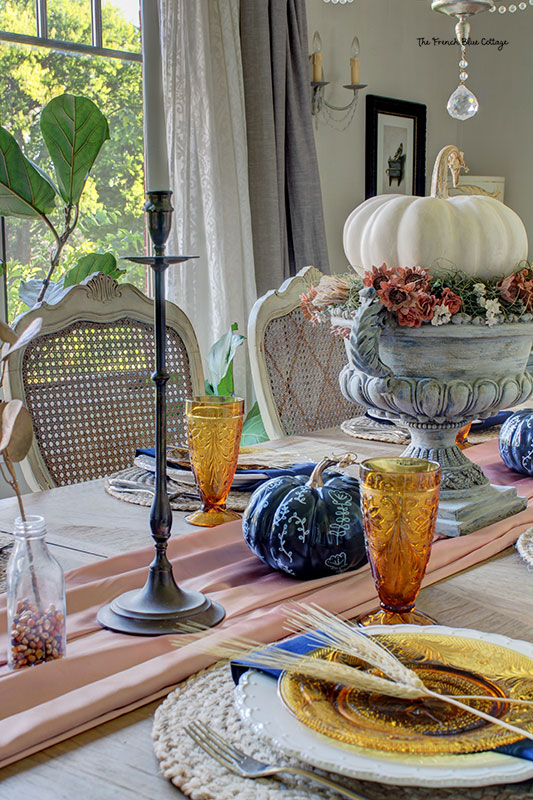 Painted pumpkins
To bring in a bit of navy blue, I painted some faux pumpkins. I mixed some acrylic craft paint in blue and black to create a very dark navy.
Then I used a white paint pen to draw some random vines and flowers on each section of the pumpkins.
Next, they got a coat of spray gloss to make them shiny. (Shiny is also not my typical finish, but it seemed to up the elegance factor a bit).
Finally, I used this gilding liquid to paint the pumpkin stems. I used Martha Steward brand, which you can get at Michael's. If you prefer to shop online, I found some similar gilding liquid here.
Place settings
For the place settings, I started with a round jute placemat. These either came from Hobby Lobby or Target….I can't remember which:)
Next, I added a simple white plate. I found a great deal on these navy blue napkins, which I wrapped around the plate. I topped the navy napkins with an amber-colored glass plate.
My grandmother gave me her amber place settings and her gold-trimmed flatware a few years ago and I love getting to use them in the fall.
On a side note, I read recently about how the younger generations are not wanting to keep their parents' and grandparents' china, silver, quilts, and things like that. I understand not being able to keep everything, but I can't help but wonder if they will regret not keeping some of these things.
For the final little touch of fall on the table, I placed a couple of wheat stems to round out the place settings.
Other vignettes
For the blue table in the corner, I just placed a small Autumn wreath on top of the boxwood wreath that was already around the neck of the bottle and called it done.
Tiny little additions of seasonal color can make a big difference. You can bring in some fall flavor, even if you only have the time or the energy to do a little bit of fall decorating.
The cabinet on the other side of the dining room also got a few additions to make a simple vignette…
An elegant fall tablescape
This earth-toned, elegant fall tablescape is a departure from my usual style, but I enjoyed trying some new things…including spray painting corn!
Have a wonderful weekend and happy fall decorating!