This is the story of a poor little neglected dresser that got a second chance.
At an estate sale one day, I wandered out into a barn that was on the property. There sat this filthy little dresser whose finish had definitely seen better days.
Other people walked by but no one was giving it a second look. Scroll back up the the "before" picture and I'm sure you can tell why;)
I immediately liked the "bones" of the piece but was put a bit put off by its condition, so I left it behind.
The next day was Sunday and all estate-salers know the joys of half-price day! I had to go back because my mom had purchased a really great dresser that she turned into a vanity. (On a side note, I'll have to take a picture of her dresser turned vanity to show you because it's really lovely.)
But back to the estate sale. Of course the ugly dresser was still there. Saturday's price had been great, but Sunday's half off price was just too low for me to pass up. 
Once home and thoroughly cleaned up, I stripped what little finish remained on the top of the piece. Then I gave the whole thing a quick sanding.
The paint…
I painted the body of the dresser and the drawers with Annie Sloan chalk paint in Graphite.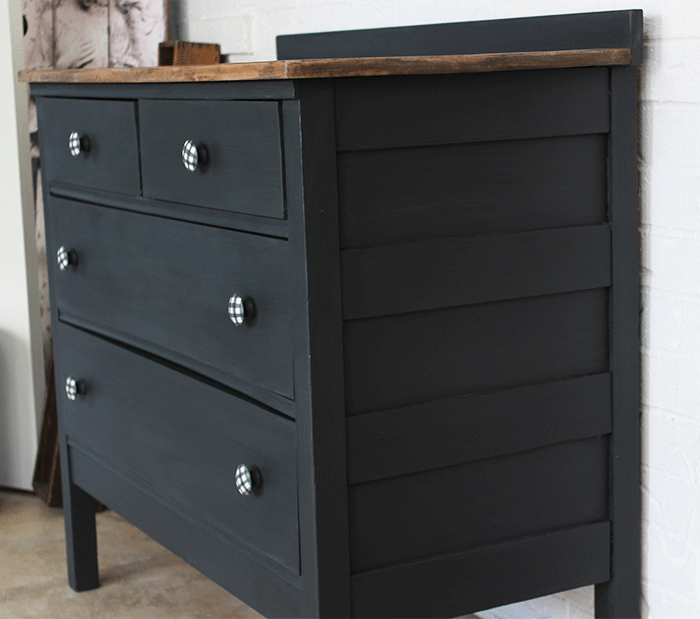 The dresser top…
Next, I used my favorite paint-stain, Stain and Seal, to re-do the top.
This dresser must have had a mirror or something attached because there was a gap on the top.
My husband simply nailed a 1 x 3 to the back. It can be really tough to match stains, so I opted to paint this board the same color as the dresser body.
The finishing touches…
I also added a little extra color to the inside of the top two drawers with a roll of paper I bought at JoAnn's…..
I nearly always try to do something special or unique with each piece of furniture that I re-do.
For this one, I used the original wood knobs and painted a gingham pattern on them.
I love how this piece turned out!
(Stay tuned for a tutorial on the knobs.)
I wish I'd taken some more beauty shots of this little dresser, but it sold too quickly:)
My suggestion for someone who wants to flip a piece of furniture is….don't be too quick to pass by the filthy or hideous piece. BUT it should have good lines, be the right size, and be sturdy (unless you have some carpentry skills). I'm also quite finicky about smells and everything gets the sniff test before I bring it home!
I took a chance on this dresser and it got a second chance to be a real cutie!