Is shabby chic still a thing?
Because that's how I think you'd describe my dining room table right now. I don't really do much "theme" decorating, but I do like to change things up for the seasons. And Valentine's décor really lends itself to a vintage-y shabby chic look.
For the Valentine's table:
In January, I bought a patchwork style table runner from Pottery Barn and that really kicked off the shabby chic vibe.
Then I decided to use mismatched vintage salad plates to dress up my white dinner plates. I searched all over the local antique shops looking for these salad plates. Many of them are only sold in sets, but I searched high and low and was finally able to find a few for my vintage shabby chic Valentine's table.
I'm not complaining, though, because scouring through antique stores is my idea of fun!
The most expensive salad plate was $6 and the cheapest was $1.25. Not bad!
For the centerpiece, I used a bouquet of faux white flowers that usually sits on my bathroom counter. I just added a little chalkboard sign with the word "love" on it….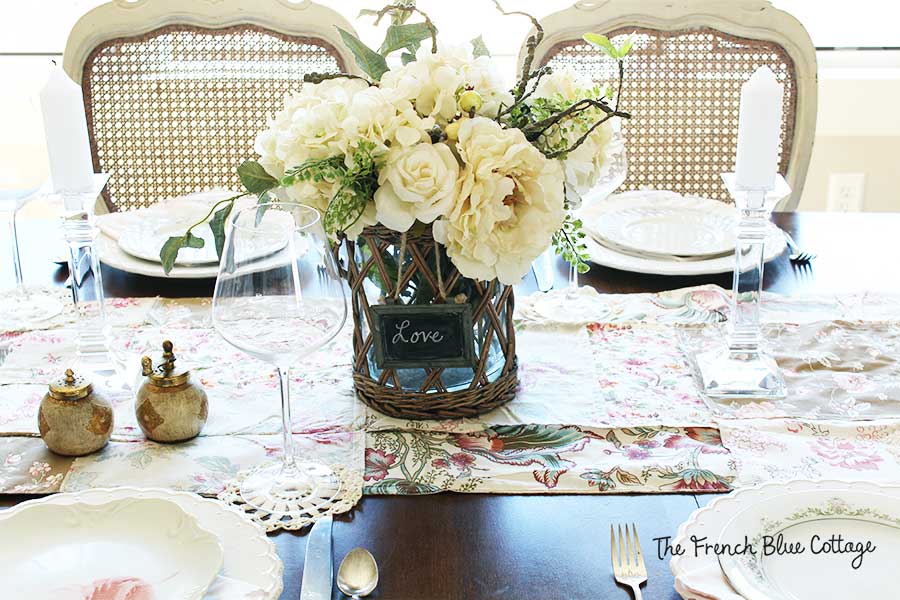 Then I decided to use crystal and glass for the rest of the tablescape. I rarely use crystal in my décor, so it was a nice change. I used crystal candlesticks that were given to me by my grandmother and a couple of glass vases with pink silk flowers…
The formula for this tablescape is about as easy as it gets: a floral table runner, mismatched vintage china and silverware, a bouquet of silk flowers, plus some glass and crystal…
For the cabinet:
First, I dressed this area up for Valentine's Day by updating my chalkboard for the season. This idea came from my very favorite chalk lettering book (affiliate link) found here.
Next, I added some wooden hearts to my wood bead garland, gave the goose a lace bow, and laid down a bundle of silk flowers….
Under the cloche, is a branch from my yard that I hot glued some pink flowers and a couple of heart stickers to…
For the blue side table:
And a cute little detail in the typewriter….
For the cupboard:
The cupboard just got a couple of minor changes. I added a pink floral painting that you can just see in the top corner of the photo below….
And I hung a glass heart with a couple of keys to one of the cupboard's pegs…
My husband and I plan to celebrate Valentine's Day a day early and then we'll put this shabby chic table to good use by having a nice dinner with the kids on the 14th.
For our family Valentine's dinner, I think it would be really nice to read and talk about the Bible's "love" chapter (1 Corinthians 13). And because my oldest has an etiquette class coming up soon (and just simply because I have teenage boys), this fancy dinner might also be a good time to practice some table manners?
Happy Valentine's Day!