So we're at that "in between" time of year for decorating. All the beautiful Christmas decorations are taken down and put away. Although for full disclosure, I did take down the Christmas chalkboard and the small tree in the entryway just last week!
But now everything is looking a little drab.
The mantel has a hodge podge of decor items on it because I can't remember what was there before Christmas.
The porch is completely bare. I actually put an autumn wreath on my front door the other day because it looked so empty.
And do you want to see a visual representation of the word "irony"?
Well, here it is…..
That is just too sad. So, I went to the local gardening center and picked up the only things they said would survive under a covered porch during the Oklahoma winter…..cabbage, dusty miller, and ivy.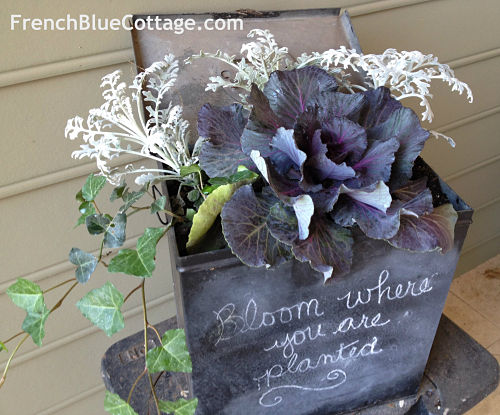 Much better, don't you think?
I also sprayed my new plants with Deer Off. We'll see how that goes.
I'm hoping to not have another incident like the one we had at Halloween this year…..
Apparently deer like Jack-o-lanterns.
I bet cabbage is on the menu, too.