I open my Christmas tubs each year and always end up saying things like, "Oh, I love this…." and "Oooh, I forgot about that one."
I think most of us don't have the budget or the space to completely re-decorate for Christmas every year. I wouldn't want to, anyways. There's something comforting about pulling out those familiar Christmas items each year.
I usually use the same decorations in mostly the same ways, just making small changes.
But this year, I did something very different with my mantel. I really played up the French country Christmas theme…
I shopped the house and used my tall white candlesticks with crowns, gold candelabra, and a wreath with layered frames….
Old clay pots with white candles add to the festivities….
I lit them just to take a picture and my son said, "Um, Mama, I think that candle is too close to the wreath." He's right, it was only a couple of inches away and if I was going to light them for longer than it takes to snap a picture, I'd definitely move it farther away!
Here's a wider picture of my French country Christmas mantel…
Another favorite tradition of mine…displaying all the photos of my children with Santa Claus over the years…
(If you zoom in on the photo above, you can probably see my daughter shrieking like a banshee in last year's Christmas picture! She did not want me to walk away and the photographer just kept snapping away.)
Just across from the Santa photo table, is our family's version of a Christmas village. For years, I wanted a beautiful Christmas village. Then I realized that Lego had some Christmas sets and my boys were majorly into Legos. I have great memories of the three of us putting these sets together. Each one of us would do a page at a time while the other two found all the pieces for that particular page. I like it better than the villages I shopped for before because this one has memories…
My oldest son thought that one of the mini figures should be snowboarding off the roof of a house this year!
In the back of the Lego village, I have three real wood slices with a hole drilled in the center of each and a faux branch placed in the hole. I wrapped a strand of mini battery-powered lights through these "trees"…
My French country living room decorated for Christmas…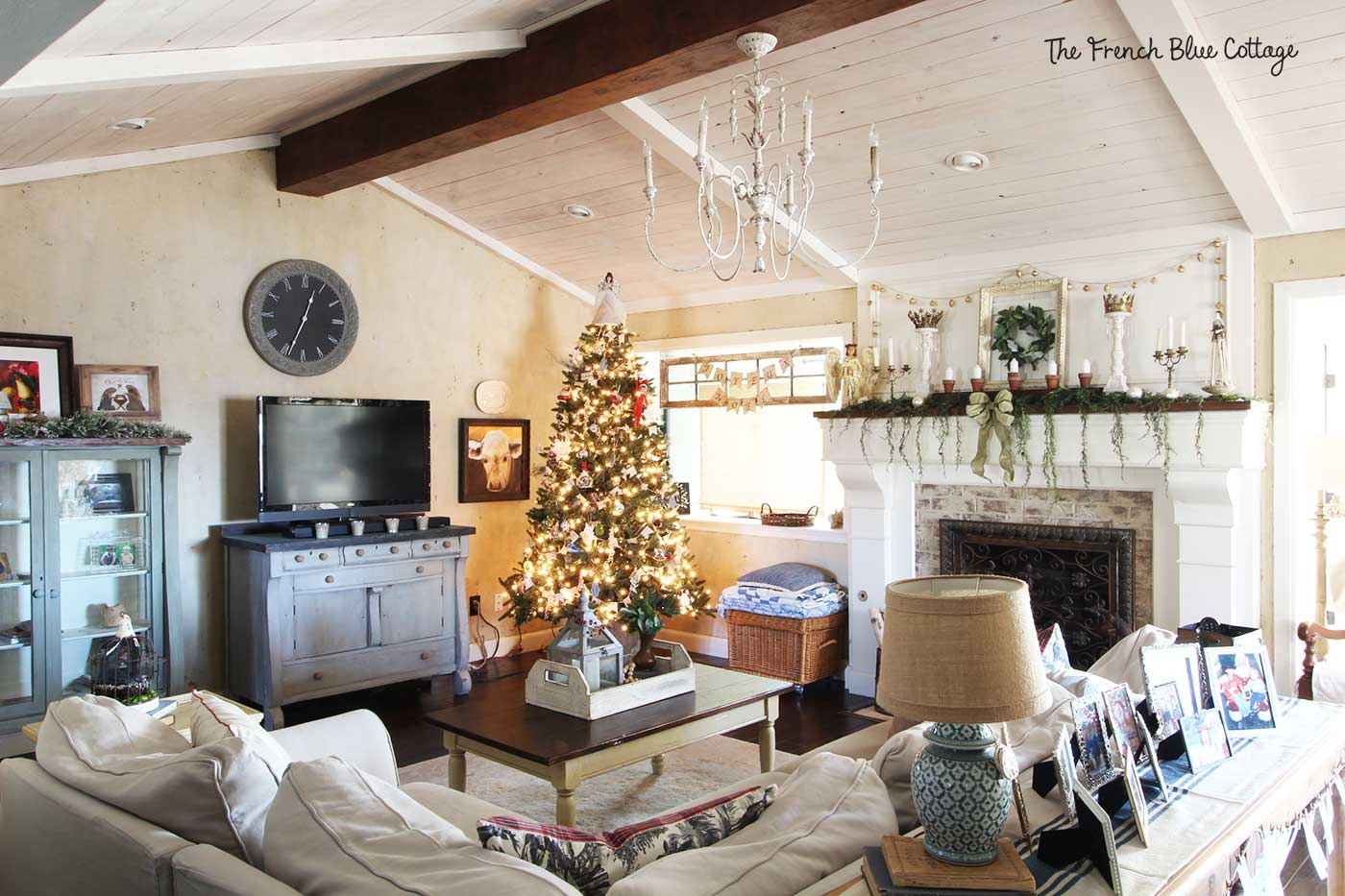 The other night, my youngest son said that the Christmas tree at night makes him feel "so cozy and happy inside". I agree! There is something cozy and magical about a lit Christmas tree at night…
*Update* I finally finished making some stockings for the mantel this year. We have some cute stockings that were knitted by my aunt, but my newest daughter doesn't have one of them yet. So, I decided to make some new ones so they'd all match. I used some ticking, a "grain sack" placemat from Hobby Lobby, some old quilt pieces, and some ribbon. They tags are ceramic and we made them in a pottery class. The tops of the stockings are made from a sweater that was the first Christmas gift that my husband gave to me when we were dating.
I love how these stockings turned out!
And here's a couple of close ups….
Thanks so much for joining me on my French country Christmas living room tour! In case you missed it, here's part one of the Christmas home tour with my porch and entryway.