In this post: Ideas for coastal inspired mantel decor with items you might already have at home.

Coastal Inspired Mantel Decor
I was supposed to be in Mexico a couple of weeks ago. We were going to just lie on the beach for a few days of relaxation. Obviously, with the worldwide health crisis, that was out of the question. With everything going on, this is a minor issue but I will still admit to being disappointed.
So I decided to bring a little flavor of the seaside to my landlocked home. ?
Most bloggers are weeks or even months ahead of everyone else when it comes to seasonal decor. Notice I said "most bloggers". I am very frequently late with mine. In fact, my mantel has been sporting the same winter look since, ahem, January.
I skipped right over the spring mantel and slid straight into summer. Here's what I did…
*affiliate links used below…see full disclosure here.
Gather some coastal inspired supplies
First, I shopped my house and gathered things that looked coastal or beachy. This is what I found….
I didn't use all of these items on the mantel, but it's always good to have options. Also, I ended up having to search for a couple of non-beachy items to help round out the decor.
If you need some ideas, here are some decor items that would work well for this look:
Seashells (of course!)
Coral
Sea Fans
Starfish
Driftwood
Green, Clear, or Blue colored glass
White or driftwood colored baskets
White or driftwood colored wooden objects
Greenery that is lighter or blue-ish in color
White or light, airy flowers
Jute rope or twine
Birds or fish
Sailboats/anchors (if you prefer a more nautical look)
Sand
Smooth rocks
Water or beach themed artwork
Did I miss anything? ?
1. Start with some of your larger items
The wicker jug was the only thing I left on the mantel after I took down the winter decor. It stayed on the left side and I just stuck some sprigs of white faux flowers inside. I also placed the green seltzer bottle next to it….
On the right, I first placed the green vase and the wicker bottle to mimic the other side. Then I decided that it needed a little more height over here, so I took a tall candle holder from my dining room table and placed it on the end….
2. Balance out the colors and sizes
So far, so good. But after placing the candlestick and the white painted wicker jar on the right, the left side needed some white. I took a swan (or is that a duck or a goose???) from my bookshelf and placed it on top of some old books. The starfish leaning against the jug added another pop of white….
3. Sprinkle in a few smalls
I added a piece of coral to the top of the candlestick and an extra seashell and a sea fan for some textural interest.
For the center of this coastal inspired mantel, I placed some jars of sand from my trips to various beaches. Just a note about the sand: A couple of these beaches now have policies against taking sand, but they did not at the time. And honestly, these jars are so small that they probably contain about the same amount of sand that you would shake out of your towels, shoes, and beach toys. But there's also no reason you couldn't fake it with regular sand. Just add some tiny shells and label the jar as a vacation memory anyways!
I used this inexpensive label maker to label these jars of sand. It has worked very well for me. These jars of sand are several years old and the labels on all but two of them have stuck just fine. The two that pop off a little on the ends are really long words and I just need to add a dab of glue to the back.
And voilà!
A coastal inspired mantel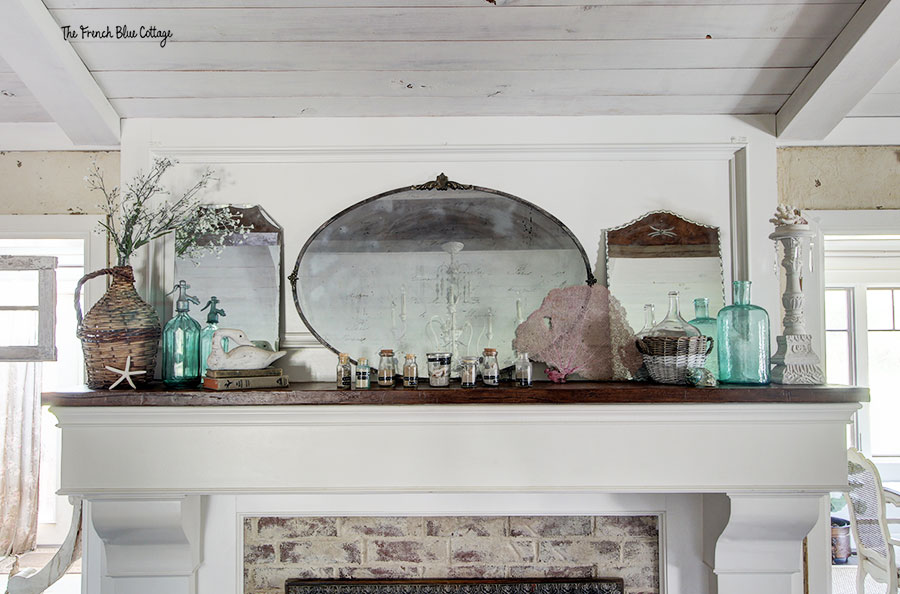 It's a nice, light and airy change from my winter mantel to this seaside look and I'm loving it! As much as I love to decorate, sometimes I drag my feet when it comes to taking down and putting up seasonal decor. But when it's complete, it's always so great to have things switched up.
As the last step, I also added a small basket of faux flowers to the hearth area….
After I finished the mantel, I added a little seaside flavor to the cupboard in the dining room…
I added faux coral, blue green colored greenery, driftwood, and a twine-covered jar of sand. I took the woolly tassels off of the garland and added the starfish. Here's how to make the interchangeable wood bead garland.
Sometimes it's fun to see the decorating process in action. If you'd like to see a short video of my coastal mantel makeover, you can check out the video below.  ?
Happy decorating!