In this post: An Easter tablescape with bunnies, gingham, and fresh flowers.
Do you ever go through seasons where you feel like you're perpetually behind schedule on just about everything? That's where I've been for the past few weeks. We've had a couple of bouts of sickness around here and that's the only thing I can pinpoint as to the cause of it.
I think sometimes you have to accept that you're not going to have it all together and you just have to power through it. "Better late than never" should be my motto this month!
*Affiliate links used below. You can see my full disclosure here.

It's just a few days before Easter and I've just now finished my Easter tablescape because I was literally waiting on grass to grow:)
the Easter grass:
I planted grass seeds in a basket…
and in some white ceramic pots…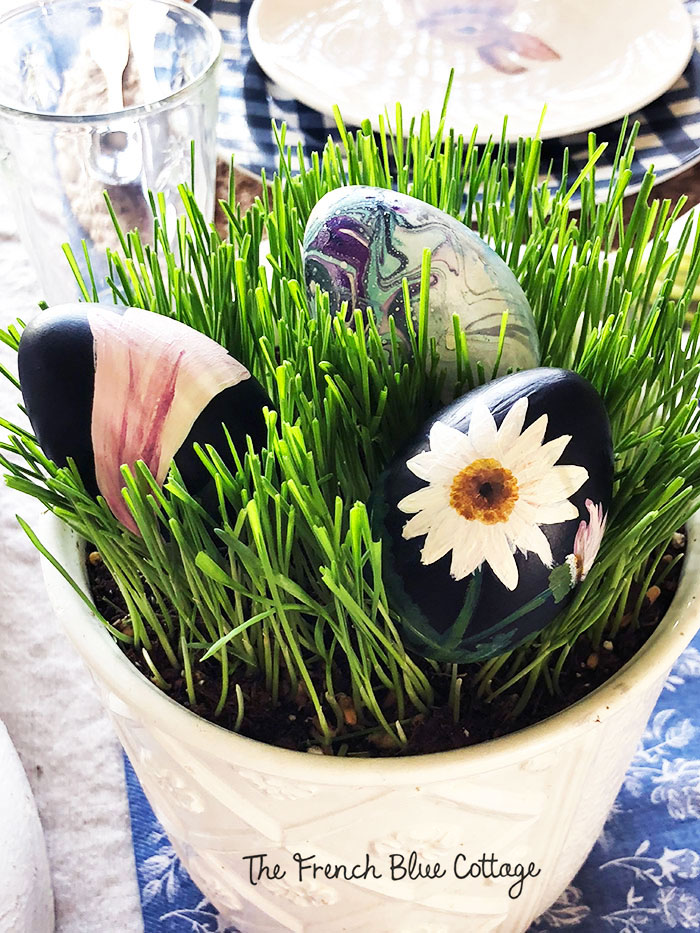 These are paper mâché eggs that I painted with craft paint, using the DIY instructions I found here. They really are easier to paint than they look!
You could try paper mâché eggs like these or wooden ones like these.
The grass was very easy to grow once it got started. It actually needs a "haircut" now almost every day!?
the Easter tabletop:
For the table, I used my linen tablecloth from Target. I love this tablecloth. It's the perfect natural color and I adore the rumpled-look, easy-care of linen.
To dress the tablecloth up a bit, I cut some fabric from Hobby Lobby into 18-inch wide panels to go across the width of the table. By the way, Hobby Lobby has a really great collection of spring fabrics right now. It was so hard to choose:)
For the place settings, I started with a woven placemat (which was an awesome buy at 40% off at Hobby Lobby).
Then, I added a blue and white gingham plate from Pottery Barn. And topped it off with these adorable bunny rabbit salad plates, also from Pottery Barn. Each place setting has a white napkin that I simply tied with green ribbon and tucked in a faux flower sprig (some yellow, some green, and some pink)…
the Easter centerpieces:
I recently found an old wood column base at a local antique store and a cute family of bunnies at an estate sale. I topped them with a cloche…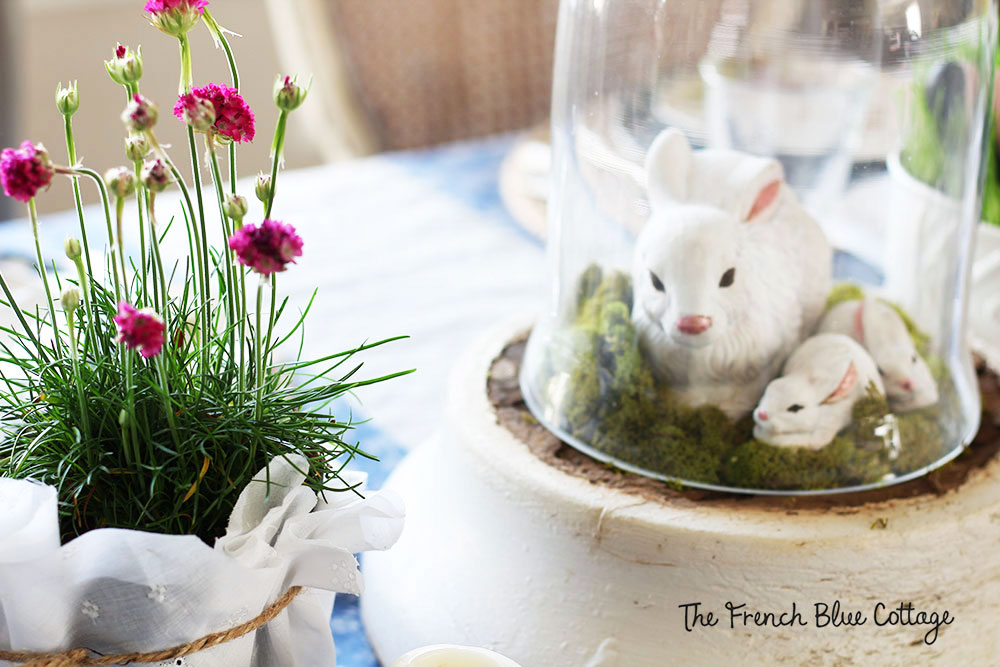 Faux or real flowers? I love them both. But this year, I decided to go with potted flowers. This way, after Easter, it will be close to planting time and I can just pop these in the garden. It's a great, budget-friendly way to decorate!
I covered the plastic pots with fabric and tied them with twine…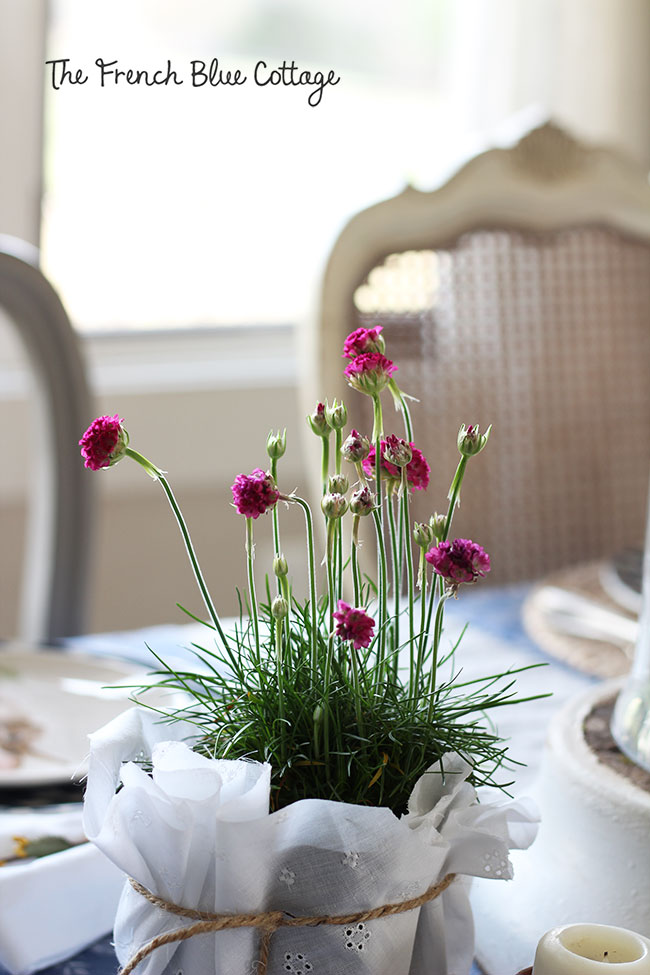 I trimmed the fabric on this yellow one with pinking shears…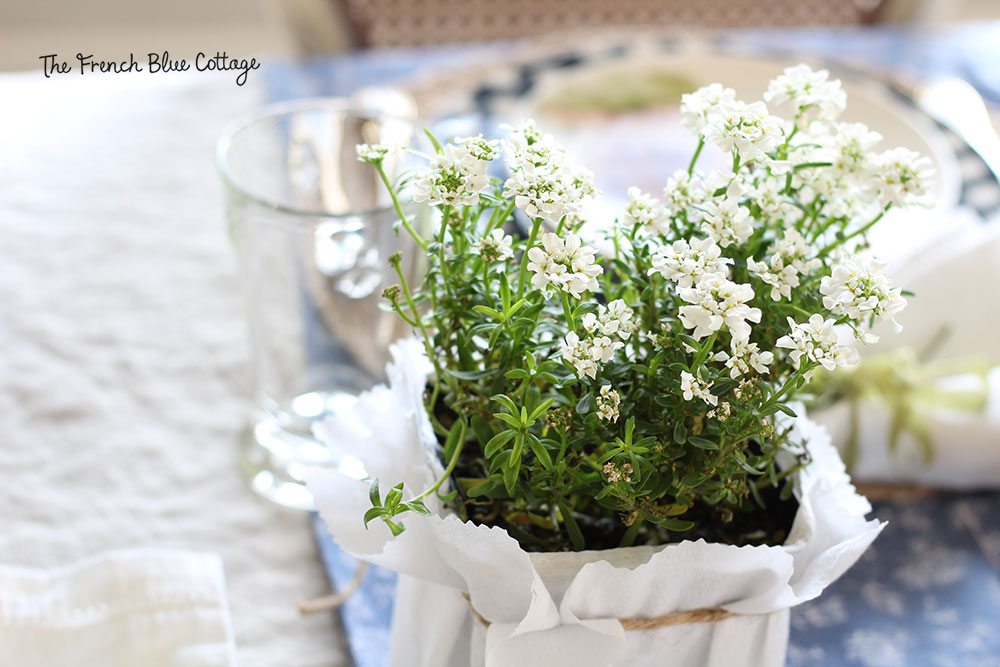 Here's the whole Easter tablescape…
the other vignettes:
The potted plant theme was carried over to the table in the corner of the dining room. I lined my antique basket with a couple of towels and stuffed in the flowers, plastic pots and all. They are so tightly packed in there, that you can't see the pots at all…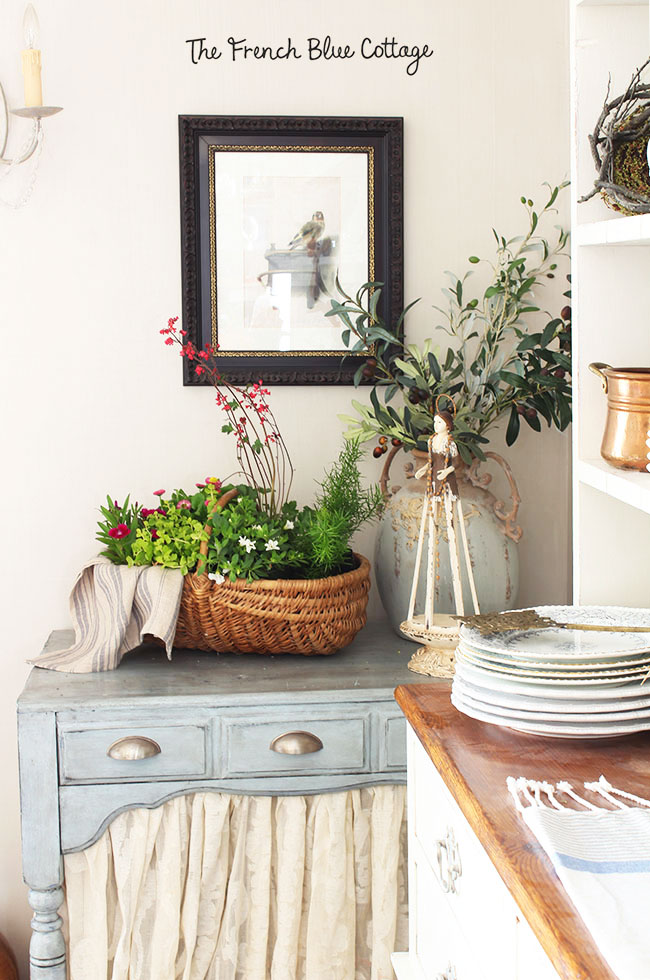 The other cabinet got a few spring/Easter touches as well…
Related: A simple, colorful Easter table

I hope you have a blessed Easter, eat a little too much candy, and enjoy spending time with your loved ones. That's what I intend to do!