In this post: How to make a flower reed diffuser that looks like a little bouquet and adds a light, constant fragrance to your home.

First of all, what is a scented reed diffuser?
A reed diffuser is simply a narrow-necked glass bottle that is filled with a scented oil and contains sticks or reeds. The reeds draw up the oil and disperse the scent into the air. I like that they emit a gentle scent and I'm currently using them in my bedroom, in the entryway, and in the living room. Reed diffusers are also perfect for smaller powder rooms, closets, and basements.
Some of the benefits of a reed diffuser are…
no flame or heat is necessary
there is nothing to plug in
there is nothing to remember to turn off or blow out
they provide constant, light fragrance
they can be made with natural ingredients if desired
the scented oil can last for several months
they may work well for people who are sensitive to stronger candle scents or potpourri
The main downside for me is that I don't find a bunch of spiky sticks all that attractive.
Luckily, there's a super easy fix for that!
I'm going to give you three ways to get this look in your home with three levels of difficulty. And even the most "difficult" method is actually still quite simple.
Let's start with the option with the medium level of difficulty. This is the one I just used and it took about 5 minutes!
How to make a flower reed diffuser (i.e. make one prettier with dried flowers…Anthropologie-style)
First, purchase a scented oil reed diffuser. I just bought one at Bed Bath and Beyond, but they are easy to find in many retail stores.
Then, purchase some dried flowers. I've always got some dried flowers in my crafting stash and most of them came from the dried floral and wreath section at Hobby Lobby.
Place 5-6 of the reeds that came with your diffuser into the oil.
Cut the dried flower stems to the height you want them, based on how long your reeds are, and place them in the oil. *If your diffuser is particularly full, be careful with how many reeds and dried flowers you put in so as not to cause an overflow.
Voilà! A prettier flower reed diffuser.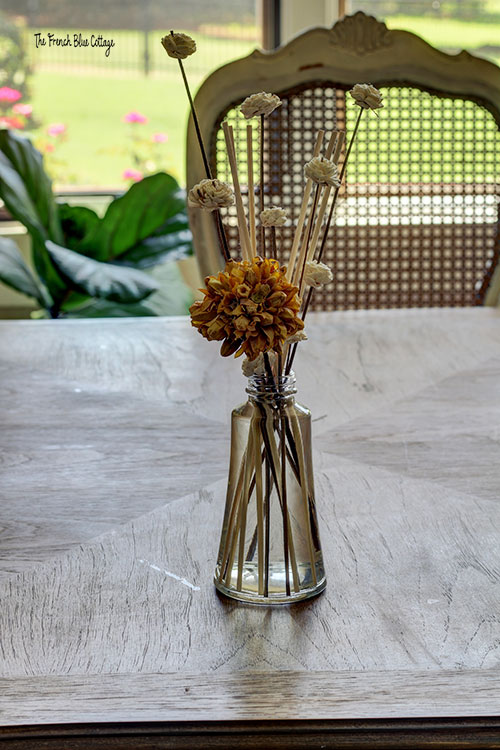 4 Ideas for decorating with your floral reed diffuser:
1. Place your diffuser within a seasonal vignette
Most of us have a few spots around the house that we decorate seasonally. One of these would be a perfect place to add your diffuser. This one (below) is on top of a cabinet in my dining room…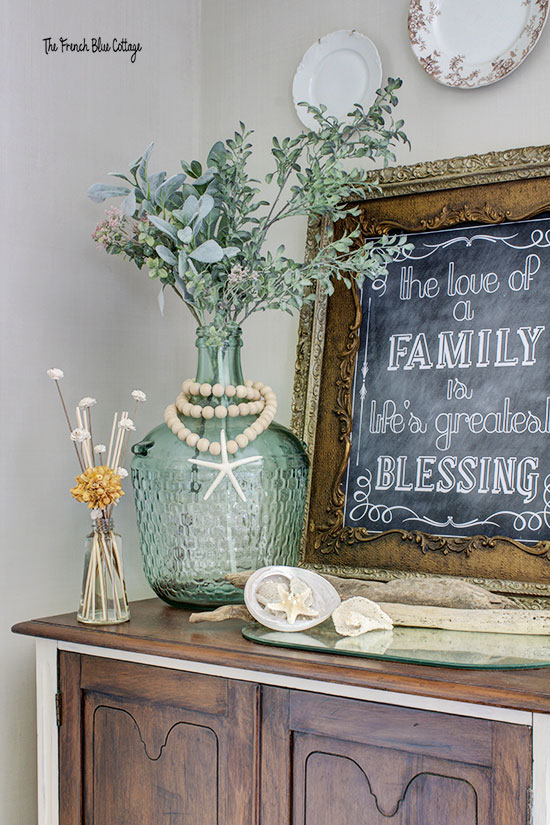 Related: 5 Tips for Creating a Vignette and How to Make an Interchangeable Wood Bead Garland (the one seen above)
2. Style your diffuser with other bouquets of flowers
It will blend in well next to other vases and if they are faux flowers or unscented real flowers, then the aroma of the diffuser will not compete. It just looks like part of the vignette….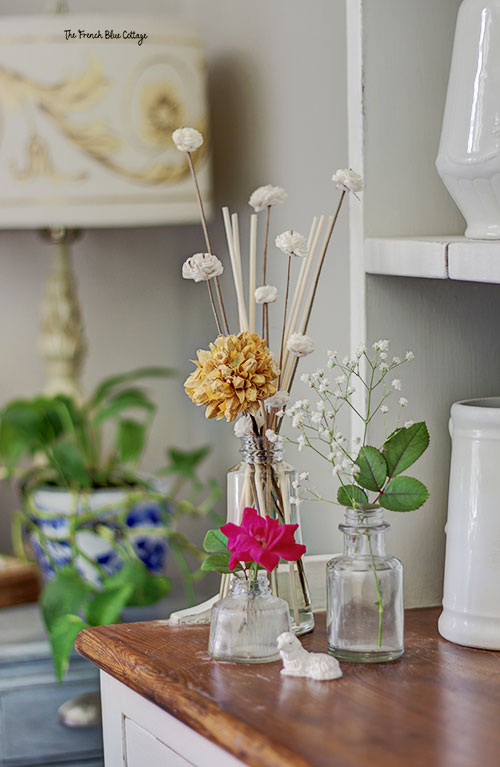 3. Change it up for the seasons
This is one of my favorite ideas! If the diffuser scent is neutral (like vanilla) and not something seasonal (like pumpkin), you could keep it out over multiple seasons and simply change the flowers. Here, I styled one with wheat stalks for the fall…
4. Place your diffuser where you will really get some enjoyment out of it
A bedroom night stand or dresser is another great place for a reed diffuser. Especially a smaller one with a soothing scent like lavender….
How about a short video with this flower reed diffuser?
Ok, that was a 5-minute decorating fix. How about one that is even easier?

Buy a pretty, ready-made floral reed diffuser.
If you don't even want to bother with buying dried flowers, but still like the idea of something prettier than just sticks in oil, then try one of these.
Or you could buy just the flowers to add to your own diffuser….
Or maybe these lovely diffuser flowers from Etsy.
What if you're feeling just a bit more ambitious or want something more natural?

How to make a DIY homemade scented reed diffuser
There are several ways to create your own reed diffuser. Here are two recipes I found:
Mix a carrier oil (sometimes called a base oil) with a fragrance oil.
2. If you want to go a more natural route, mix a carrier oil with essential oils.
Use 1/2 cup of fractionated coconut oil or sweet almond oil (thin oil is best)
Add 30-50 drops of essential oils (depending on the scent, the brand, and how strong you want your reed diffuser to be; experiment to see what works best for you)
Try different combinations of essential oils such as, l

avender + eucalyptus….or lemon + lavender + rosemary….or lemon + frankincense….etc.

Adding 2 TB of alcohol (rubbing alcohol or vodka) per 1/2 cup of oil might help the oils travel up the reeds
Here are some 10″ rattan reeds and some 7″ rattan reeds
Mix or swirl your ingredients together and pour into a glass bottle with a narrow neck. Then you can add the rattan reeds and decorate your homemade diffuser with dried flowers.
*I have not personally tried the homemade versions, so I'd suggest experimenting in small batches to see what you like best.
Tips and Suggestions
Larger or multiple diffusers are best for large rooms
Flip the reeds upside down periodically to release more scent
Change the reeds once they are fully soaked (maybe once a month or so)
More reeds equals more scent but it will be depleted faster, too
Rattan reeds are supposedly better than bamboo sticks
Keep oil diffusers away from children and pets (obviously)
Protect surfaces from oil drips
Put your diffuser where it won't get knocked over
Q. Why the narrow-necked bottle? A. It slows evaporation.
Q. Could you use plastic stemmed silk flowers? A. The scented oil would not travel up the plastic and I'm not sure if any of the oils would dissolve the plastic stems or not. I would try not filling the bottle as full and cutting the plastic stems short so they are not soaking in the oil. It would be really pretty, though! I'm thinking about trying out some faux flowers on another small diffuser that I own. Wouldn't a being peony or rose or sunflower look pretty?
Here's another article on how to make reed diffusers. It also has a few ideas for creating seasonal blends with your scented oils.

Also, I put together a list of essential oil scent combinations and recipes that you can try…..
Adding flowers to a scented reed diffuser is such a simple way to add a little extra style to the lovely fragrance they add to your home.