In this post: A sunny and summery lemon tablescape….plus an easy DIY paper wrapped vase project.
*Some affiliate links used below. See my full disclosure here.

It's hot.
I do anything I can to stay just a bit cooler in the summer and that means I have a summer uniform. My uniform is a long cotton dress that I own in six colors and patterns and rotate frequently in July and August. As a matter of fact, I'm expecting another summer dress in a new color tomorrow:) It's a new brand and I'm hoping it's as comfy as my others.
The other day, my daughter said, "Mama, I like your long pajamas". I told her that it was a dress and she replied, "I'm pretty sure it's pajamas". ? Haha!
Truth be told, she's pretty much living in actual pajamas these days!
As much as I long for cooler temps, I decided to go ahead and set a sunny, summery tablescape that would bring a fun, happy vibe to my dining room.
1. DIY Paper-wrapped vases (quick video below)
The first thing I did was make a few paper-wrapped vases. I started with a simple glass cylinder vase and then cut some scrapbook paper to about 5-7 inches tall. The size you cut it depends on how tall your vases are and how much candle you want to show.
Place some double stick tape on the inside edge of one of the paper wraps, line up the bottom of the vase, and roll it straight onto the tape.
Then place another line of tape on the other inside edge and roll the vase, keeping the paper tight and smooth, until you reach the end. Press the edge flat and that's it!
If you need your candle to sit higher, add some filler and then place your candle on top.
Some filler ideas are:
sand
split green peas (this one is my favorite!)
rocks
seashells
clear or colorful glass gems
crushed glass or shells
Here's a fun one-minute video showing how I made the paper-wrapped vases:
2. For the table
Way back in January, I found this Kate Spade lemon tablecloth at Bed Bath and Beyond. Even though it is much brighter than my usual color palette, it's cute and was on clearance at such a low price, I went ahead and bought it. Seriously, I think it was about 15 dollars! Here's the same lemon tablecloth, but I couldn't find it on sale now here or at Bed Bath and Beyond. ?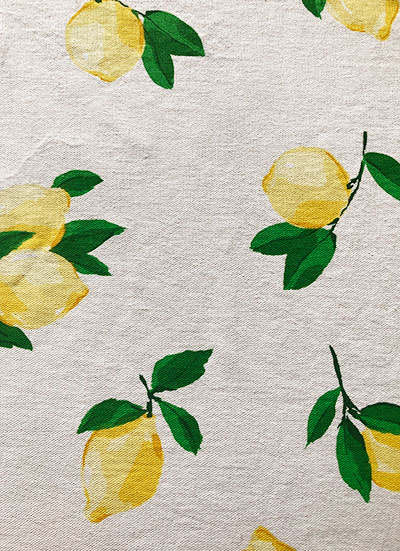 Here's a very similar lemon table runner and it's such a good price!
Or you could go with lemon cork placemats or these stain resistant lemon placemats.
FYI, lemons must be really popular right now, because it seemed like almost everything was low in stock.
Once I put the tablecloth on the table, it looked pretty busy and I was afraid that my centerpiece would get lost. So, I cut a scrap of navy cloth for the center of the table. I didn't feel like getting the sewing machine out so, I "hemmed" the edges with double-sided fabric tape. I used the same fabric tape to avoid hemming the curtains in my daughter's French Country bedroom and it's held up beautifully.
On the table, the navy runner breaks up the busy pattern and helps the centerpiece to pop.
3. Lemon tablescape centerpiece
For the centerpiece, I started with a vintage wood column base. To the top of this, I added a gold wire lantern with a jute handle. I placed one of the paper-wrapped vases in the center and surrounded it with faux greenery and small faux lemons. To finish it off, I simply placed some leaves and some other larger faux lemons down the length of the runner.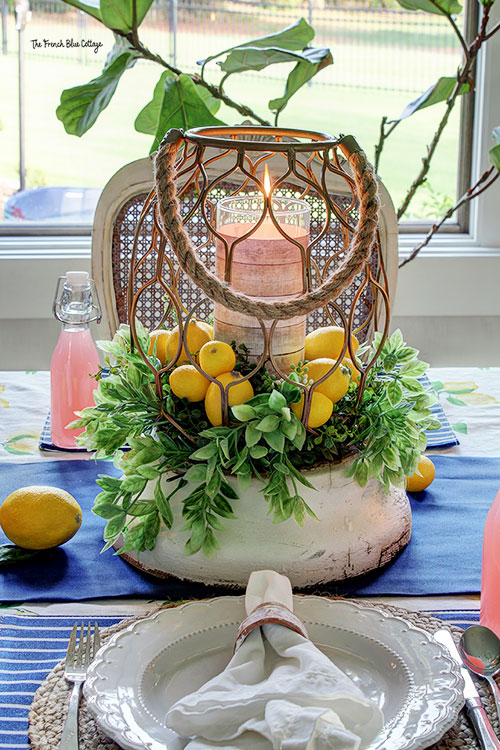 4. The place setting
The base of the place setting is a navy and white striped placemat. These were another Kate Spade clearance item. I think these were on sale for about $2.50 each at the time! Unfortunately, I couldn't find these on sale any longer either and I also couldn't find anything really similar. Bummer!
To add some texture, I placed some woven jute chargers (or maybe they're round placemats). Either way, they add a nice neutral color and a different texture to the table. These came from Hobby Lobby, but again, I could not locate them online.
I bought the cute napkin holders at a garage sale a long time ago. I only have six of them and I'm thinking about trying to DIY some more.
Here's a basic tutorial on cutting clay pots. If I try it out, I'll be sure to write a napkin ring tutorial:)
My white plates, white napkins, and everyday silverware round out the place settings.
5. One more fun little item for the tablescape
I bought these cute glass swing top bottles at Hobby Lobby (similar glass bottles here). I wanted to fill them with lemonade, but all I had was pink lemonade. After I filled them up and placed them on the table, I realized how much I liked the bright pink color. Yay for happy little accidents! ?
I'm very happy with how this bright and sunny lemon tablescape turned out. Neutrals are my first decorating love, but in the heat of summer, the glow of lemon yellow tempered with navy blue is perfect.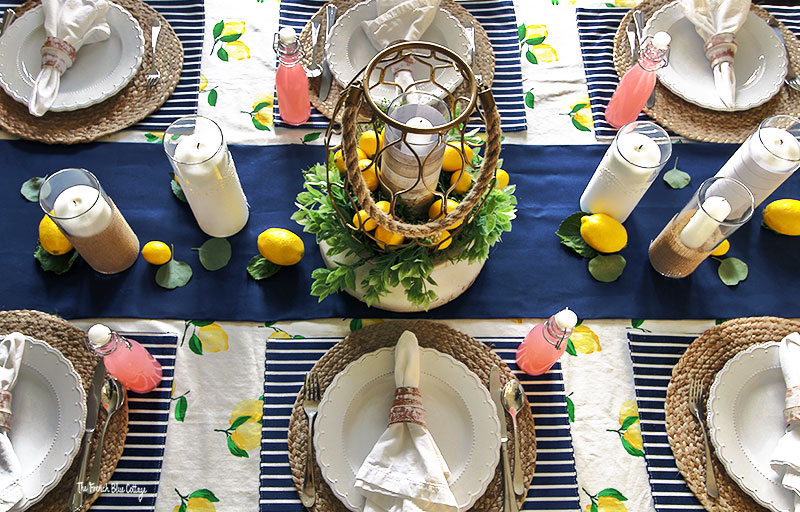 6. Make it your own
This tablescape should be pretty easy to replicate.
Here are some components that you could use to make it your own:
Mix and match lemon-themed tablecloth, runner, or placemats with navy tablecloth, runner, or placemats.
Woven, jute, or seagrass placemats or chargers
Faux lemons  (mixed sized lemons here)
Vases with candles (clear, blue, green, white, or paper-wrapped vases)
Centerpiece ideas: flowers, bowl of lemons, greenery and lemons, topiary, cake stand with lemons, cut lemons in a vase of water, blue and white ginger jars, etc. Check Pinterest for "lemon centerpieces"!
In today's climate (no pun intended), I'm not going to host any dinner parties anytime soon, but that won't stop me from decorating my home for my family's enjoyment.
This lemon tablescape was fun to set up and in one of my daughter's favorite sayings, "It was easy peasy lemon squeezy"!