How to decorate a round table: Here are 11 delightful tablescapes with lots of lovely centerpiece and table setting ideas to choose from. 

If I was a nail-biter, I might have been chewing on them a bit.
I'd spent a few hours planning the decor, gathering the materials, and carting everything to church to set up a table. 
But would anyone come sit with me?
My mind said, "What if we have too many tables and I spent all this time for nothing?
What if my decor is overdone….or underdone?
Is my tablecloth long enough to hide under if either of these turns out to be true?" ?
You see, I had gone outside of my comfort zone and signed up to decorate a table at church for one of our women's fellowships. The decorating part comes naturally to me, but putting myself out there…not as much. 
But with the sounds of plates and silverware being unpacked and the voices of women chatting in the background, I went to decorating.
Affiliate links used below (full disclosure here).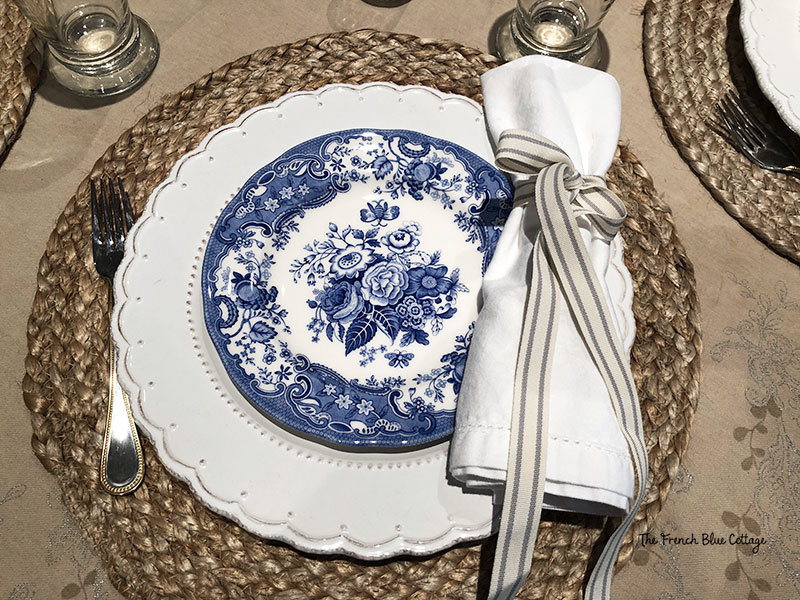 Are you task-oriented or relationship-oriented?
As fate would have it, that's part of what our women's minister spoke about at the fellowship. 
She asked if any of us were task-oriented. Did we make lists and check them off and feel productive as the list items were accomplished? Um, yes. 
Nothing is wrong with being productive, but what about being relationship-oriented? Maybe we should open our schedules a bit for developing relationships. Maybe not worry so much if our houses are perfectly cleaned and put together before we welcome others into our space. 
Perhaps move from being inwardly focused to a bit more outwardly focused.
As in…put myself out there more often.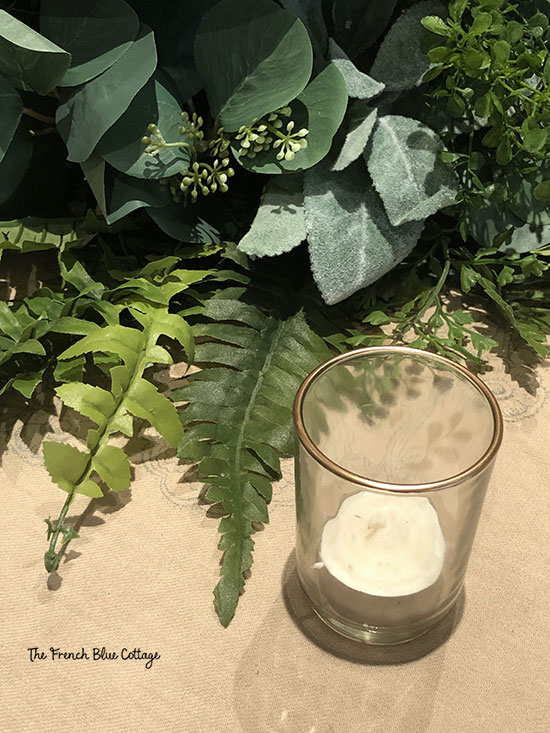 We are all busy, but instead of waiting for our current season to pass or looking towards the next big thing, perhaps we should live a bit more in "today". 
We should cultivate welcome. 
The name of this particular fellowship was…
Welcome to my table.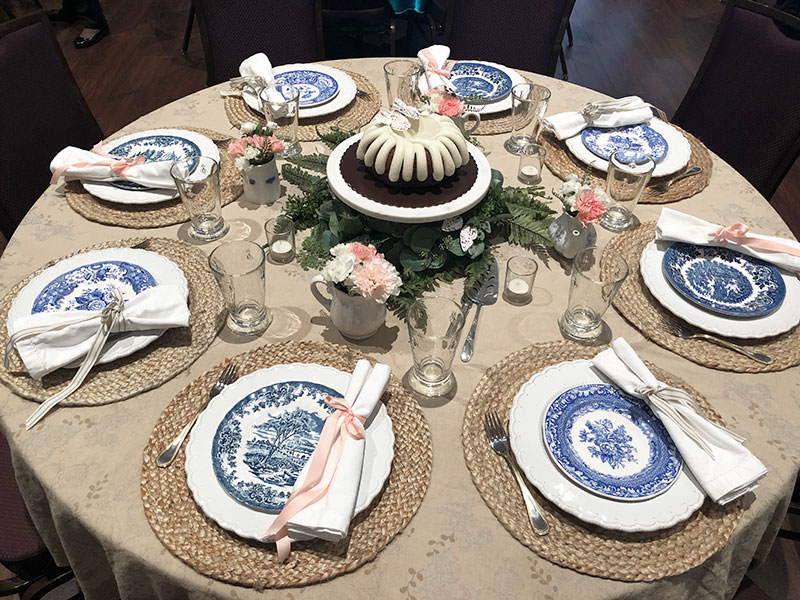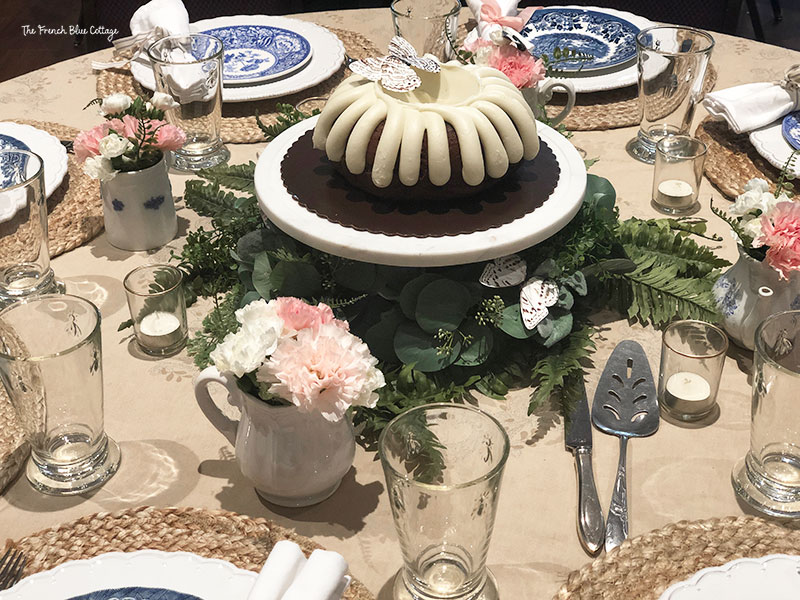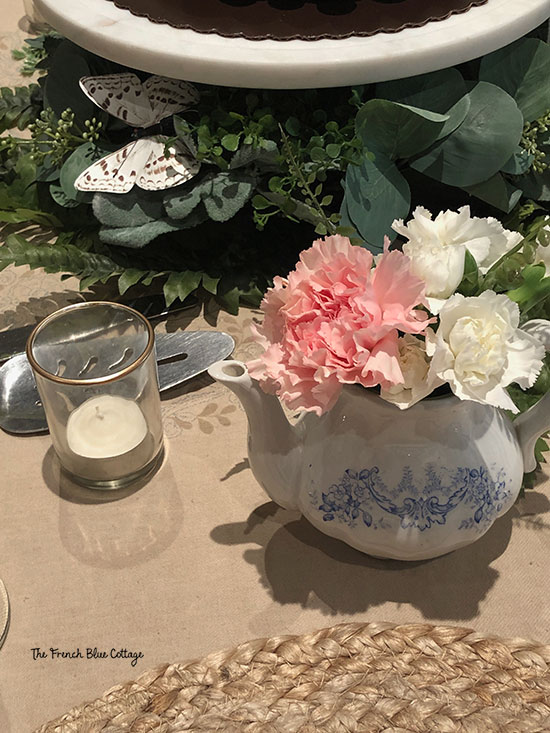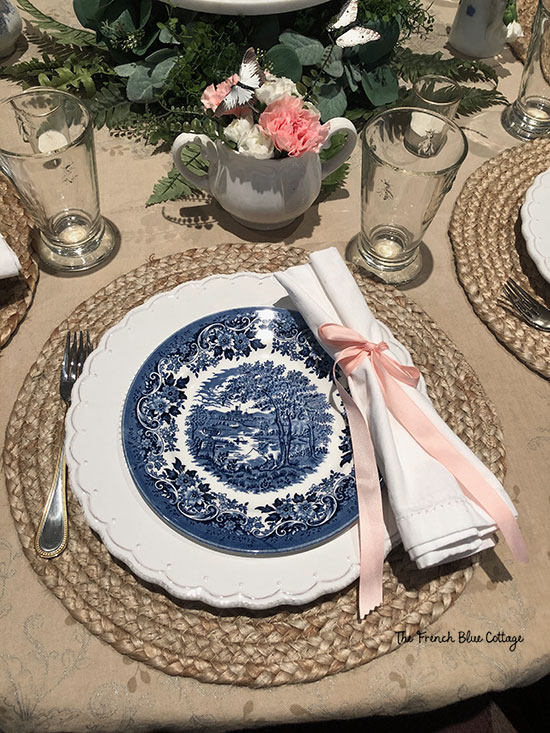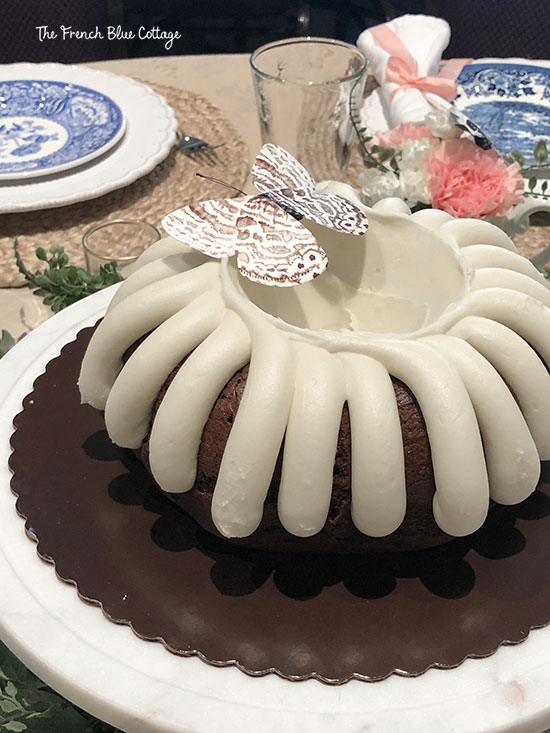 How to decorate a round table:
⇒ Round placemats or chargers fit well on a round table. I started with round, braided jute placemats from Hobby Lobby.
⇒ Start layering! I added large white plates (no longer available ?) and some mismatched blue and white dessert plates (these came from Tuesday Morning).
⇒ Add cloth or pretty paper napkins. They can be folded, rolled, placed underneath the dessert plate (like in this tablescape). I used simple white cloth napkins tied with two different ribbons.
⇒ Create a centerpiece. This centerpiece is a marble cake stand surrounded by a wreath that I stuffed with extra greenery springs from my crafting stash.
⇒ Details, details, details! Flowers are always a wonderful idea. I placed simple flowers from the grocery store into mismatched ironstone teapots and creamers.
In addition, candles are always great. I wanted a tiny bit more gold on the table, so I took liquid gold leaf (similar here) and used a q-tip to swipe around the rim of plain, glass candle holders.
For my last detail, I found these pretty little butterflies to place around the table. It was the perfect little element to complete my design.
Here's a short video showing the table throughout the decorating process….
More round table decor ideas:
Whether you need to decorate for an event or for a family holiday dinner, here are a few more round table centerpiece and decorating ideas from the lovely ladies at my church: 
Such a fresh color scheme and beautiful, natural materials in this one….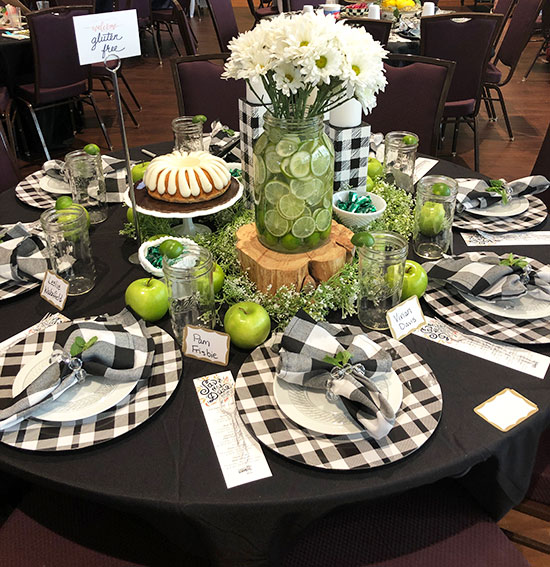 The pink really pops against the black on this table….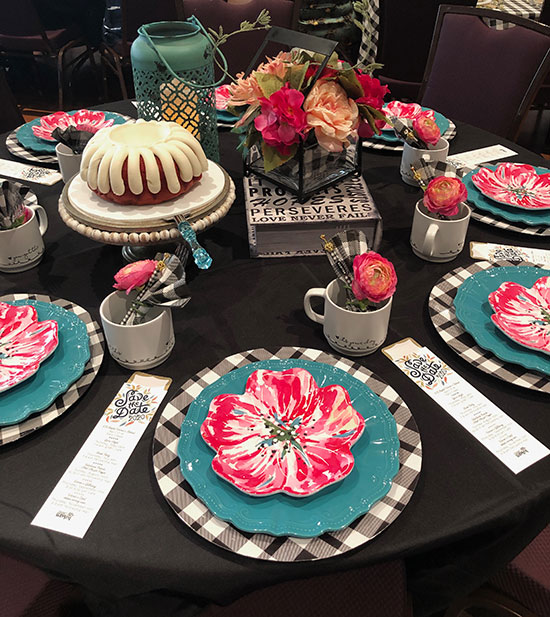 One of my friends at church is also a blogger and blogs at Frazzled Joy. This is her sweet Valentine's Day themed table. I love the ric-rac ribbon around the napkins….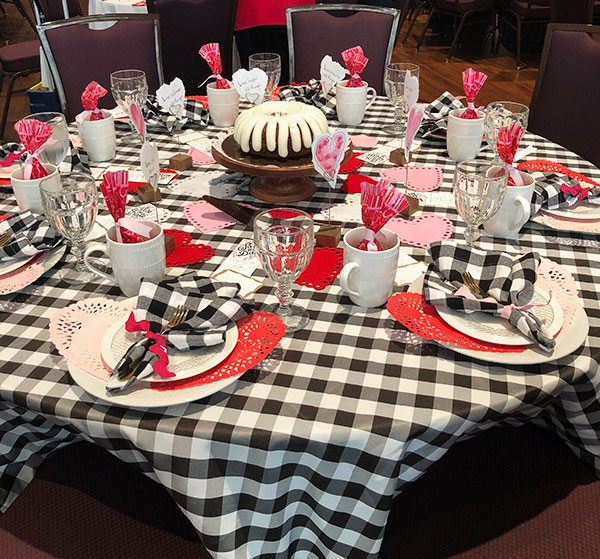 Another friend is the writer behind the blog, Dimples and Tangles. As you can see from her beautiful table, she has a very distinct, colorful style and is an expert at combining patterns….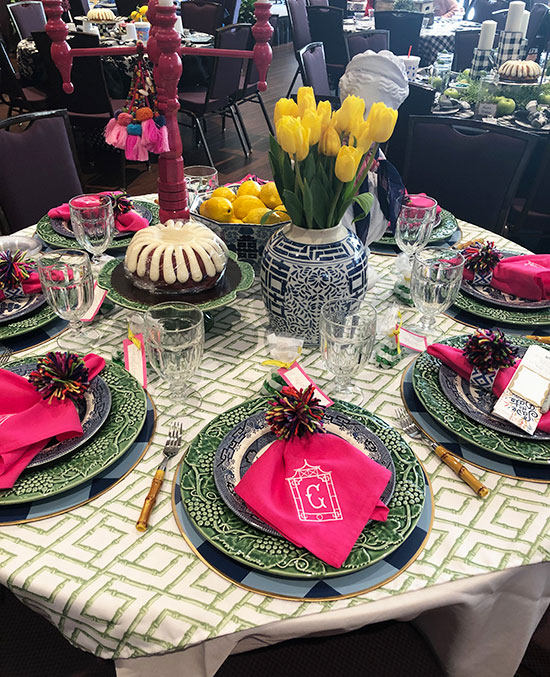 This one was such a unique table. I really liked the succulents in the ironstone crocks….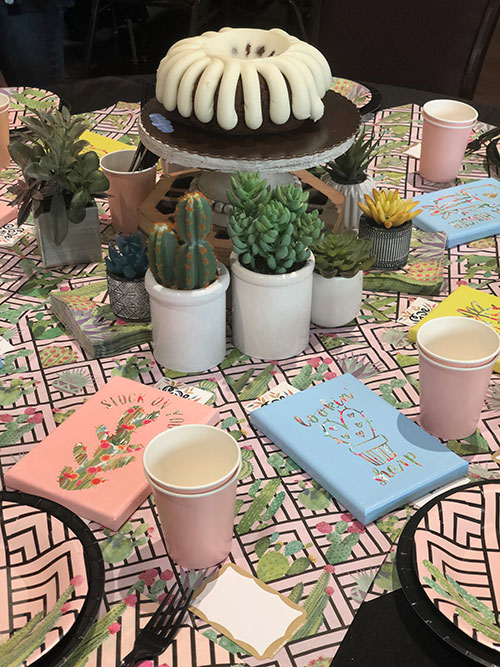 This one shows how paper products can be elevated when they're surrounded by beautiful decor…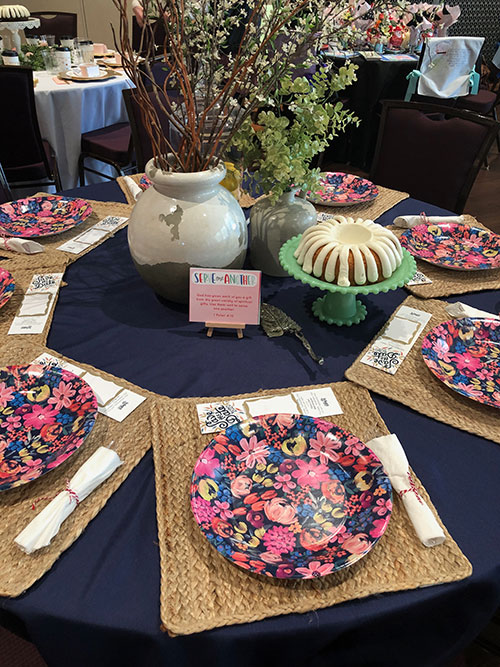 Loved this color scheme and the ruffled chargers….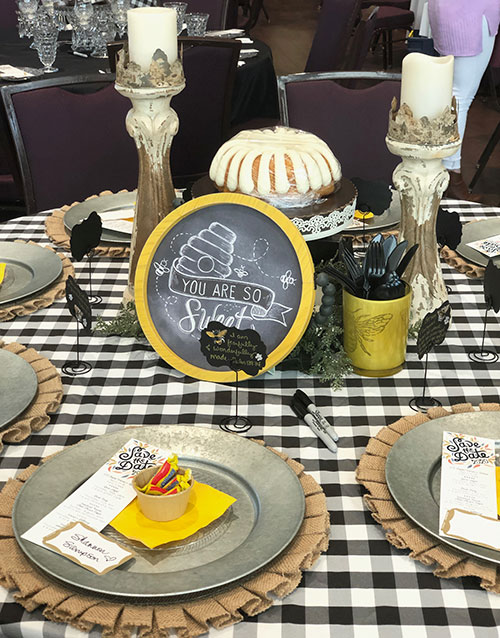 Here's another Valentine's Day themed table. I love how she added a string of fairy lights to the glass vase in her centerpiece!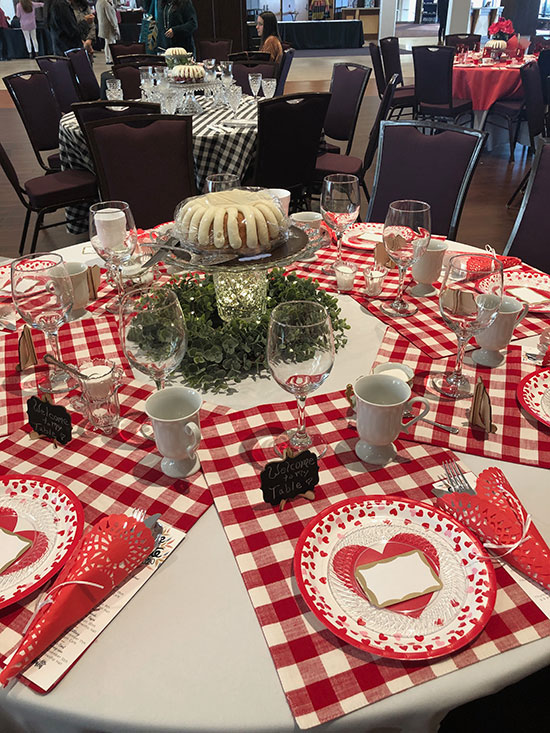 Here's a darling pink and green tablescape that makes good use of differing heights….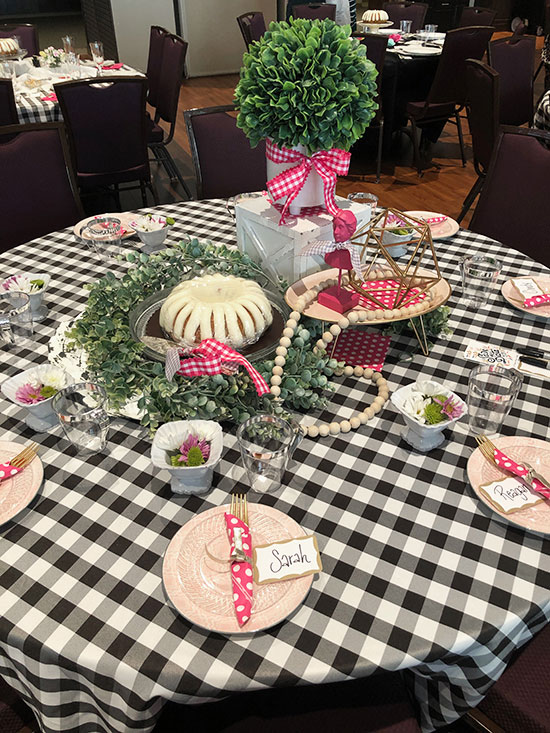 This one, with its blue and white color scheme and antique flatware, was clearly created by a woman after my own heart. ?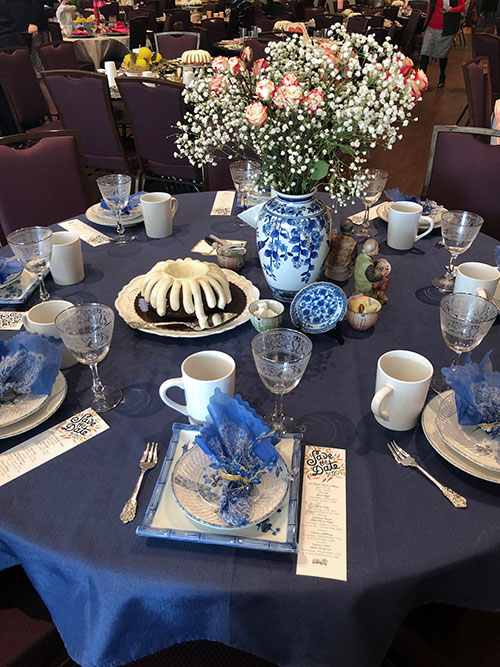 In the end, my table was full. Full of kind and engaging women, who appreciated my table centerpiece and decor. We laughed with each other, listened to the speakers together, and treated ourselves to some really delicious bundt cake. 
At the end of the fellowship, they had two door prize drawings. And wouldn't you know it, BOTH winners were sitting at my table!

Related: Spring/Easter tablescape