I have a laminated calendar that I've used for years. I bought it at an office supply store and it's very functional for me because it has large enough spaces to write in and it includes some lines at the bottom of the calendar to write in items for next month. It also has an area for general notes. I also like that I can use Vis-a-vis wet erase markers on it and they won't smear.
So, "what's the problem", you say?
Well, it's ugly.
So I decided to find an easy way pretty it up a little. What I came up with is….. Washi tape.
If you are not familiar with Washi tape, it's a paper tape that originated in Japan. It comes in many colors and patterns and a few different widths. It sticks to most smooth surfaces and is removable (without leaving a sticky residue). It's sold at craft stores and online. Also, the tape is usually slightly transparent, so you can sometimes see the surface underneath.
Here are the two patterns of Washi tape that I bought (at Michael's).
I used the blue ikat pattern Washi tape along the top of the calendar. I just applied a strip of the tape that was slightly longer than the calendar and then folded the excess over onto the back.
Then I used an exacto knife to very gently score along the outline of the box where you write in the month and removed that little rectangular section of Washi tape…..
For the sides and the bottom of the calendar, I used the thinner black Washi tape. I cut two strips for each side and placed them side by side. I initially folded the excess over like I did on the top, but for some reason, the thinner tape did not stick as well and I ended up just trimming the thin strips to fit.
Here is the calendar where it normally hangs, right by the back door so I can keep track of my family's comings and goings. It's hung with bulldog clips that are attached to the wall. I use the clips to hold appointment reminder cards and to slip the wet erase markers into so that they are within easy reach when I need to add or change something.
This Washi tape calendar was literally a ten-minute project. I also like that the tape is removable, so if I get tired of it, I can remove it or replace it with a new color or pattern.
Do you have any ideas for how to use Washi tape?

Linking to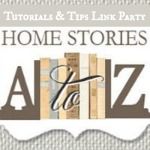 <utm_source=feedburner&utm_medium=email&utm_campaign=Feed:%20thestoriesofa2z/Visw%20(Home%20Stories%20A%20to%20Z)&utm_content=Yahoo!%20Mail" target="_blank">