I'm a furniture rescuer. I can't help it.
I see a piece with "good bones" and I just have to help it out in the beauty department.
But right now there's quite a backlog of furniture around here. I've got two chairs and three dressers currently waiting in line for a makeover.
I did, however, finally finish this little washstand / side table that I bought at the same estate sale where I bought my entry dresser.
*Some affiliate links used below. See full disclosure here.
Here's the washstand before…
See… "good bones" but a not so great orange-y blotchy finish.
In my mind, I saw this piece with a "coastal" finish in a blue-gray. Then I decided a two-toned paint finish would be great so I went with blue-ish gray and a creamy white.
I used Dixie Belle Paint in the color "Driftwood" (the blue-gray) and the color "Drop Cloth" (the creamy white).
And the washstand after….
I wanted the top to be stained, but not its original color. I used Citri-strip to remove the varnish and much of the original stain. This is the (still too orange) color that remained…
I mixed up an over-stain with gray and brown and ended up with this color…
It still looks a bit orange-y in the photo above, but that's mostly because I took this picture with my phone at night. In reality, it's much grayer.
Also, did you notice that the top has a missing piece? At one time, it must have had an attached mirror or something…
I had my husband cut a board to fit and I painted it the same blue-gray as the rest of the body.
You can see the new back piece in the next photo…
It's the same technique I used when I redid the little barn dresser.
It works great for furniture that is missing a mirror or a piece of trim in the back. By painting that little add-on piece, you avoid having to stain it to look like the top. Because, let's face it, It's virtually impossible to match stain!
Now the washstand has a cute, two-toned coastal vibe…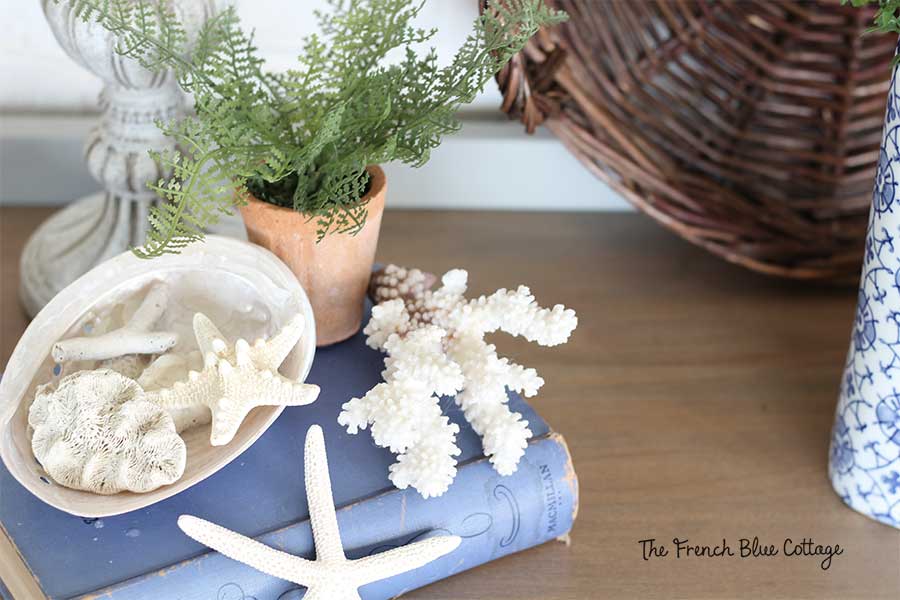 Plus, I love the grayed out finish of the top….
Oh, and I also decided to paint the original hardware so it would just blend in.
I used my favorite spray primer and then pained the hardware with Dixie Belle "Drop Cloth"…
Isn't it a cutie now?
And now it's time to get started on my next makeover.
Let's see, one of the chairs or one of the dressers?