I recently found a cute little make-up vanity at an estate sale. It's solid wood with dovetailed drawers and was a great deal at $65!
I live in a house full of boys…..a husband and two sons….even the bird and the dog are male! So, needless to say, there's not much girly going on at my house. But this painting project was a make-up vanity and it doesn't get any girlier than that, so I decided to go with a color I've never painted a piece of furniture before…pink!
Usually, my taste in paint colors runs along the lines of blue, gray, or cream. Anyway, here's what I came up with…
And here's the before…
First, I used a Miss Mustard Seed wax puck along the edges and in a few random spots so I'd get some paint resist.
Then I painted the entire piece (except the top) in a pink mixture of Miss Mustard Seed milk paints. I used Tricycle, Grain Sack, and Mustard Seed Yellow to get the various colors on this vanity.
Whoa! this first coat is PINK!
Sorry, the "during" pics stop here. I'm terrible about remembering to grab the camera while I'm painting! So I'll just show a few more "after" pics. They're prettier anyway!
After the first coat dried, I mixed up a couple more variations of the same color. In one, I added a little more Grain Sack to make a lighter pink. In the other, I added a little more Yellow to make more of a coral color. I painted these colors on separately and in some random spots to give the piece a little more depth.
Next I highlighted the legs, the edges of the top, the edges of the drawers, and the inside lid with a whitewash of Grain Sack. I let that dry and went over the highlighted areas with the coral mixture (except the inside lid, which I left whitewashed).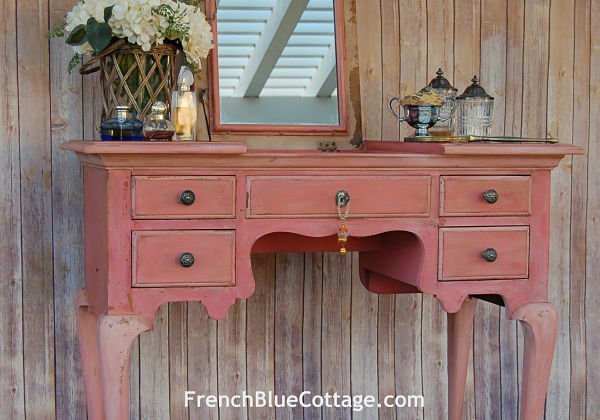 Still with me? I always feel a little like a mad painting scientist measuring and testing colors to get them just right. And you should see my kitchen during this process!
Then I distressed the piece by scraping a painter's 5-in-1 tool across the surface. I then used Miss Mustard Seed Antiquing Wax over everything to protect the finish.
It chipped and distressed beautifully!
I also re-stained the vanity top. I used a water-based stain and wiped it with cheesecloth. I took the stain that was leftover on the cheesecloth and buffed it over the sides and the drawer fronts just to warm up the color a bit.
For my last paint step, I used the stain to glaze the inside of the lid that was painted in Grain Sack.
To pretty it up a bit more, I changed out the hardware and cut out a piece of scrap wallpaper for the inside.
I even added a fake keyhole! Cute, right?
I tried to get a good close up of the vanity lid because it really chipped and it looks so pretty. I didn't get the shot that I was hoping for, but I ended up with this really cool picture of a tree all decked out in it's yellow autumn colors….
One more before and after….
So there you have it….a little splash of girly pink just for me…. in my house full of boys!