We've lived in our house for thirteen years and have tackled a lot of remodels. You can see a few of our remodels here.
But through it all, there was that one project that lurked over our shoulder…the one with a scary amount of work that needed to be done.
You know I'm talking about the big one……the kitchen. Well, we've finally committed to tackling it. And by "we", I really mean the people we've hired to tackle it because this one is not really in our DIY wheelhouse.
Temporary Updates:
Early on, we did some basic updates including painting the cabinets, adding a beadboard backsplash, getting a new refrigerator and dishwasher, and removing hideous gray tile and replacing it with painted concrete. But the backsplash and floor were supposed to be temporary fixes and, as much as I tried not to judge them, but they were really starting to show their age.
Here's what my painted concrete floor looked like…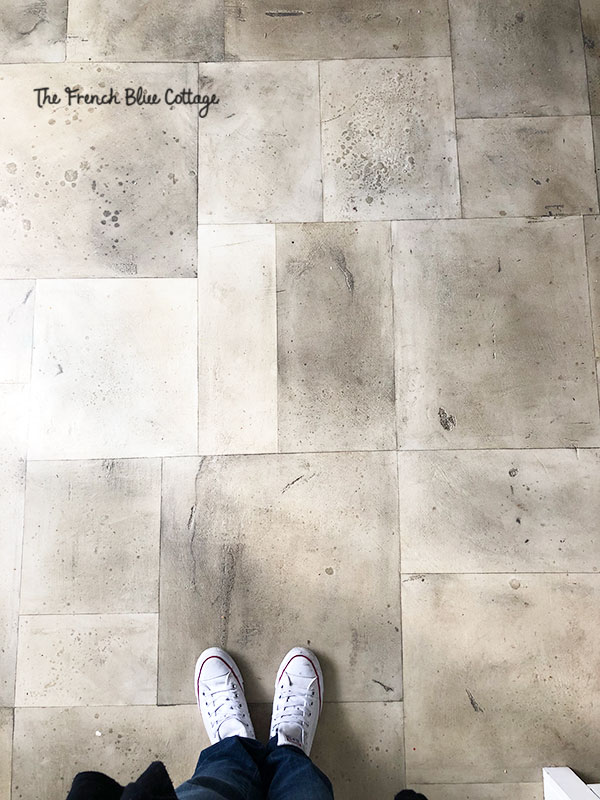 While I liked my painted concrete floor and just about everyone who saw it in person, thought it was tile, the rest of the kitchen just wasn't working for us.
None of the drawers extended fully and there was about 5 inches of wasted space at the back of each one.
There was no pantry and we had food in three different cabinets.
The beadboard backsplash was getting very dingy and gross.
The floors had not been re-sealed in several years and they were starting to get scuffed.
The horrible dropped ceiling.
There were only two small can lights, so it was very dark.
The peninsula and the refrigerator blocked traffic flow.
The microwave and oven combo was a dinosaur. Funny story: one of my boys was at a friend's house and remarked how cool it was that they had a spinning thing inside their microwave! I had to break it to them. Um, they all do that; just not our ancient one. ?
I'm not sure that I've ever shown my kitchen on the blog before because it was really not much to look at, but here are the before pictures.
FYI, when I took these pictures, it was just for some measurement purposes and were not intended for human visual consumption. Unfortunately, I couldn't find any other photos.
Oh, mercy, this is real life y'all!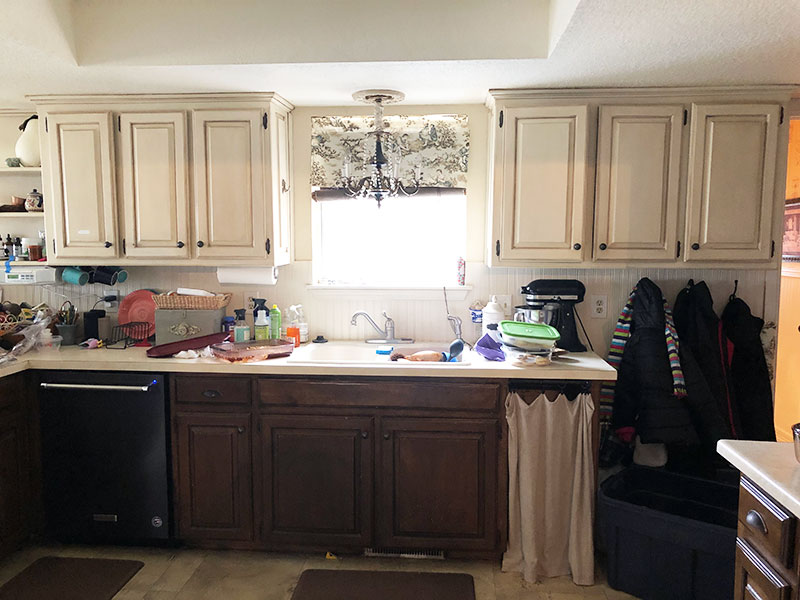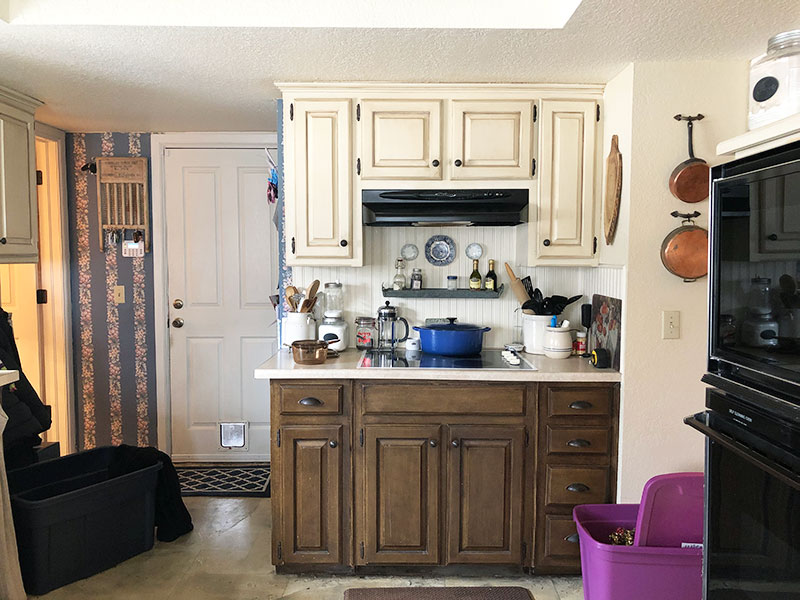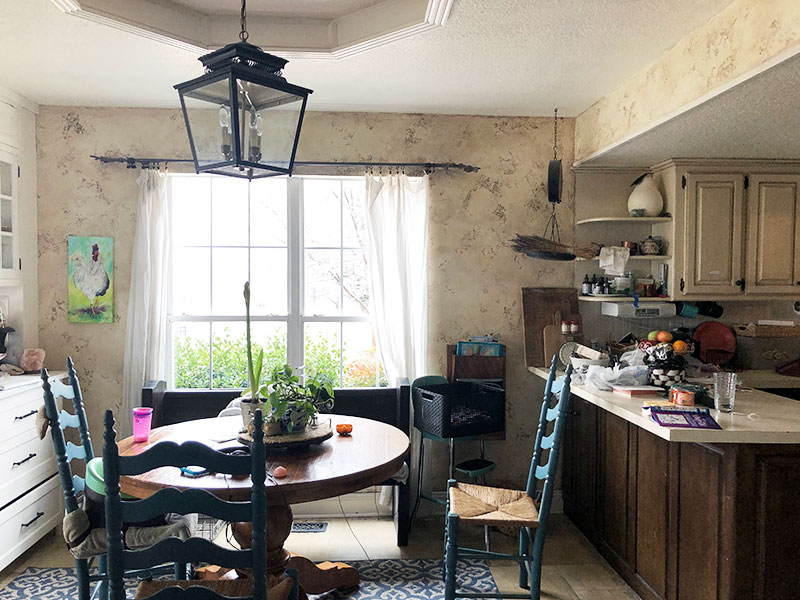 Why, oh, why did I not at least pick up the dirty dishes before I snapped those pictures:)
Here's another one of the kitchen completely cleared out.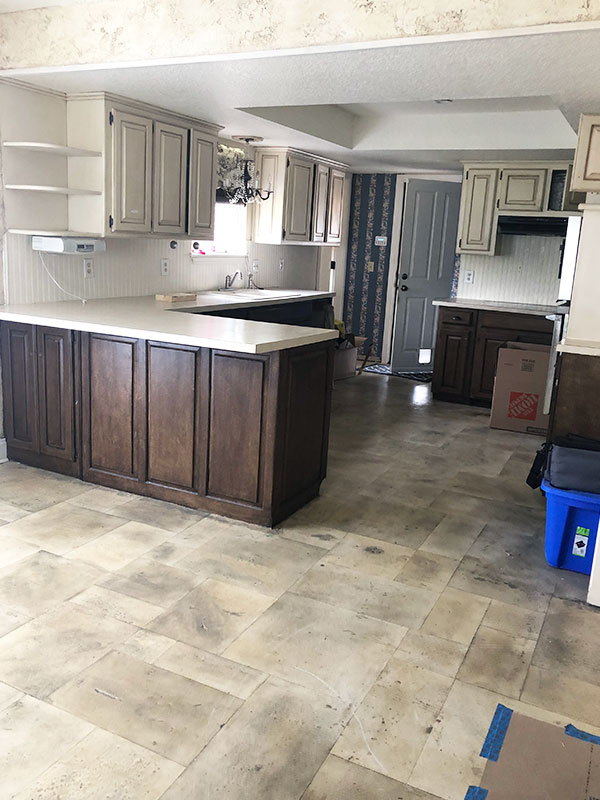 And then the fun began!
Kitchen Demo:
The first thing they did, of course, was to demo everything in sight…
Oh, and the previous owners had decided that they didn't like the wallpaper choices of the owner before them. But instead of taking the wallpaper down, they decided to cover every wall with another layer of drywall!
This one reminds me of the lick-able wallpaper on Willy Wonka and the Chocolate Factory. ? "Snozzberries, whoever heard of a snozzberry!"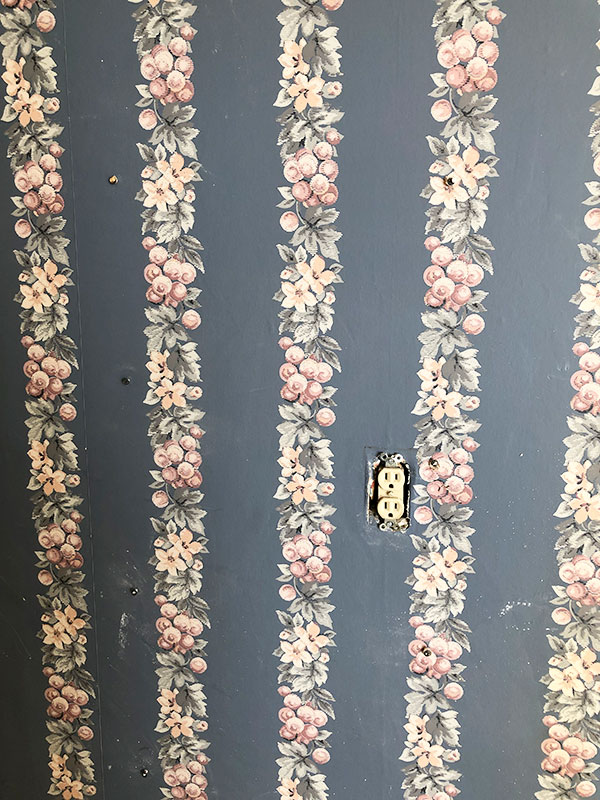 Next, they took down the horrible dropped ceiling. I loved the 80's, but really, what were they thinking with the dropped ceilings and florescent lights?!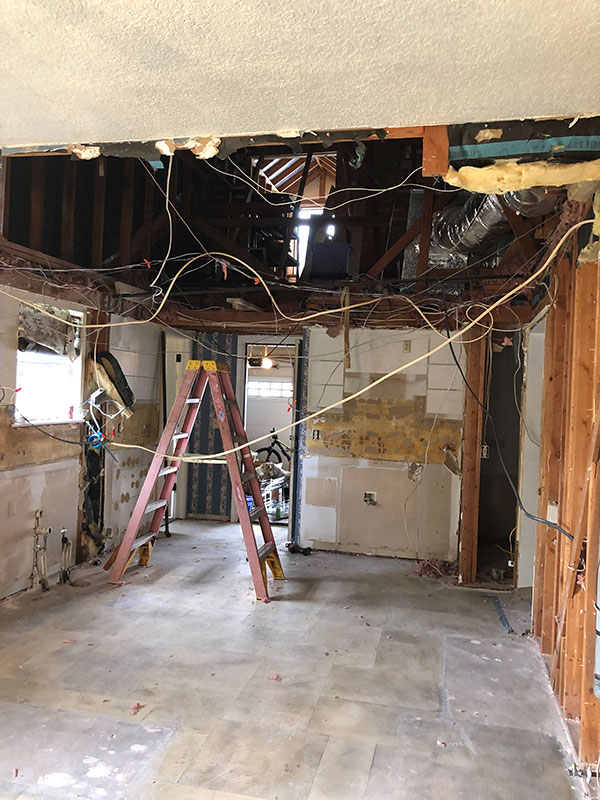 Yes, you can see the roof of the attic while standing in my kitchen!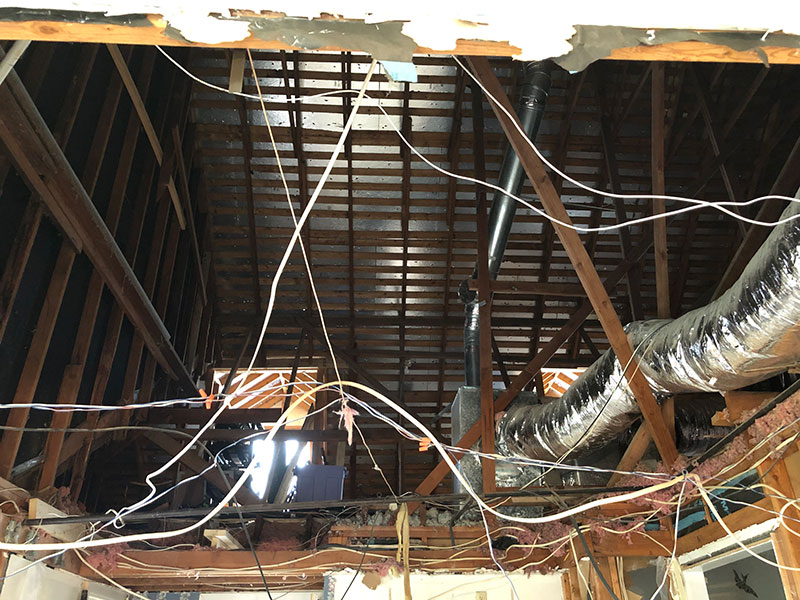 Putting it Back Together:
After the kitchen demo was finished, they set about to do the behind-the-scenes electrical and plumbing work. And then they framed in one of the new windows and added new insulation and drywall…..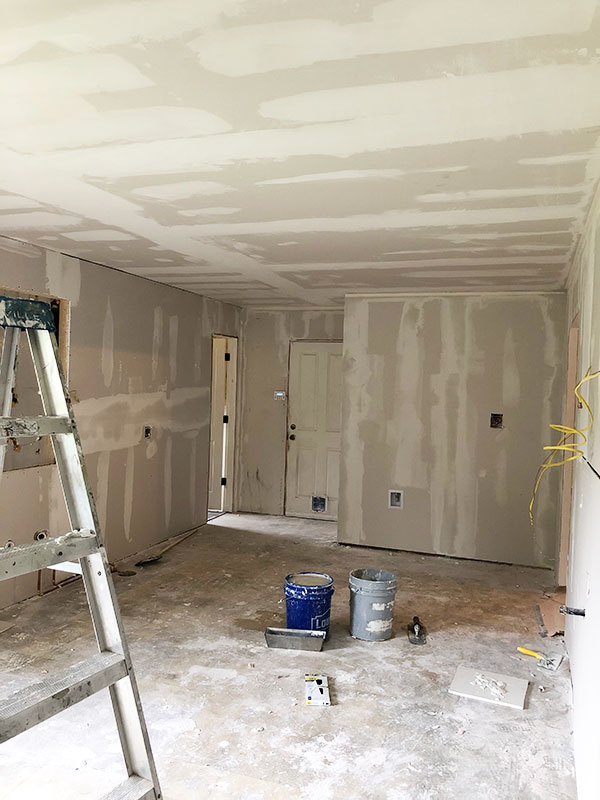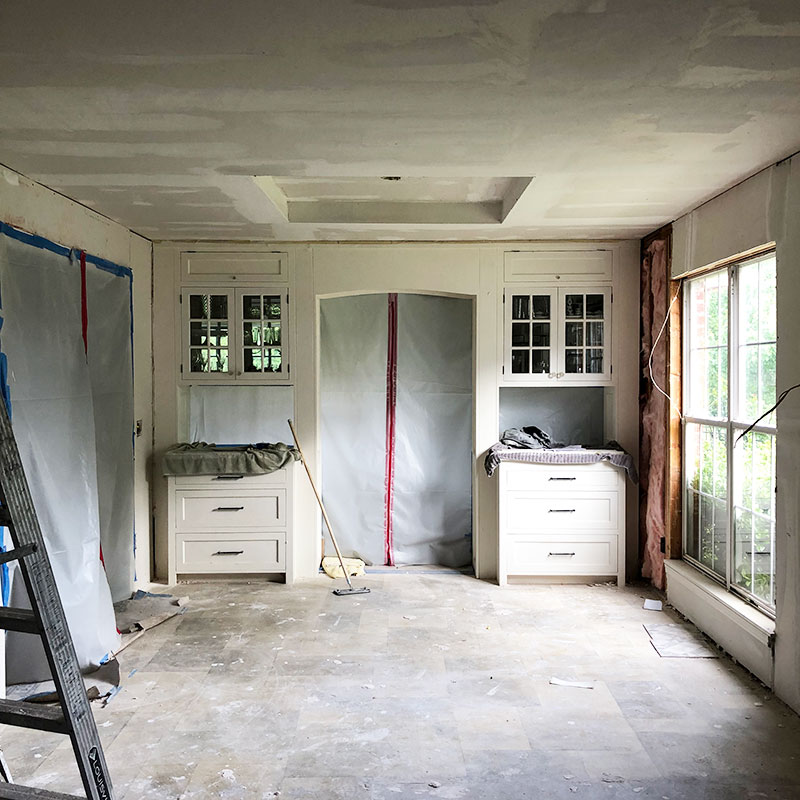 The weird octagon inset in the ceiling is now replaced with a larger, and much nicer square…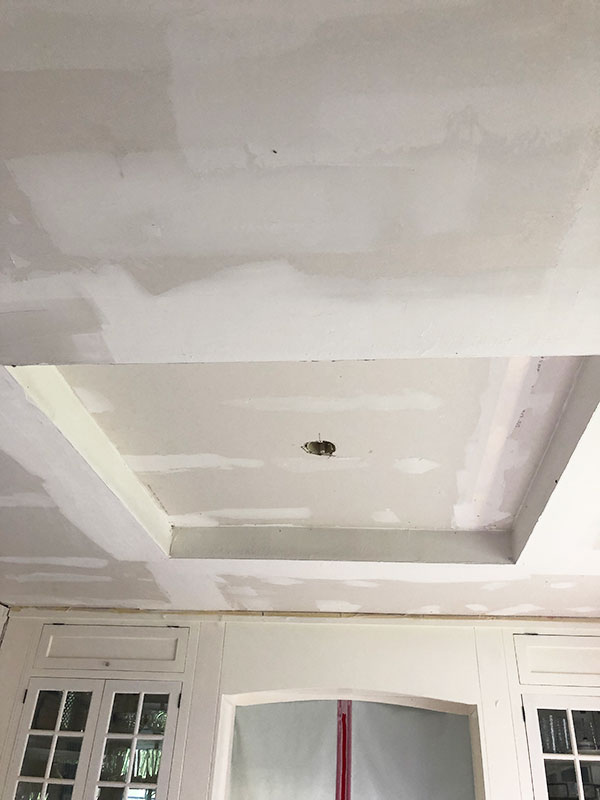 And check out this plastic sheeting they installed in our doorways. It has a zipper and is really convenient!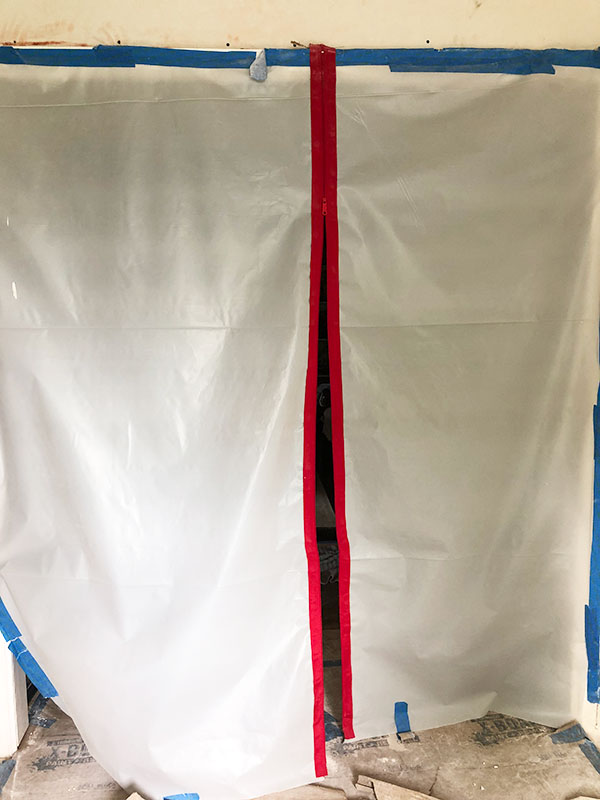 It won't, however, keep out a curious lab!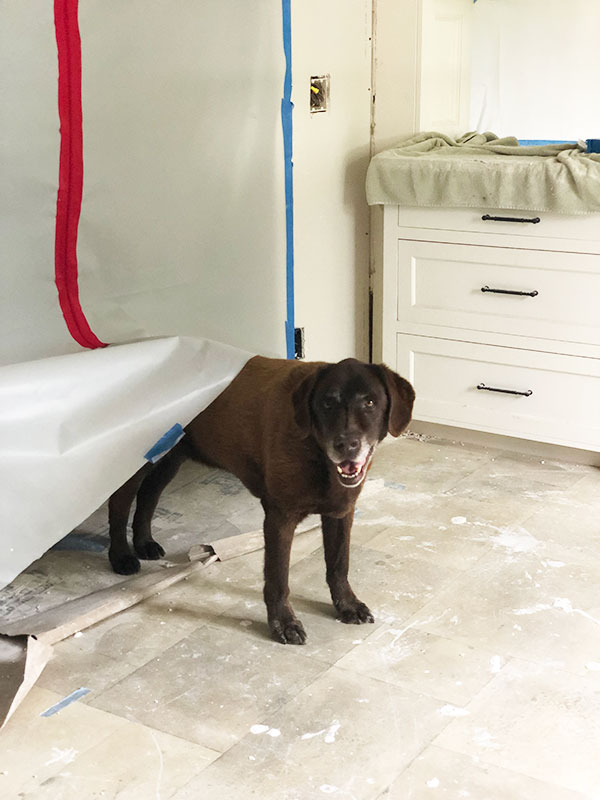 After all the ugly before and during kitchen demo pictures you've had to endure in this post, I'll leave you with a pretty one. These are some of the samples that I've been working with as I design this kitchen.
I can't wait to see how it turns out!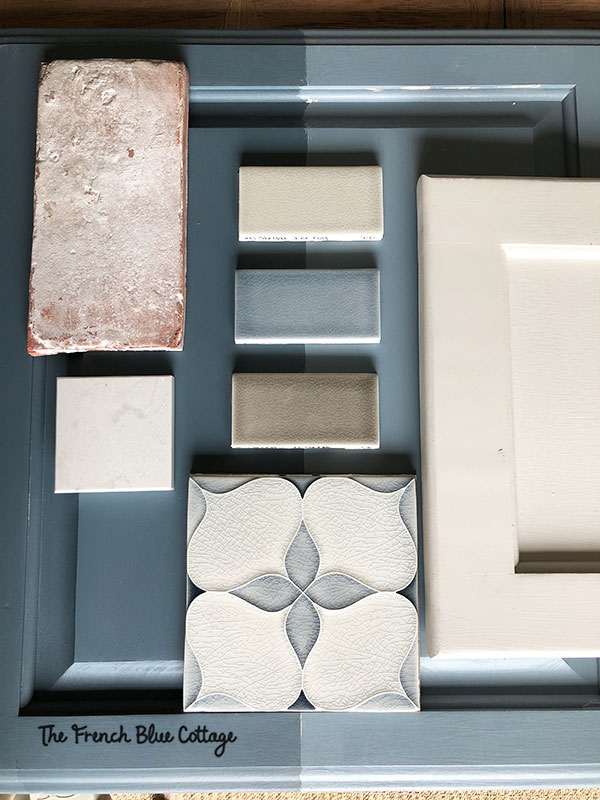 If you'd like a copy of my handy checklist of decisions that you need to make when designing your own kitchen remodel, you can grab that below.

P.S. Here's part 2 of the makeover. ….Part 3 of the makeover….and the final reveal.