This French country inspired kitchen remodel is finally complete! (Source list of materials at the bottom of the page).

Of all the rooms we dream of remodeling, the kitchen has to be at the top of most people's wishlists. It was at the top of mine since we moved into our home thirteen years ago.
Over the years, we did some little updates, but avoided anything really costly. I did not want to waste time, money, and materials on something that I knew we'd eventually rip out.
We removed the ugly tile and instead of replacing it, I painted the concrete. It lasted for about 10 years!
We also replaced the laminate backsplash with beadboard, removed the fluorescent lights, and painted the cabinets.
Then we just lived with it….for over a decade. ?
Over the past thirteen years, most of the other rooms in the house had their turn at a make-over, but the kitchen….that's the big one, so it had to wait.
And then finally, a few months ago, we were able to start the kitchen remodel. But before the construction began, I spent months planning the specifics of our new French country kitchen.
I compiled a checklist of the decisions I had to make when I designed and planned our kitchen. If you'd like a copy of my master checklist of kitchen remodeling decisions, be sure and sign up below and I'll send it right to you.
If you are already a member of the French Blue Cottage community and you want the checklist, head on over to the FBC Resource Library to download it.
*Some of the links in this post are affiliate links. See my full disclosure here.

The kitchen: Before
I just knew that eventually we'd be able to remodel and change the layout.  If your layout is good, then I think it's perfectly reasonable to make changes a little at a time. For us, that just wasn't an option.
They say that in good design, form follows function.
In our old kitchen, the form was not great and the function was awful….
no pantry (our food was stored in three different places around the kitchen)
very little lighting (it was seriously dark)
stained backsplash (f.y.i., beadboard gets dirty behind stoves and sinks)
dropped ceiling (it was like a cave in there)
inefficient storage (anyone else hate those center stiles in between cabinet doors?)
bad flow (bottleneck between the peninsula and refrigerator)
old oven/microwave combo (it was a dinosaur)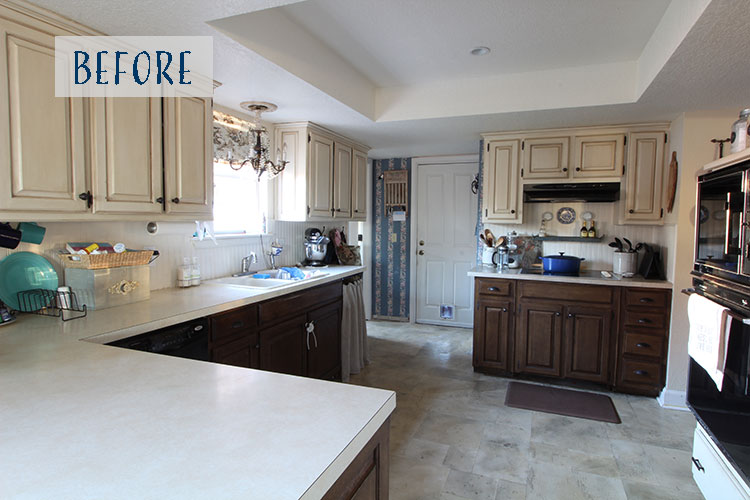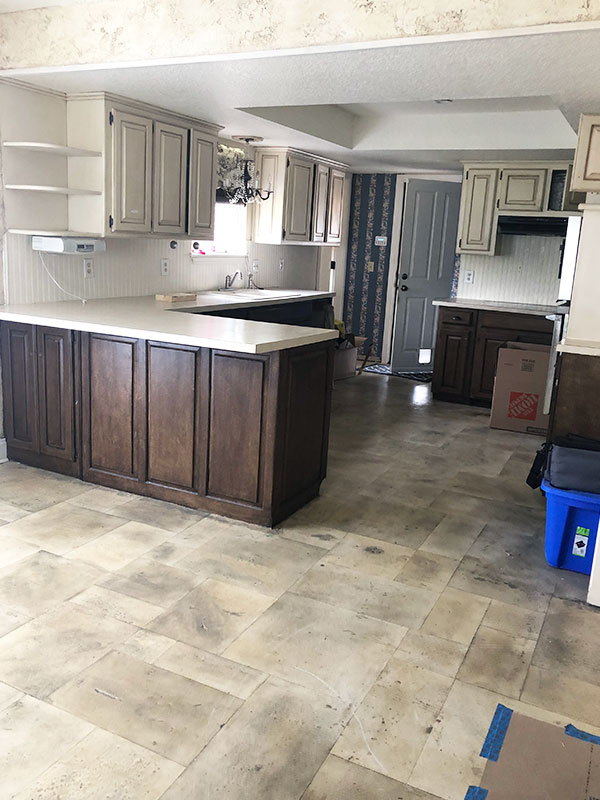 Next up, demo!
Yikes, now I can see straight into the attic!
Aaaand I kept thinking of spiders and bugs dropping into the house.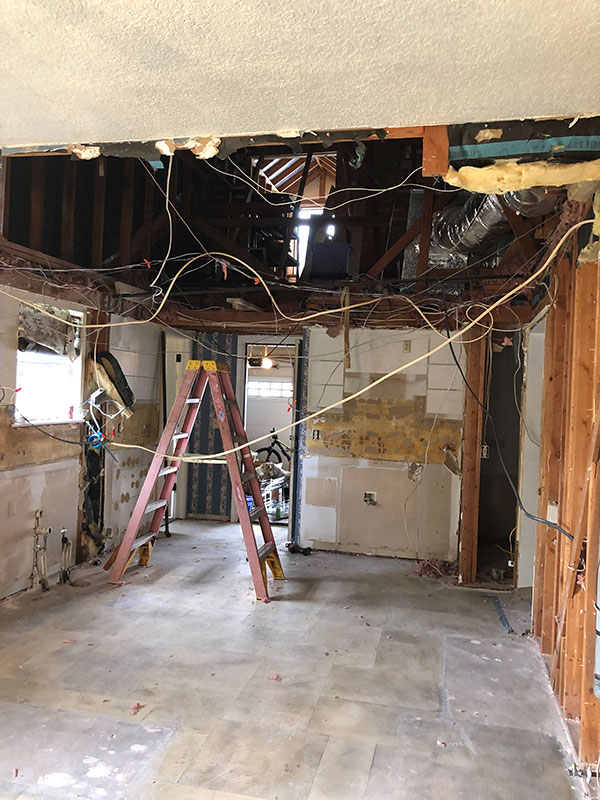 You can see some of the beginning stages and planning here and here.
It was a long process, but after several months, we ended up with our new kitchen….

The French Country Kitchen: After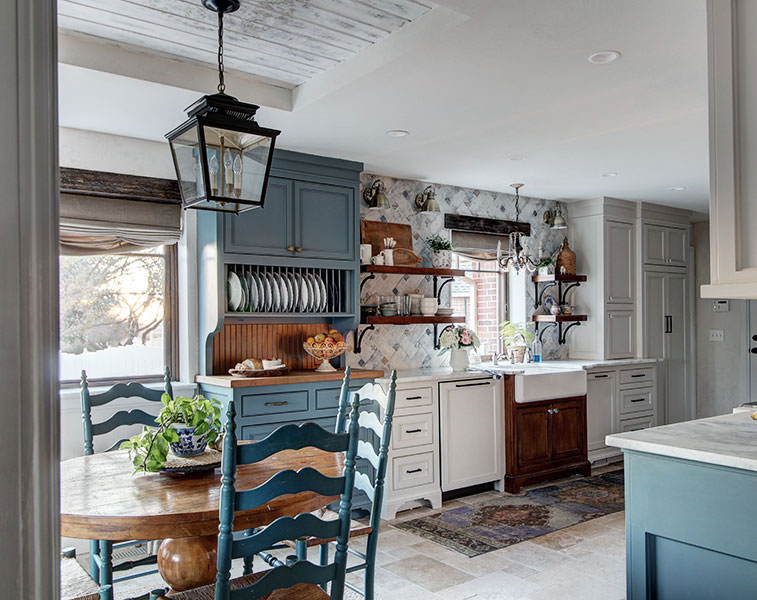 The square footage stayed the same, but raising the ceiling height made such a huge difference!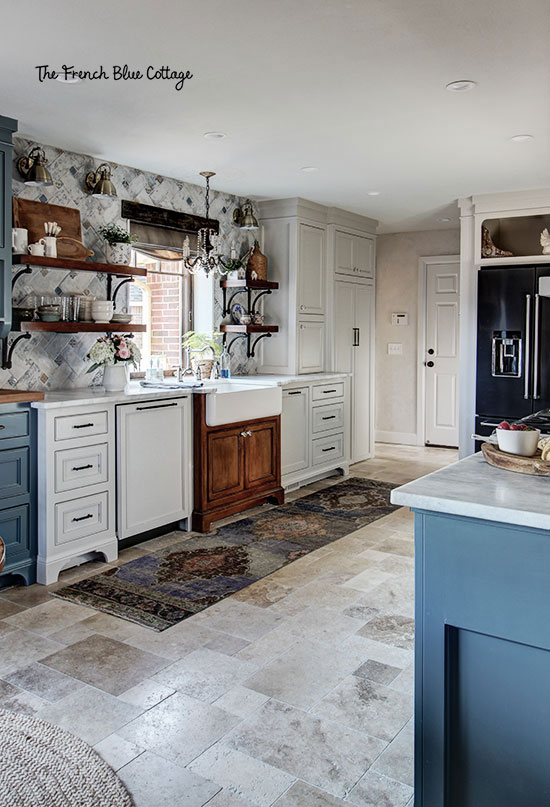 Whew, where to start?!
How about we start with the cabinets?
Here's some of what we chose…
almost all drawers in the lowers
furniture details at the top and around the toe kicks
soft close hinges and full extension, soft close drawer glides
two paint colors plus some stained accents
The blue cabinets are painted with "Taliesin Blue" by Dunn-Edwards Paint. The lighter colored cabinets may look white, but they are actually a very light neutral called "Modern Gray" by Sherwin Williams.
We also chose to do some open shelves around the window. I keep decorative items on the top shelf. The bowls, glasses, and small plates we use on a daily basis reside on the bottom shelf.
It has been so handy to have these things readily accessible.
I love these open shelves!
Here are the open shelves on the other side of the sink…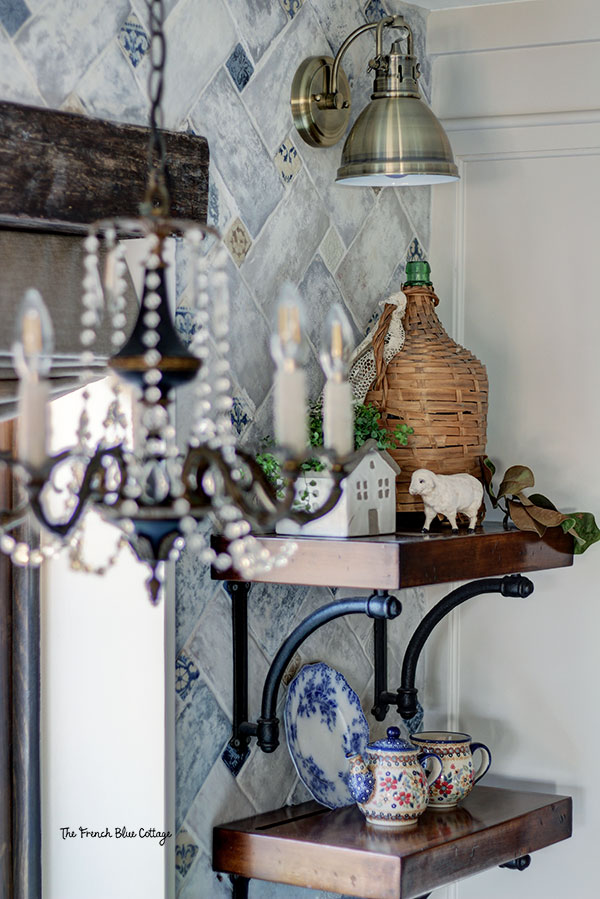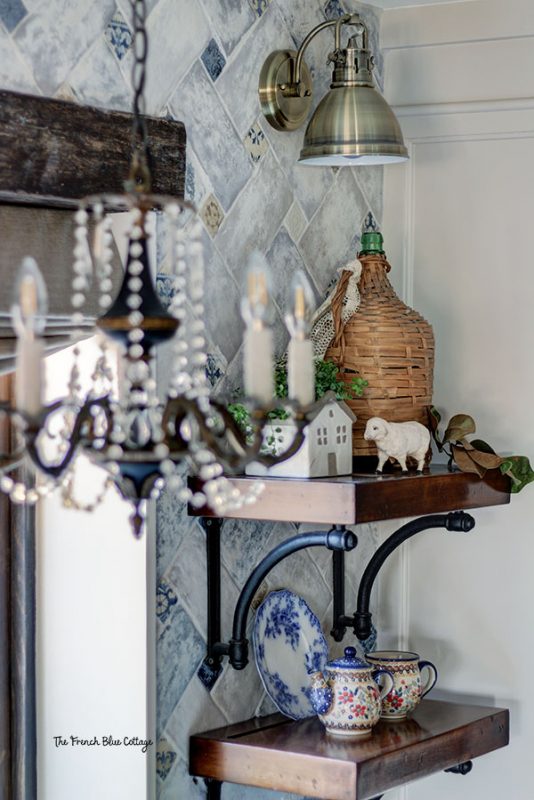 Another furniture detail we added was a hutch with a plate rack. It's probably my favorite cabinet in the new kitchen.
The countertops
For the countertops in this French Country inspired kitchen, we chose to go with marble. In the planning phase, I was just positive that I wanted quartz. I looked at probably five different stone yards and asked for them to show me the quartz. The only problem, was that I kept gravitating to the marble. I mean, like a magnet. The white marble just drew me in.
We ended up going with a marble called Shadow. We had the fabricator give it a honed (matte) finish and a simple, eased edge.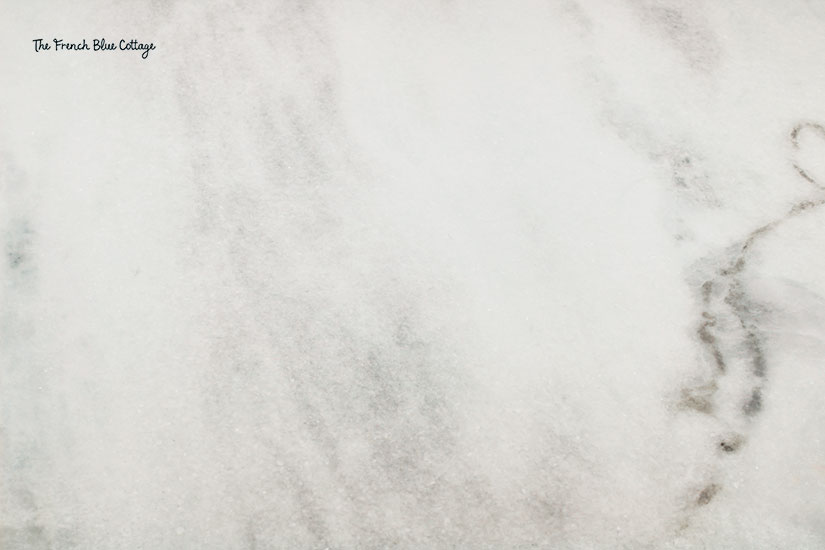 I'm aware of marble's challenges, but I chose a honed finish to cut down on the etching. In addition,  I always use trivets or hot pads and I've never been one to cut veggies and things directly on the counters (always use a cutting board). Marble has been used in Europe both inside and outdoors for thousands of years so it's got to be good, right? Plus, I just really love the charm and patina of natural materials and the marble fits perfectly with a French country kitchen design.
The sink and faucet
The new sink is a Kohler farmhouse sink. It's a white, cast iron, apron front sink in the 33-inch size. I'm so happy with the single bowl.
I chose a bridge faucet and specifically one that only has two posts. A lot of them have a third post in the center, but for cleaning ease, I really wanted one with just two. We went with this faucet and are very pleased with it. It's very heavy duty and doesn't easily show water spots. However, if someone in your family happens to drop the sprayer straight into the drain…..while the disposal is running….., it will show a scratch or a nick. Don't ask me how I know this.
Also, if you haven't looked at faucets in awhile, you might notice the button next to this one. It's called an air switch and is used for turning on the disposal so you don't have to handle a light switch with wet hands.
The stove
The other side of the kitchen features the stove and the hand-plastered vent hood.
This is a Thermador gas range with an electric griddle in the center. I've never had a gas stove before and I love how it performs and how easy it is to clean.
We chose a pro-style cooktop with knobs on the front. Those front knobs are definitely not child-friendly, though, and if I had a toddler, I might have made a different choice. But for our family, this stove is awesome! It's very powerful and the griddle feature has been great.
Because there's a bit of distance between the stove and the sink, we went ahead and added a pot filler.
The backsplash
The backsplash might be the most unique part of our kitchen remodel. I chose brick pavers for the body of the backsplash and small 2 x 2's for the inset pieces.
I painted the pavers in various blues and grays and then whitewashed/mortared over all of them.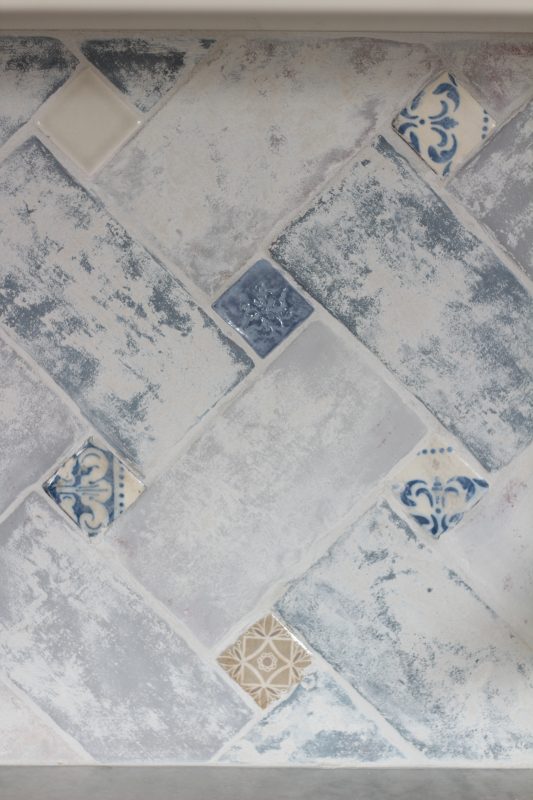 For the feature tile behind the stove, we went with a hand-painted crackle tile by Pratt and Larson. This one was pricey, which is why it's only on a small section! ?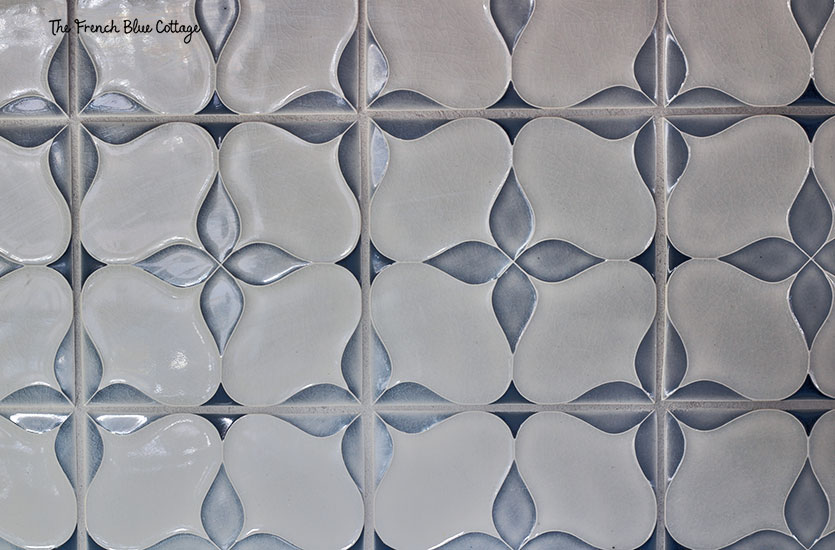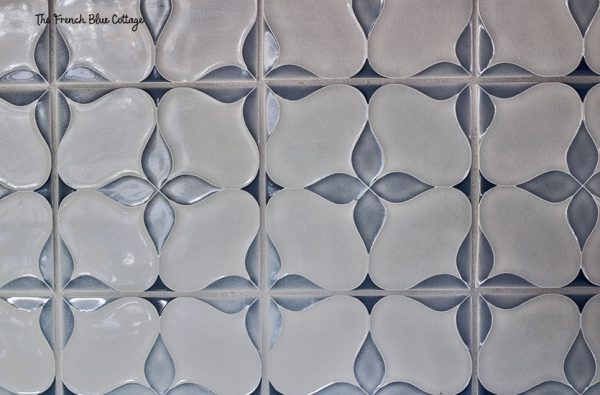 A few other details
We also changed the size and placement of the windows…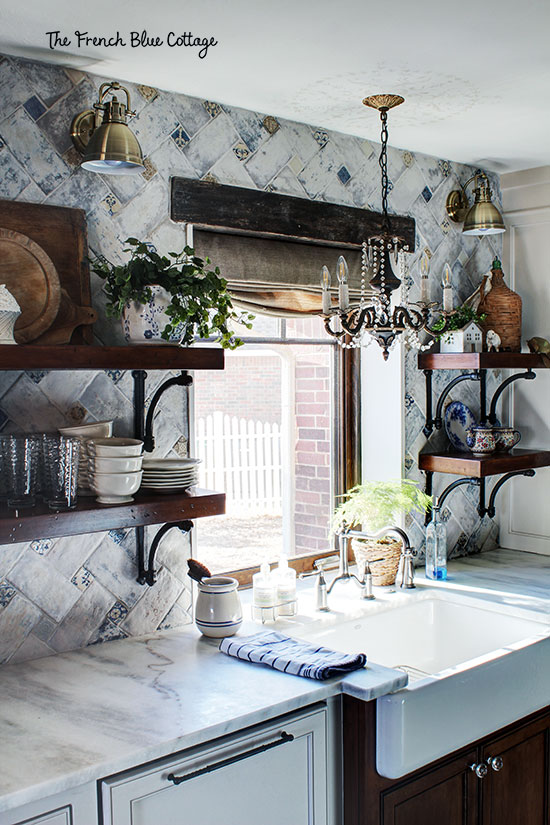 and added a lovely Turkish rug…..
On a side note, the price on this runner was amazing, the quality is excellent, and the shipping was so fast! Unfortunately, the specific Etsy shop where I bought this rug is no longer listed. There are many other beautiful runners, though, at many different price points.
Next up, the back wall, where we placed our refrigerator and double ovens….
The flooring is a travertine tile that was laid in a French pattern. Sometimes the tile stores call it a Versailles pattern.
Clearly, I like this look in floors because it looks an awful lot like my painted floor that was here before. ?
My favorite feature of the new French country kitchen is where this doorway used to be located.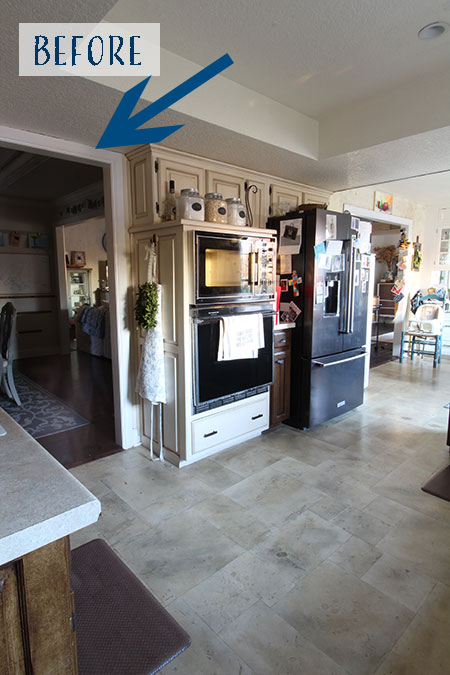 We turned this second entry/exit door into a pantry. It has been sooooo wonderful to have an actual pantry instead of having our food stored in several places all over the kitchen. It has made our lives much easier.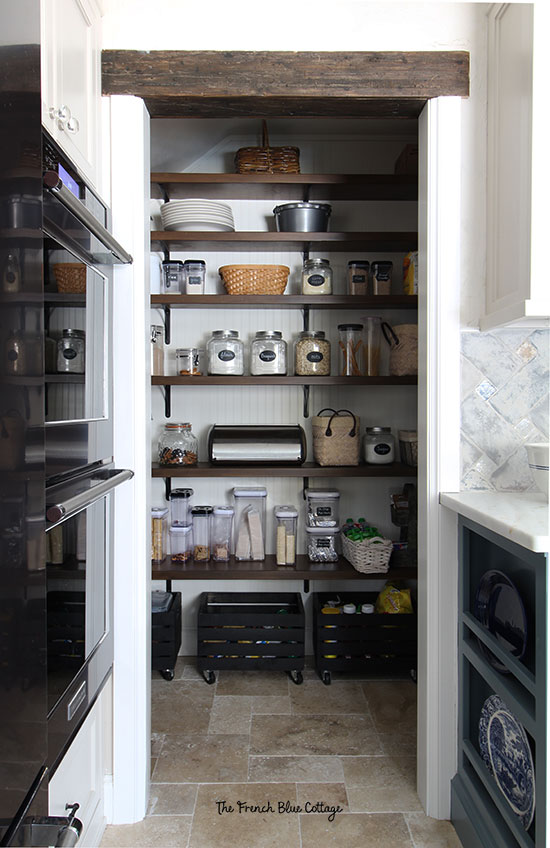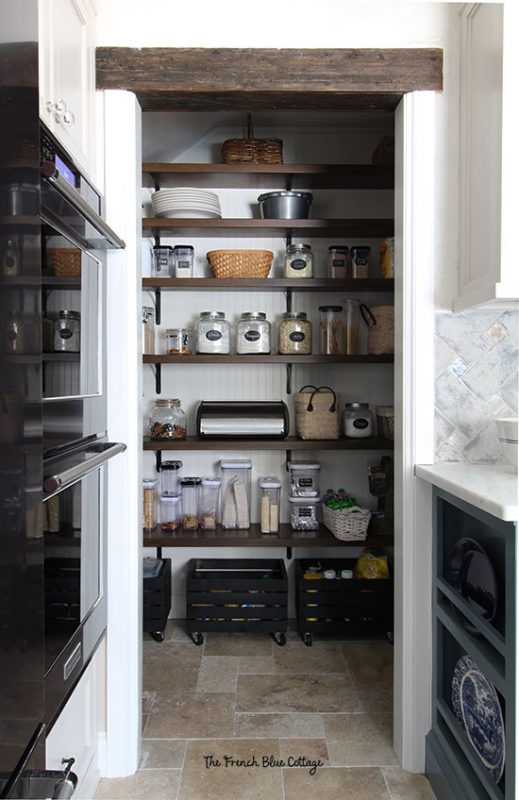 This post is getting a bit long, so I will show more of the pantry at a later date.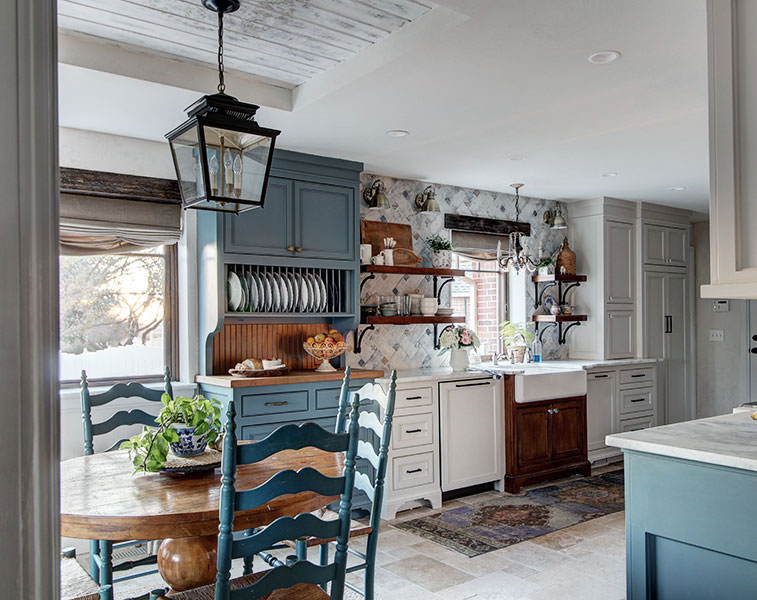 I spent months planning and designing every detail in this kitchen. And then our wonderful contractor, Lynch Construction, built it for us.
I did not want a fully open kitchen but without knocking the center wall out, we did not have enough room for an island. We do plan to build a narrow, mobile table to give us a bit more storage and landing space, plus some interest in the center of the room.
This post is super long, so I will write about some of the built-in storage components and some more design details next.
In the meantime, if you're interested in remodeling your kitchen and would like a checklist of decisions that you need to make during the process, be sure and grab this one…..
Materials/Source List:
*Some specific appliance models change often. In those cases, I've shared the closest model.
*The kitchen is approximately 24 feet long x 12 feet wide.
Blue painted cabinets: (Dunn Edwards "Taliesin Blue")
Gray painted cabinets: (Sherwin Williams "Modern Gray")
Stained cabinet and vent hood trim: custom color
Baseboards/casing: (Sherwin Williams "Snowbound")
Walls: custom plaster
Black cabinet pulls (12 inches)
Black cabinet pulls (3 3/4 inches, 5 inches, 160 mm): D. Lawless Hardware
5 inch Brass pulls : antique brass finish
12 inch Brass pulls : antique brass finish
Brass knobs: burnished brass finish
Glass knobs: satin nickel finish
Brick backsplash: Inglenook Tile
Behind the stove tile backsplash: Pratt and Larson (6 x 6; Motif E; Colorfill 9)
Countertops: "Shadow" marble; honed finish; eased edge
Faucet: polished nickel finish
Pot filler: vibrant stainless finish
Sconces: aged brass finish; similar here
Flooring: The Tile Shop "Capadocia walnut tumbled travertine small Versailles"
Sink window: Marvin wood clad casement with retractable screen
Microwave (in pantry; not seen in photos)
Pantry storage: here , here , here , here , and here
Dishwasher: fully integrated dishwasher by Bosch
Turkish rug (no longer available; similar rugs here)
Window shades (color Gibson Kodiak)
Recessed lights (4 inch)
Lantern light fixture: Ballard Designs
I hope you enjoyed this tour of my new French country inspired kitchen remodel!
Let me know if you have any questions about it and I'd be happy to try and answer them.