One of the best ways to add personality to your home and save some money in the process (win, win!) is to shop for second-hand decor.
In my daughter's French country room makeover, I added quite a few pieces that I found at various estate sales and antique shops.
A painted cuckoo clock:
For instance, this cuckoo clock was plain brown and missing some pieces when I found it. I didn't particularly care that it was missing pieces or that it didn't actually work, I just liked the shape of it as an art piece for my daughter's room. A quick coat of blue chalk paint and it's got a fresh, updated look…
The cuckoo clock started out like this…
Yes, the clock hands and the piece that goes on the top are both missing, but I like the sculptural qualities of it. ? Plus, it only cost me $7.00.
Other vintage finds:
I also found these two vintage, French or Italian-inspired plaques for $4.00 for the pair. They round out the decor on the right hand side of her dresser…
A few more vintage finds are on her bookshelves. The patchwork cat and bunny came from another estate sale and the vintage book came from an antique store (they were just a couple of dollars each)….
You can see them here on the top of her bookshelf along with a chalkboard, faux flower bundle, and a wood corbel…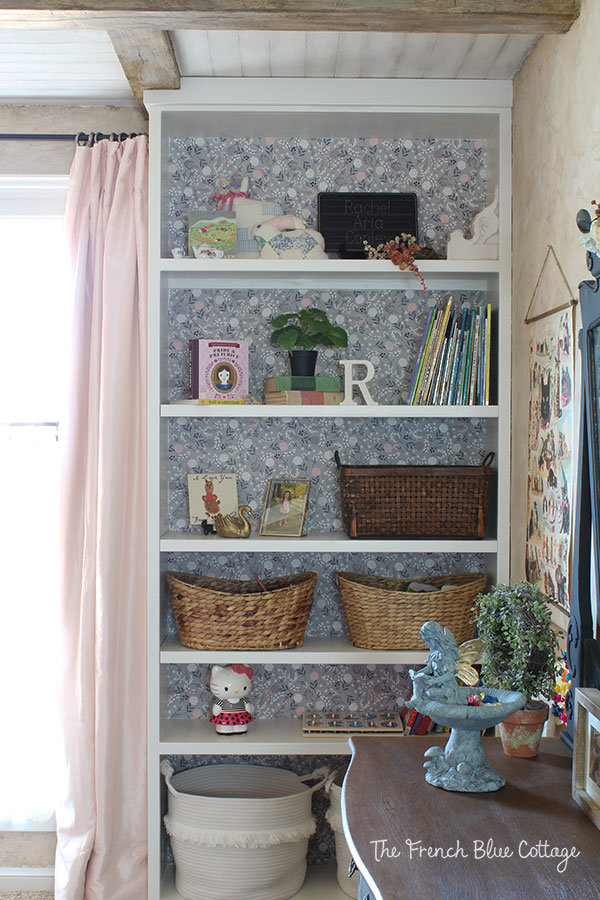 The other bookshelf has a little vignette with a glass doll, a sewn teddy bear, and tiny ceramic cats (she loooves cats!)…
A black toleware platter, another corbel, some family photographs, and several baskets for extra storage make her other bookshelf both pretty and functional….
The backs of the bookshelves are covered with starched fabric. You can see that tutorial here.
One of my favorite estate sale finds was this wood rocking horse art that I bought for $15. I'm pretty sure it was handmade because someone signed their name and a date on the back. I love that!
But the colors didn't quite go in her new room, so (of course) I painted it! The floor and the mane and tail changed from red to gray, the blanket went from plaid to pink with white dots, and the background got painted in a light wash of blue-gray…
Altering new pieces:
Of course, you can always buy an inexpensive new piece, and fix that up, too. I bought this fairy garden statue from Hobby Lobby, but wanted to change it up a bit. It was dark gray to begin with. Here is it after one coat of blue-gray milk paint…
Next, the fairy got a little bling with gold leaf on her wings…
Another great option is to create your own art:
I used a photograph of my daughter to create a mixed media art piece…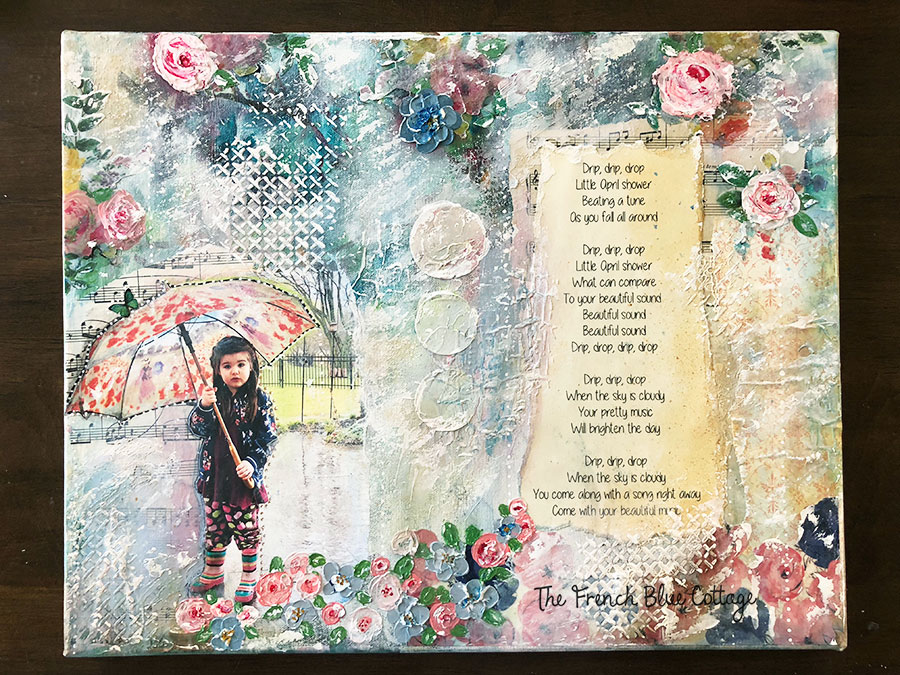 You can see it hanging just inside her doorway…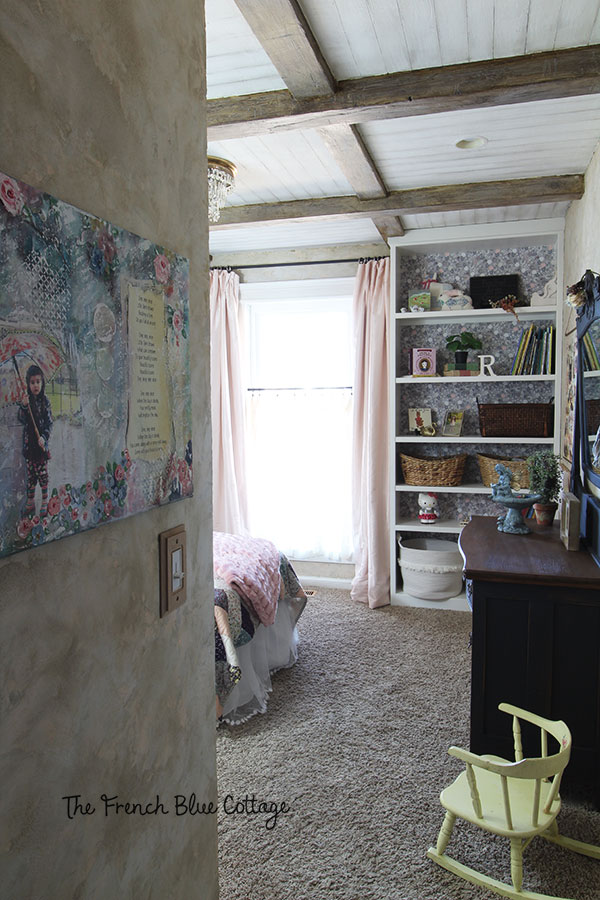 I saved a lot of money by buying most of the decor in this room from second-hand sources. And it's so much more fun and creative than just buying a bunch of new stuff at a store!
Estate sales, garage sales, auctions, thrift stores, antique stores, online shops….
My favorite places for vintage finds are estate sales and antique stores. I also like Craigslist and Facebook Marketplace, especially if I'm looking for a specific type of furniture.
Do you like shopping second hand? What are your favorite places?