Summer is pretty much in full swing in my part of the world. It's usually about this time that I start pulling out the beachy decor and looking for ways to decorate with seashells. I'm naturally drawn to coastal design and decor, but I live in a totally land-locked state with very distinct seasons. It just doesn't "feel" right to me to have shells out when it's cold outside. So, as much as I dislike the heat of summer, I really do look forward to my seashells:)

Here are a few ways I like to decorate with seashells:
Use them as holders for smaller items.
One of my favorite things about shells is that they can be used as functional decor. I love filling a shell with dried lavender. I keep this one by my computer and the scent is so relaxing. When the scent starts to fade, just give the lavender buds a little squeeze and they will release more of their lovely smell.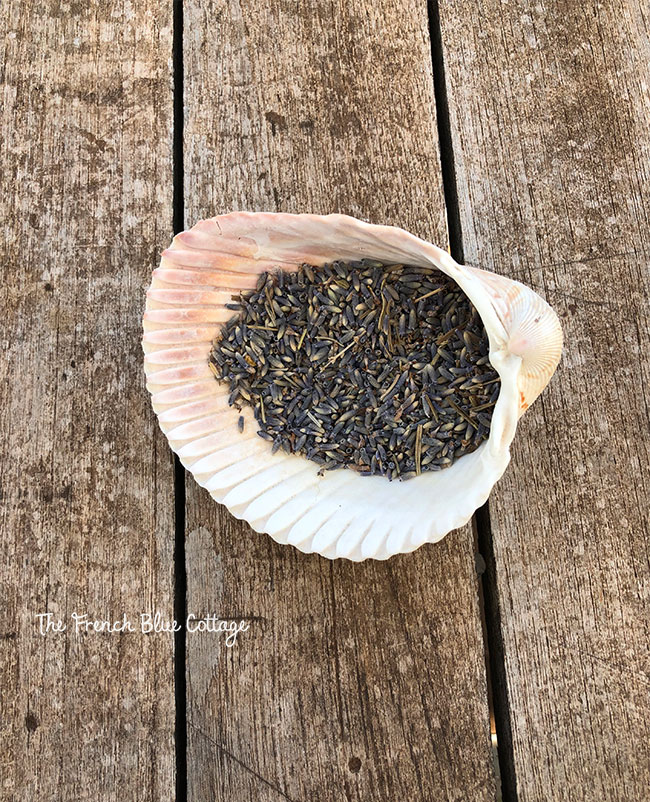 Clam shells are perfect for holding things. I keep this one by the bathroom sink to hold hair clips, bands, and bobby pins….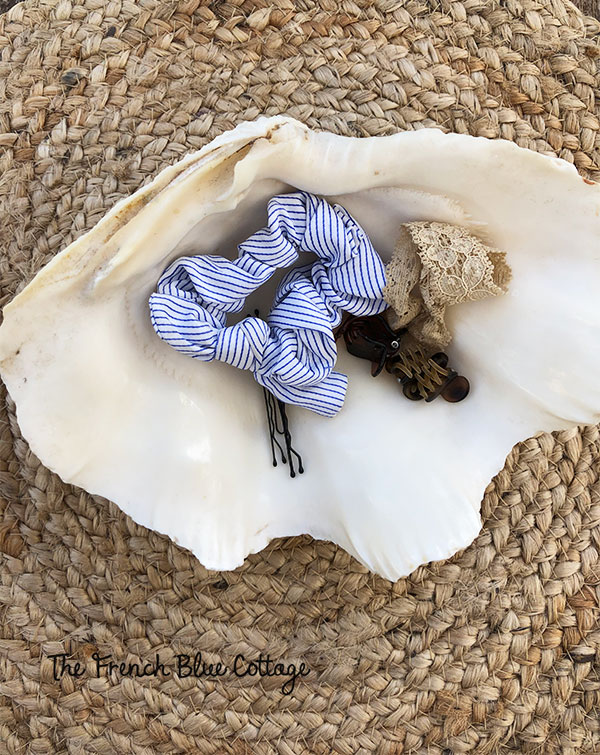 You could also use them to hold jewelry, small office supplies, keys and loose change, etc.

Decorate the shells themselves.
I painted this shell silver and then added a few tiny crystals for some extra shine…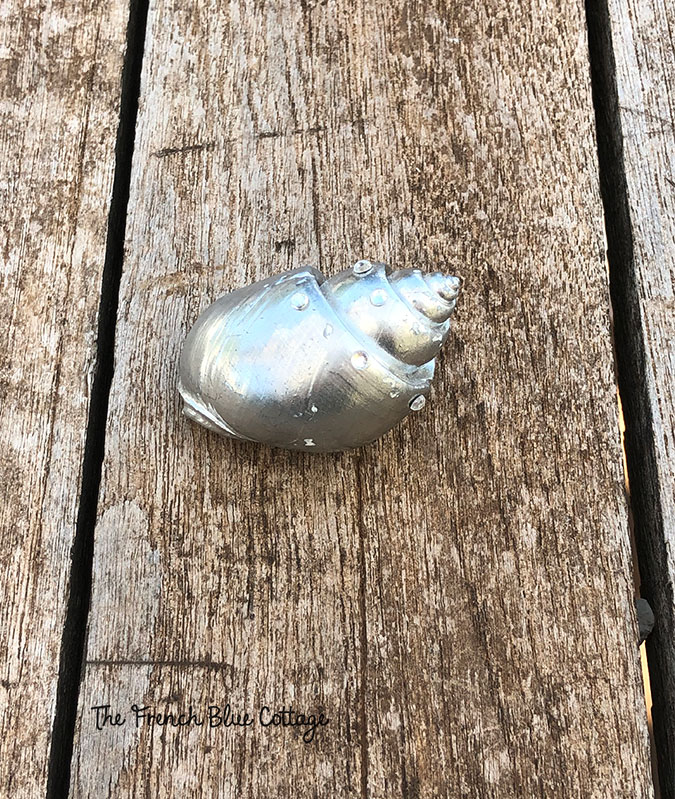 For more painted shells, check out Pinterest. I've seen seashells on Pinterest that are similar to my painted shell, but extra blingy! I've also seen some really beautifully painted ones; some only use Sharpies! Check out my "Craft Time" board on Pinterest for a few painted ideas.

Use seashells in vignettes.
See another one of my silver painted shells under this cloche…
This group of shells under the cloche is sitting on top of a cast iron urn…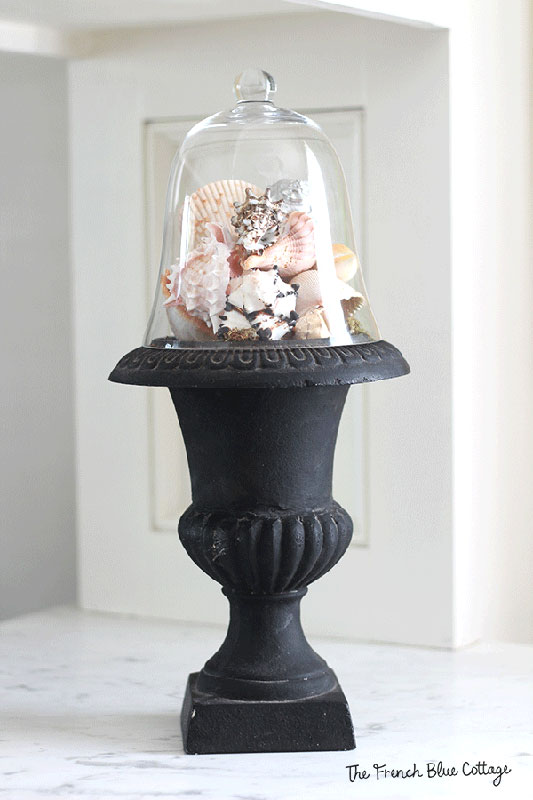 Then, I got fancy and added some other stuff to make a little vignette…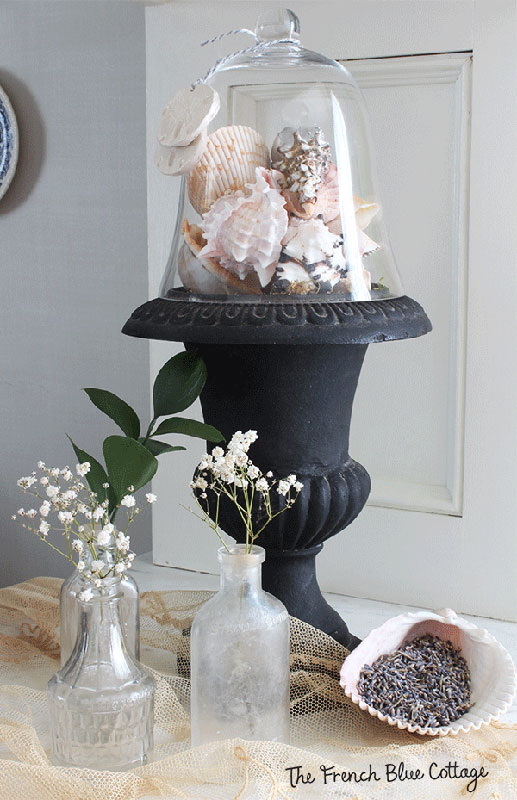 This vignette was on top of a little vintage washstand that I painted…..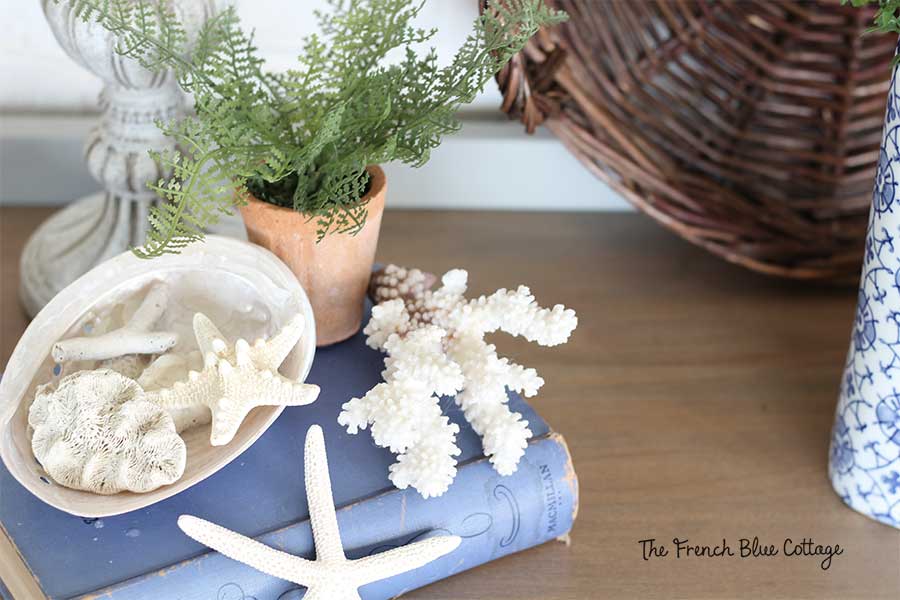 Related: Two-toned coastal makeover.

Hang them up.
I picked up this seashell garland when we were on vacation several years ago. It's hanging on the front of my hutch right now…
I'm sure there are some talented crafters out there who could create a seashell and starfish garland like the one on my hutch. If you'd rather just buy one, I found a pretty garland here.
Pictured below, I attached a jump ring to the back of a starfish (I'm including starfish in the seashell category) and then hung it on a wood bead garland….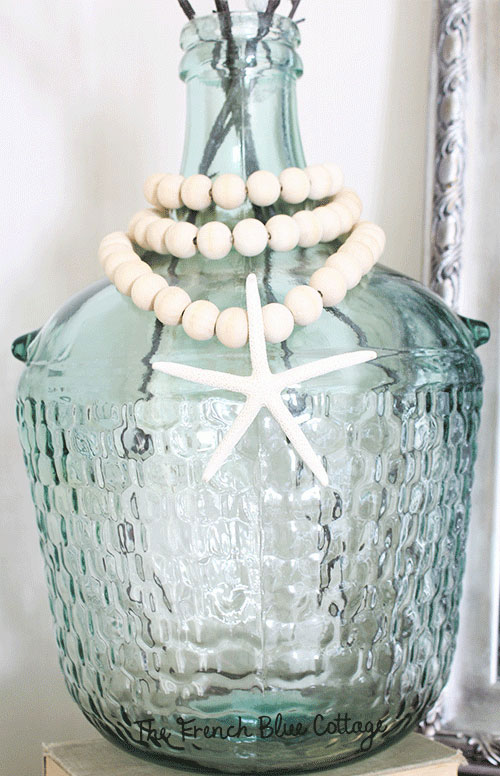 Related: Make your own interchangeable wood bead garland.

Use seashells as planters.
I used a faux plant for this one, but if you have a green thumb, you might try to a live plant. I've also seen these larger shells planted with succulents. How about several of them on a table with flowers? Hmmm, I might just do a tablescape like that this summer.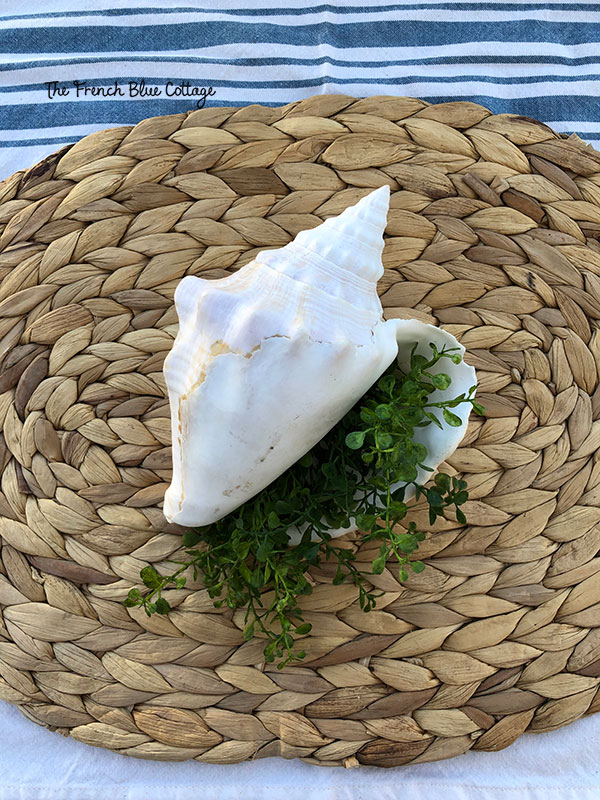 Since I don't live at the beach, I choose to sprinkle seashells around the house in the summer (sparingly and often in little vignettes). I sure love looking at them for the three months I have them out, though!