About eight years ago, I found a chair at an estate sale and gave it a makeover. The chair had really pretty lines and lots of details. For some reason, I decided to "go bold" and use colors I would not typically choose…..namely silver, orange, and turquoise.
I did actually like the way it turned out…..for about a year. Then, those bold color choices started to lose a little of their appeal. But I left it alone for. 8.years.
Until today.
I finally decided that I'd had enough of the orange and turquoise and gave my chair makeover a makeover! ?
*Affiliate links used below. See full disclosure here.
Here's what my chair looked like this morning….
On a side note, I featured this chair in the second blog post I ever wrote. When I go back and look at the beginning posts, I cringe a bit (so, go look at your own risk ?). No matter how embarrassing, I refuse to remove the old posts I wrote because I think it shows growth and I feel like it's important for me to be aware of that.
Anyway, after I took this photo, I popped the chair seat out and flipped it over….
I took off the muslin backing and then removed all of the staples in the orange fabric. Underneath the orange was a very early-80's-looking floral. Underneath that was a really awful red vinyl. I stopped there and just recovered the red vinyl with a scrap of blue and oatmeal colored upholstery fabric (much more my style).
But before I show you the chair seat, let's get back to the chair itself. Once I removed the seat cushion, I realized that I had made piping trim when I initially gave the chair a makeover. But instead of securing it to the seat, I attached it to the chair itself! ?
What to do now? Should I remove it or just leave it.
Neither!
How about I just paint it?
I made a mixture of Miss Mustard Seed's Milk Paint (equal parts Artissimo and French Enamel because that's what I had on hand). Then, I used a paint brush to dab the paint all around the trim….
Here's how the chair makeover makeover turned out….
For the chair back, I used the same fabric, but glued on some natural rope trim (I think it came from Hobby Lobby) in a double layer. I used a double layer in order to cover the edges of the fabric and also the staples.
I also added an abalone shell button to the seat back for a little extra detail….
For the final step, I wanted to lighten the overall finish just a bit. I used equal parts white gesso (for some thickness) and a warm gray acrylic paint to tone the wood. I brushed it on randomly and then used a sea sponge and a piece of cheesecloth to blend it in.
It just lightened the finish ever so slightly, gave a tiny bit more texture, and covered a little of the silver.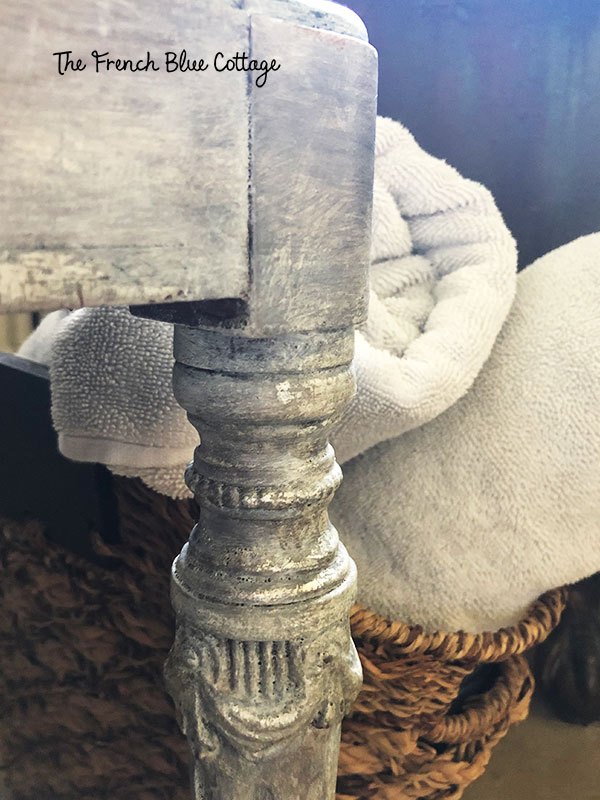 This chair has been in my bathroom next to the bathtub for years. Here's how it looks today….
I also had a small pillow with a bird on it, sitting on the chair before. After the makeover, the pillow looks just as good….
I keep walking into the bathroom, noticing the chair, and feeling an automatic "ahhhh". It's so much more my style now and much more restful to my eyes….
As usual, after a makeover like this, I ask myself, "Why did I wait so long?".
Is there a simple makeover that you've been itching to take on? Or some piece of furniture that simply bugs you?
I encourage you to go ahead and tackle it and get your own "ahhhh" moment when it's finally done:)

P.S. I found this metal tag on the chair. I'm not sure how old this chair actually is. Anybody have any ideas?