I'm not exactly a minimalist. But several years ago, I saw a very minimalist, primitive Christmas wreath online. It wasn't sold anywhere, so of course, I decided to figure out how to make one. ?
I made a set of three for my dining room windows. I used wire coat hangers and a deconstructed preserved boxwood wreath. They lasted for several years, but were not quite sturdy enough to properly support the candles that I placed in the middle.
So this year, I made a new set of primitive Christmas wreaths for the same windows.
I like to make small changes in my Christmas decor each year, but I just can't get away from these wreaths yet. I really love the way they look in my windows without impeding the view.
The super easy tutorial is coming right up!
Seriously.
This is the shortest, easiest tutorial I've ever written:)
Some affiliate links used below. You can see my full disclosure here.

Supplies for a primitive Christmas wreath:
Boxwood Stems – Faux (like this) or preserved boxwood (like this) (once I even pulled apart a wreath) (Mine this year are a mix of faux and preserved. I can't seem to find these specific stems, but I think they were Smith and Hawken from Target last season)
Craft rings (I ordered these gold craft rings)
Spray paint (optional)
Twine
Battery operated candles (similar here)
Floral tape or floral wire
These are the rings I ordered….
They came in a pack of 8. I ended up using one of the 12 inch rings for my center window and two of the 10 inch rings for the left and right windows.
Paint:
Then I gave them a quick coat of my favorite matte black spray paint.
I sprayed one side and hung them to dry. A few minutes later, I came back and sprayed the other. It dried pretty quickly.

Add boxwood:
I used floral tape to attach the boxwood stems to the hoop….
Next, I overlapped another sprig of boxwood to cove the tape and attached it. I kept going until a little less than half the wreath was covered….

Add twine, candle, and hang it up:
I measured out a length of twine and tied a knot around the top of the wreath…
Clip the candle onto the wreath and hang it in your window.
I use a clear 3M hook to hang my wreaths on the windows…
They're difficult for me to photograph against the bright windows, but you can slightly see them in the photo below…
You can also see them in the dining room windows in the background of this next photo…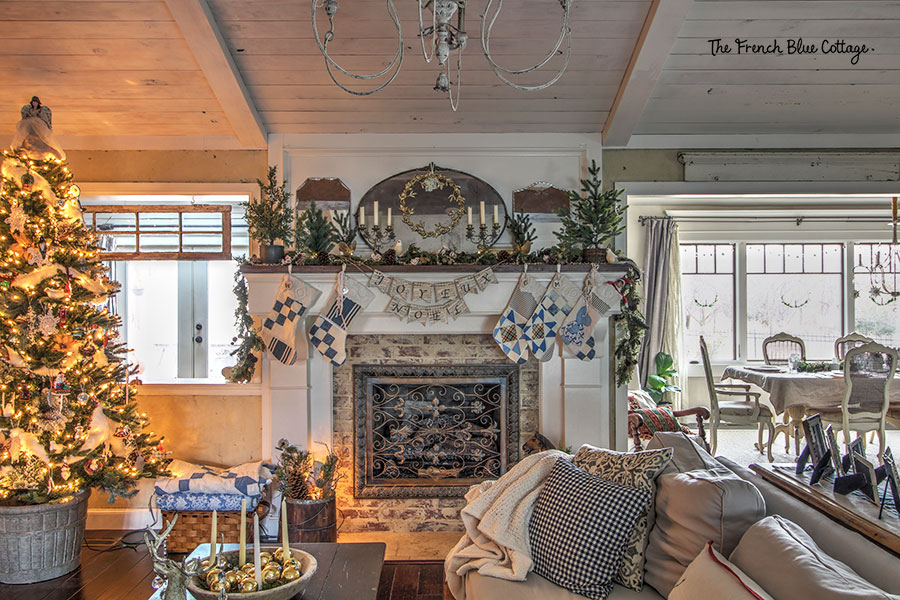 See, I told you I wasn't really a minimalist. ?
Happy crafting!