I hate waxing furniture. I know that 'hate' is a strong word, but I truly can't stand it. Now don't get me wrong, a waxed finish can be so soft and beautiful on furniture. But the application gets me every time. It's just so labor intensive. I don't want to break out in a sweat while I paint a piece of furniture. Is there another option? Fortunately, yes! So, if just thinking about waxing furniture makes your arms and shoulders start to hurt, then read on for another method for how to seal milk paint.
Affiliate links used below (full disclosure here).
The secret top coat is…..hemp oil for furniture!
Often, when I paint a piece of furniture, the sealer I choose to use is hemp oil. I use Miss Mustard Seed's Hemp Oil, but I've also wanted to try out this version by Real Milk Paint. (By the way, my link to the Miss Mustard Seed Hemp oil is for the large size. You can buy it locally or through another retailer to get the smaller size. This stuff lasts for a long time.)

I used hemp oil on the antique dresser in my daughter's room….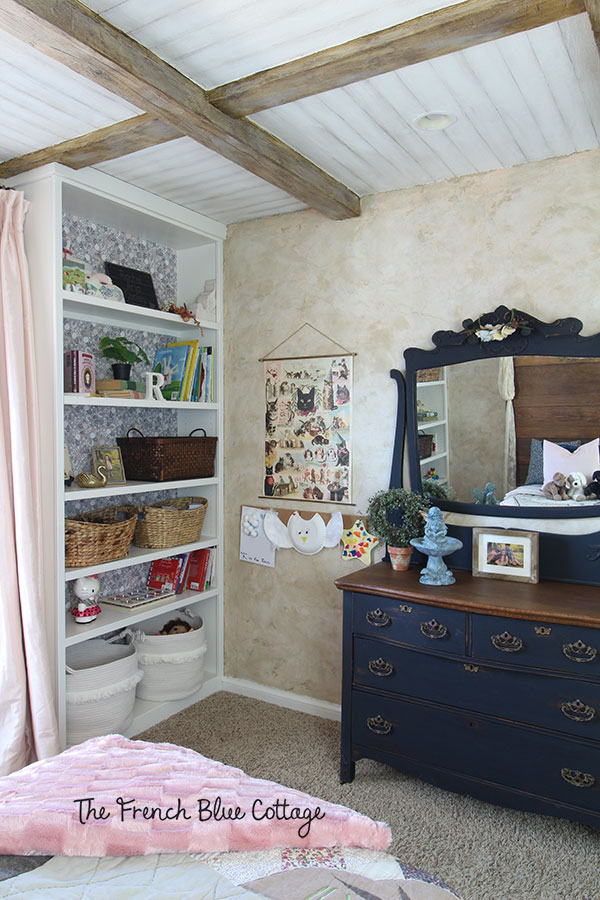 You can see the rest of her French country room makeover here.
I did not take a lot of pictures while I was painting her dresser, so I decided to do a small sample to show you the hemp oil technique I use.

How to seal milk paint with hemp oil:
Paint your furniture with milk paint (follow the directions of your specific milk paint brand). You could also use chalk paint if you prefer. I started with a sample piece of baseboard….
Mine was painted white, so I began by giving it a coat of dark brown paint. The reason for this is because, if you want to distress the piece, the base color will show through on the finished product. I did not want white to show through, so I had to paint it brown. If your furniture is already stained, then you can skip this step….
Here's the actual coat of milk paint. I used Miss Mustard Seed's Milk Paint in the color Layla's Mint. If you look closely, you can see some light crackling in the paint. This is because I rushed the milk paint layer and didn't wait for the brown layer to completely dry. I like this look, but if it's not wanted, be sure your piece is completely dry and has no oils or varnishes on it before you use the milk paint….
2. Paint on a layer of hemp oil with a paint brush.
3. Then take a sheet of wet/dry sandpaper (pictured above) and gently rub across the surface of the wood. I use 600 grit Imperial Wet or Dry Sandpaper by 3M that I typically purchase at Lowe's (similar here). Use a very light hand on this part, just softly skimming the flat areas and pressing just a bit more on the raised areas for a little more distressing.
4. Use a lint-free cloth to buff in the remainder of the oil and then to remove any excess. The resulting finish should be smooth like butter!
Here's the completed sample board…
A few extra tips on hemp oil:
Hemp oil dries to a lovely, matte finish.
It can be applied to raw wood, milk paint, chalk paint, and stained wood that is unvarnished.
I suggest testing hemp oil in an inconspicuous spot (especially before finishing raw or stained wood), just to make sure that the finished color will be what you want.
I often use hemp oil as a sealer on the body of furniture, but I don't always use it on the top. The tops of furniture (especially tables) take a lot of abuse and I usually want a stronger finish for those. In that case I typically use a water-based sealer like Varnish Plus by Faux Effects.
I would also use the stronger sealer instead of hemp oil on kitchen or bathroom cabinets for the same reason.
You can add another coat of oil after the first has cured for several hours.
Hemp oil can/should be reapplied every few years or if the finish starts to look dry or scratched.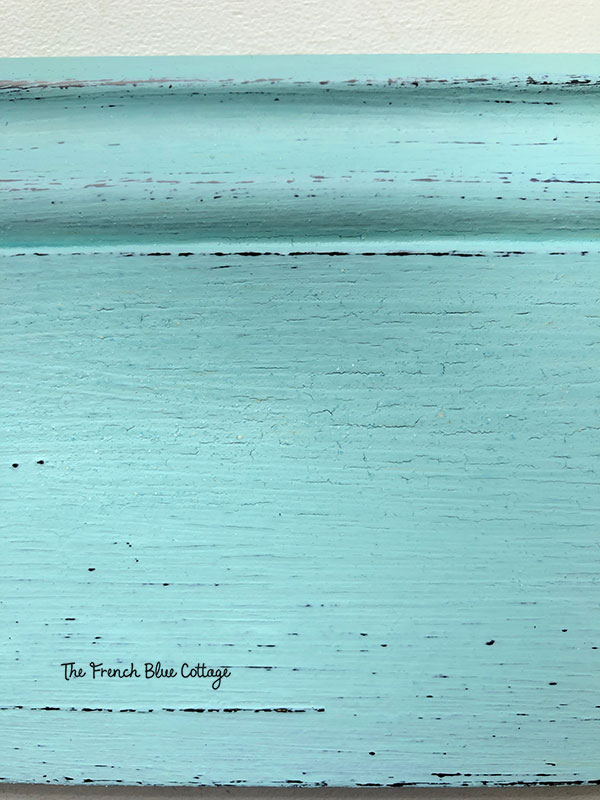 If you've used furniture wax in the past and want something a little (ok, a lot) easier, then learning how to seal milk paint with hemp oil is the way to go. Your shoulders will thank you:)