7 ways to use a cloche….do you have any other ideas?

So, what do you call this: a cloche or a bell jar?
The words seem to be interchangeable, but I always end up using the term, "cloche" (pronounced klōsh).
Whatever they are called, they can be really lovely in home decor.
The more important question is: What do you do with them?
Imagine this scenario (which may or may not be from my own personal experience) –  You're out shopping when you spy the prettiest cloche/bell jar. It's beautiful and it's on sale and you just have to have it. You buy it and bring it home.
Now what?
Would you like a few ideas?
Here are a few ways I've used a cloche or seen one used….
1. Photo holder
I placed a family photograph in a flower frog. If you haven't heard that term before, a flower frog is meant to be placed in the bottom of a vase to hold the stems in place. For a photo, you want a "pin flower frog" which are the spiky ones. I often find them in antique stores.
They look like this…..
Once your photos is secured in the flower frog, just place the cloche on top.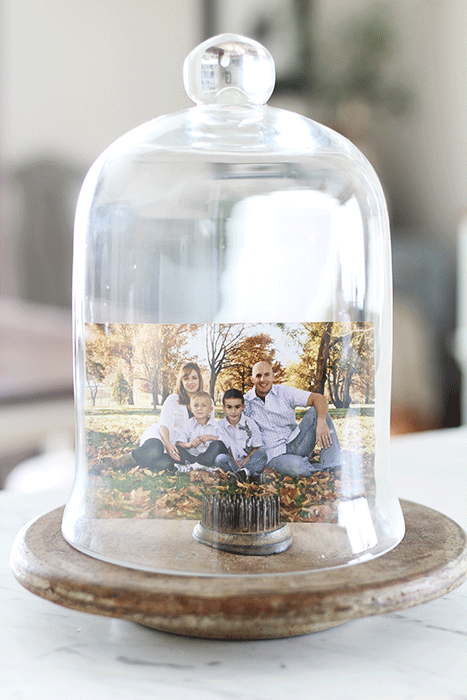 This one usually sits on my china cabinet/Welsh cupboard with a little chalkboard sign hanging around the handle…..
2. Something meaningful
Put something meaningful to you or representative of a hobby on display under a cloche.
Like ballet shoes, art supplies, a baby item, antique sewing items, vintage fishing lures, something your child made…..
This is all about you, so the sky is the limit as far as possibilities go!
My oldest son made a bird on a nest in pottery class one year.
It often sits on a little cupcake holder under a cloche…..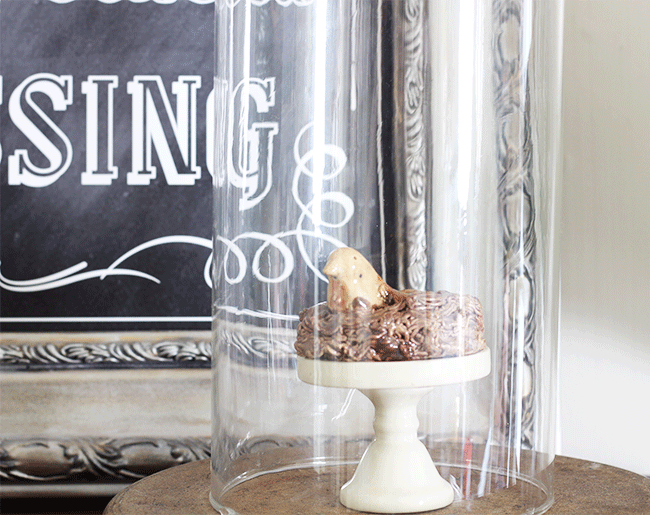 3. Something from nature
Consider a plant, a flower, some driftwood and seashells, pinecones, feathers, antlers, etc.
Here, I've used a mini terra cotta pot, a small faux pear, a fern frond, and some ironstone butter pats.
4. Something seasonal
This is probably one of the easiest ideas, because most of us have some seasonal decorations that would look right at home in a small display….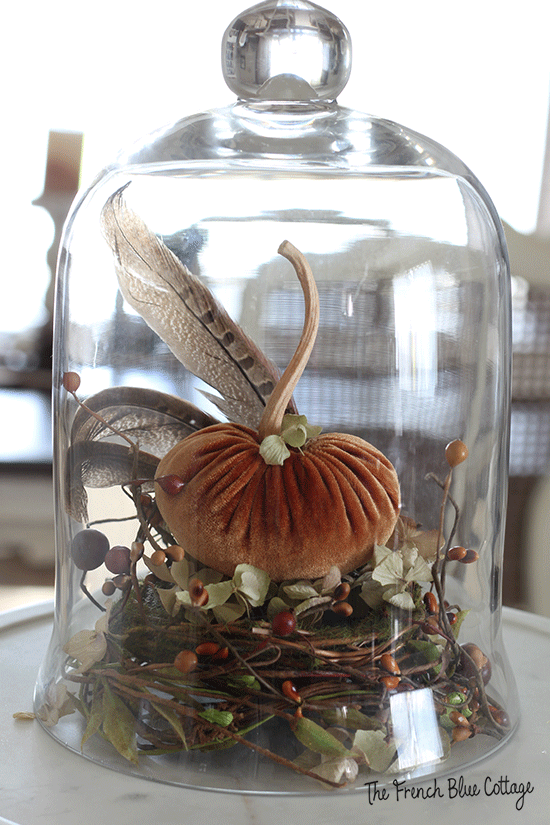 Here is the tutorial for making the pumpkin cloche seen above.
5. A miniature scene
I'd love to try this one out next spring. Think "Fairy Garden" under glass….
source unknown
6. Groups of cloches together
Items grouped together en masse often make such a huge design statement.
Isn't this one beautiful? Each with it's own butterfly….
7. A cloche on an urn
For this one, I filled the urn with moss and then I filled the cloche with seashells. Then, I tilted them both sideways, put them together, and then stood the urn upright.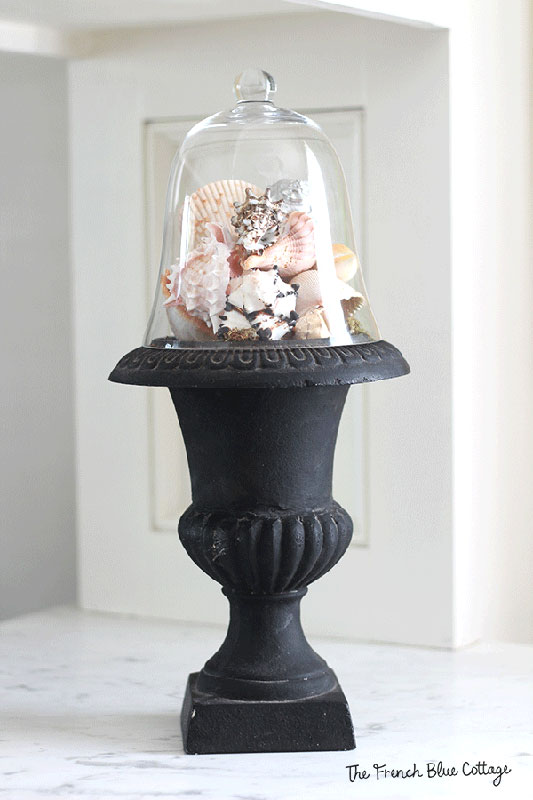 Have you used a cloche or a bell jar in your decorating?
If so, what did you put in it?