In this post: creative craft room storage ideas (or home office ideas) that you can DIY on a budget.

Creative Craft Room Storage Ideas
Welcome to week 6 of my One Room Challenge! If you missed anything, you can see the previous posts here…
Week 1 | Week 2 | Week 3 | Week 4 | Week 5
A little house in small-town Oklahoma survived the Dust Bowl years, the Great Depression, and decades of life. For part of its time, it sheltered a loving family with seven children. The oldest daughter in that family was my maternal grandmother.
Many years later, my grandmother and her siblings went back to the home, now abandoned, and discovered that some of the home's original window frames had been left in the garage. The frames became a sort of souvenir from their old home.
Years after that, I somehow ended up with one. Everyone in my family knows that I have a great love for old, chippy furniture and things, so I often get offered vintage and antique items. Yay!
I've always wanted to use this old window frame for something, but have never found just the right place for it…..until now.
Creative craft room storage idea #1
I decided to store and display my oil paints on this old, chippy window frame.
First, because there is a trim piece on the wall, it caused the window frame to stand off of the wall about 3/4 of an inch. To account for this, we added strips of wood at the top and in the center and then attached the frame.
Then, we hammered in a line of nails along the top of the window and on the center pieces.
Affiliate links used below. See full disclosure here.
Then, I simply attached a binder clip to the end of one of my paint tubes and hung it up on a nail….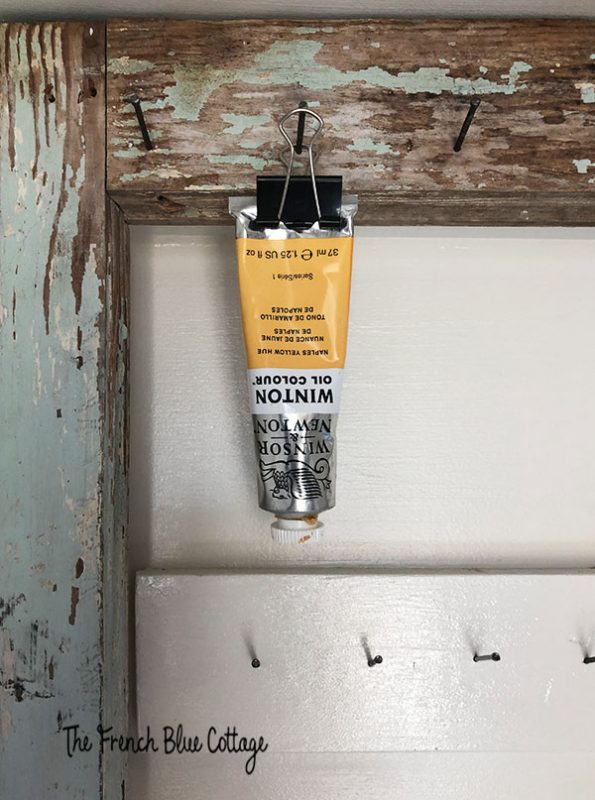 I quickly filled up the rest of the nails with more tubes of paint.
I love the original, chippy paint on this window frame! As I sit and paint, this sentimental piece of my grandmother's childhood is in full view.
This method of displaying my oil paints is meaningful to me, very functional, and was done on a budget.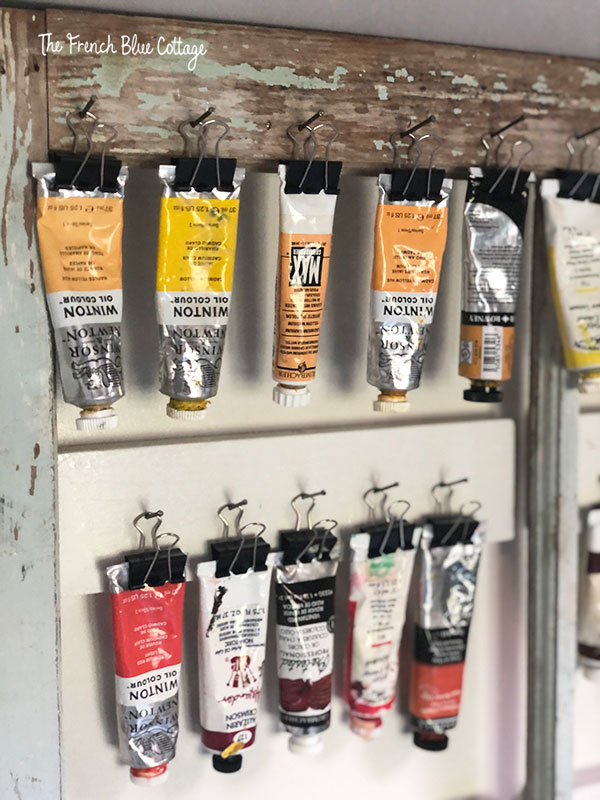 To store a few more colors, I used an old chicken feeder tray that is attached to the wall with simple L-brackets…..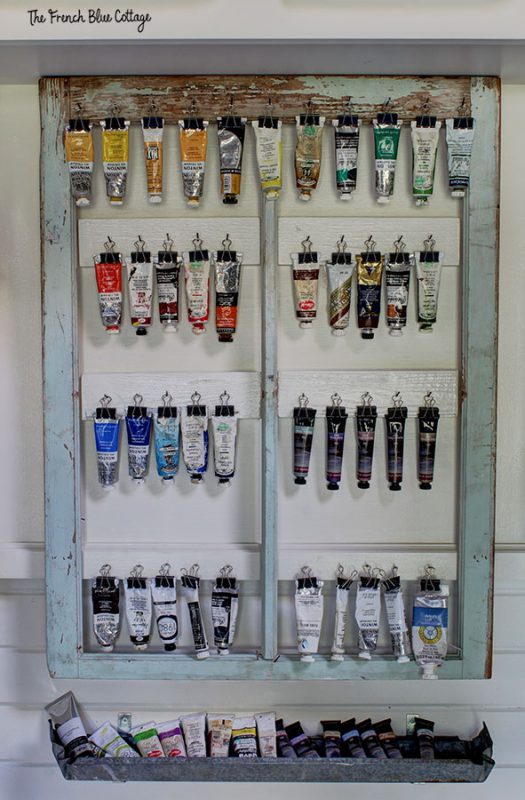 Not only do I have oil paints to store and display, I also have many acrylic paints, adhesives, gold leaf supplies, et cetera that I need to keep organized. Before this makeover, I kept all of these things in a rolling plastic drawer tower and it really worked well for me.
Unfortunately, these plastic drawers are not really attractive. So, similar to what one might do with an ugly chair, I decided to give it a slipcover!
Creative craft room storage idea #2
First, my husband cut a square of 3/4 inch pine to fit on top of the storage cart. It hangs over about 1/4 inch on the two sides and the back, but is flush on the front. Then, I gave it a quick sand and a coat of water-based stain. We did not attach it to the cart in any way; it's just resting on the top.
Next, I cut out three pieces of blue and white ticking fabric and hemmed the top and bottom of each. I made them wide enough to be able to gather and sew them with a slight ruffle on the tops.
For the back and the two sides, I simply hot glued the fabric to the pine board.
For the front, I used sticky-back velcro on the board and sew-on velcro on the fabric.
When I need to get into a drawer, I simply peel back the velcro…..
And then I can close it back up and not have to look at the plastic or the mess inside…
Plus, the top is nice and even now. I am using it to dry my paintings.
Creative craft room storage idea #3
For my last storage idea, I used a vintage suitcase to store some office supplies and paperwork. I need these things occasionally, but not often enough to warrant taking up precious space in a drawer of its own.
At first, I stuck some adhesive felt pads to the bottom of the suitcase to keep it from scratching my painted floor. But then I really wanted to add another basket on top of the case so that I could keep some of my binders inside. I knew that this would add quite a bit of weight and would make it more difficult to slide the luggage out.
The solution…..these casters!
(You might have seen me use these casters for the rolling bins in my pantry makeover. I really like them!)
We put a small square of wood on the inside of each corner and screwed the casters through the bottom of the suitcase and into the wood.
Voilà!
DIY rolling storage….
And it is sturdy enough to store another basket on top for more storage and organization…
Did you notice the "socks" on my table? ?
I love original casters on furniture, but sometimes they have harsh edges that can damage floors. I really did not want to take this chance with my new painted and stenciled floors, so I covered the casters with these sock-style floor protectors. They work great and blend in quite well with the color of the table.
Art and Crafting Studio To-do List:
paint walls and (possibly) ceiling (decided against painting the ceiling)
paint colorful, stenciled concrete floor
re-paint desk area
address lighting and ceiling fan (give it a DIY makeover!)
order window shade (install shade)
find and buy a pine table  (refinishing pine table)
figure out storage needs, buy baskets that fit, & then organize
buy office chair (I've decided to recover one I already have)
decide on a rug (I love the floor so much, that I'm not adding a rug!)
make art ledges
make open shelves
get new cabinet hardware
cover plastic storage drawers
figure out oil paint storage
decor items
Remember, you can take a look at the other participants' rooms here!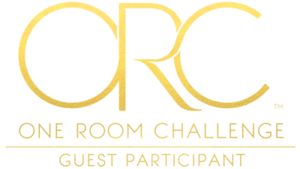 We're in the home stretch now…only two weeks to go!