I'm sure there are some teenage boys who love to bake sugar cookies, but that's not on my sons' top ten list of fun things to do after school.? When they were little, they enjoyed baking cookies and cupcakes, but truthfully, I think it was mostly about eating the results!
Fast forward a decade and I now have a little girl. And this one is constantly wanting to help in the kitchen, even when she often (because she is an exceedingly picky eater) doesn't want to eat the results!
So today when I mentioned that we might make Valentine's Day sugar cookies, she was definitely on board.
Read on for a really delicious sugar cookie recipe.
Hint: These are extra tasty because they are made with powdered sugar instead of granulated, plus they have a hint of almond extract.
Step 1: get a little helper
FYI: This sugar cookie recipe makes the most delicious dough.
I've heard that some people would never eat raw cookie dough (I personally don't know any of those people ?), but this dough is really tasty.
Another FYI: While I do think these are the tastiest sugar cookies, they do puff up quite a bit and spread a little, so if you are looking for something to make beautiful, crisp-edged cookies then you might try a recipe with granulated sugar and a little less butter instead.
Step 2: gather your ingredients
Here are the ingredients that you will need for this recipe (full recipe at the bottom of this post):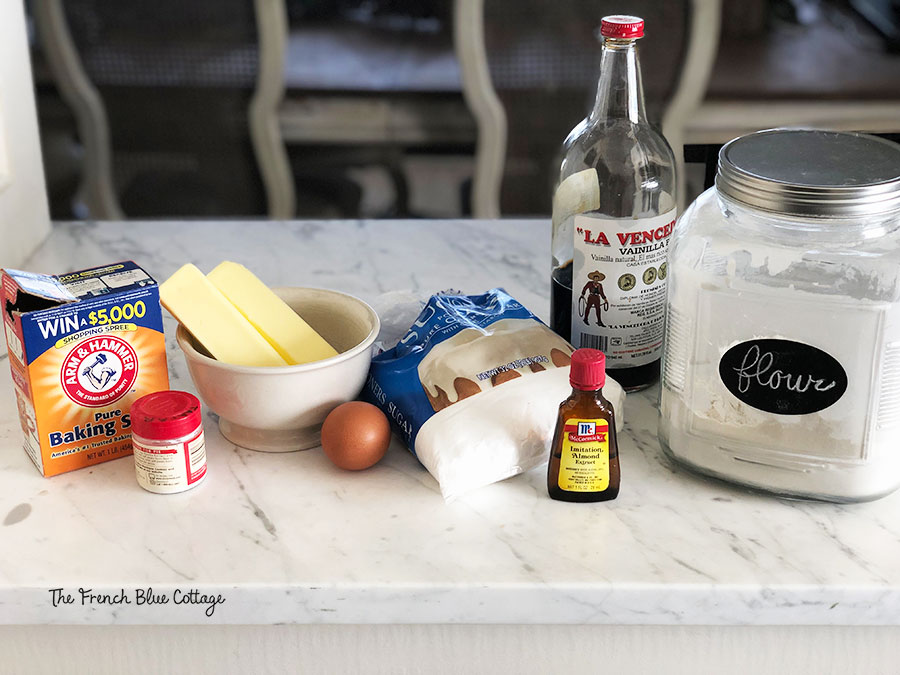 Step 3: mix the ingredients
Add the ingredients to the mixer and blend…
Step 4: roll out the dough and cut shapes
The recipe calls for chilling the dough for 2 to 3 hours, but I'm cooking with a 4-year-old, so I don't think that's gonna fly.
We just rolled the dough on out and she got to work…
Just to test it out, I did chill some of the dough. Then I even rolled it out on a section of marble counter top….
Honestly, I couldn't tell the difference:)
Step 5: sprinkle with sugar and bake
Next, I placed her sugar cookies onto a pan lined with parchment paper and let her shake on some sprinkles.
Of course, she wanted other shapes besides hearts. We found two bags of cookie cutters in the cabinet and I managed to steer her away from pumpkins, ghosts, and Christmas trees. But apparently just hearts was not enough variety. So she chose a train set and a house, too.
And just using red sprinkles was no fun either and she decided to use every color of sprinkle that we had:)
After she made one batch, I made another one (minus the houses and trains)…
After they baked, I decided to add cream cheese frosting (store bought) to some of the cookies…
These may not be the most Pinterest-worthy looking cookies, but they sure are delicious!
And, even more importantly, I spent some quality time making memories with my little one and I'll take that any day:)
P.S. Those teenage boys who don't love to bake cookies, sure did enjoy eating them for dessert this evening!

Easy, Delicious Sugar Cookies
Ingredients
1

cup

butter,

softened

1 1/2

cups

powdered sugar

1

egg

1

tsp

vanilla

1/2

tsp

almond extract

1

tsp

baking soda

1

tsp

cream of tartar

sprinkles,

as desired

frosting,

as desired
Instructions
Mix thoroughly, butter, powdered sugar, egg, vanilla, and almond extract.

Blend in flour, baking soda, and cream of tartar.

Optional: Cover and chill for 2-3 hours.


Heat oven to 375º. Divide dough in half. Roll each half 3/16 inch thick on lightly floured surface.

Cut into desired shapes. Sprinkle with granulated sugar or sprinkles if desired.

Place on parchment paper-lined cookie sheet. Bake for 7 minutes or until very lightly brown on the edges. Cool and add frosting if desired.