There are a few types of paintings and pictures that are commonly found in French-inspired spaces.
One type is the landscape painting…..
source
Another common type is the still life….
Other types of floral paintings are also common…
How about a simple charcoal sketch?
Another kind of painting that is often used is the portrait….
Of course, you could personalize this by using old photographs of your own family or ancestors. I love this look when there are several old photos grouped together.
source unknown
Portraits and old photos give a room a sense of history. This one is so pretty!
Large tapestries are also sometimes found in French-inspired rooms…
There are an abundance of old paintings to be found at estate sales and antique stores. I just buy things I like and figure out how to work them into my rooms later. They can be hung in gilded frames, rustic wood frames, or just propped up somewhere with no frame at all.
I've also been considering trying out a picture rail system in my hallway. Maybe something like this…
I also love the French country look of these cow paintings hung without frames…
 source unknown
Another fun option for art, is to make your own!
I can hear some of you now, "but I'm not artistic!".
Well, today you can find these great studios and companies all over the country where you can take a one night class and they will guide you through all the steps.
My caution for you is to check out the paintings in their online galleries and compare them. Some of these companies do very basic "theme-type" paintings and others are more detailed and realistic. They're all fun to go to, but the more realistic paintings will probably give you more of that French-inspred look.
Here is a cow painting that I did at a local studio called Paint Your Art Out….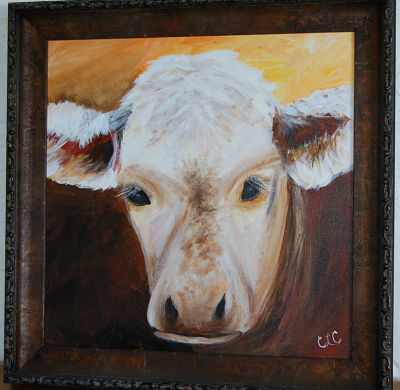 You can also take an inexpensive flat print and give it some real brush stroke texture. Click here to see how.
If you've missed any of my 31 day series, you can click on the button below to catch up!