Open any book or magazine about French country decor and I can pretty much guarantee that you will find some caned and/or rush seat furniture.
Caned furniture comes from the peeled-off bark of rattan. These strips of bark are then woven into a pattern.
Natural rush seats are made from cattail leaves. Today, you will often find seats that are made of brown paper that has been twisted to look just like natural rush.
There are caned chairs….
caned settees…..
 source unknown
and caned beds….
I even found a caned desk online….
You will also find rush seat furniture in many French country rooms. Like this bench…
or these chairs…..
source unknown
or these rush seat bar stools…..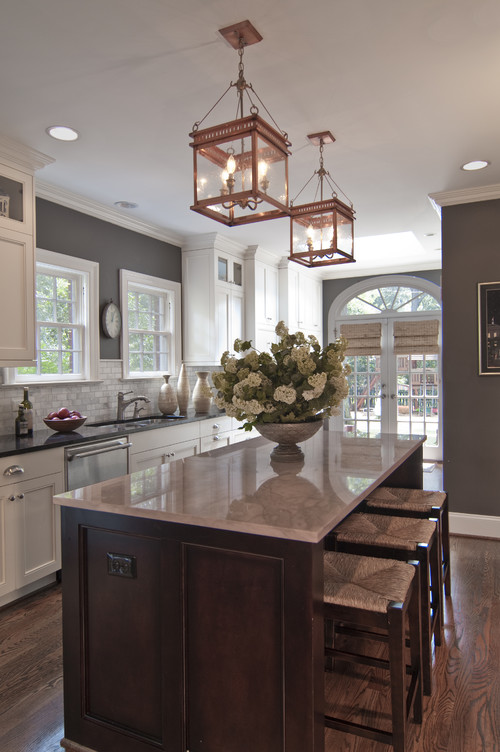 There is one furniture piece I've wanted for so long……
Ahhh, a French country rush seat settee with a big, fluffy seat cushion. This one above was originally from Horchow and is no longer available. There was a beautiful rush seat settee with a bluish-gray toile cushion in a local shop about a year ago. I waited and pondered whether I should get it, but before long it was sold. I could kick myself for not buying it!
I guess that means I'll have to keep shopping! 🙂 I'm sure eventually I'll find another one.
Many people are starting to realize how pretty these caned pieces can be, often after a coat of paint or stain. Because of this, they are getting a little harder to find for a good price. But by checking garage sales and Craigslist, you can often find a set of chairs.
The first cane-back chair (shown above) is a set that I bought off of Craigslist.
The second chair with the faux grain sack and the third chair with the rush seat are each a part of sets I bought at estate sales.
Tip: When searching Craigslist, of course you'll use the key words: caned and rush. But sellers sometimes mistakenly call caned/rush seat furniture "rattan" or "wicker", so you might search under those terms too.