Let's talk French-inspired bathrooms today.
We'll start with the main piece of furniture, the vanity. One way to add some style is to take a piece of furniture and turn it into a vanity, like this…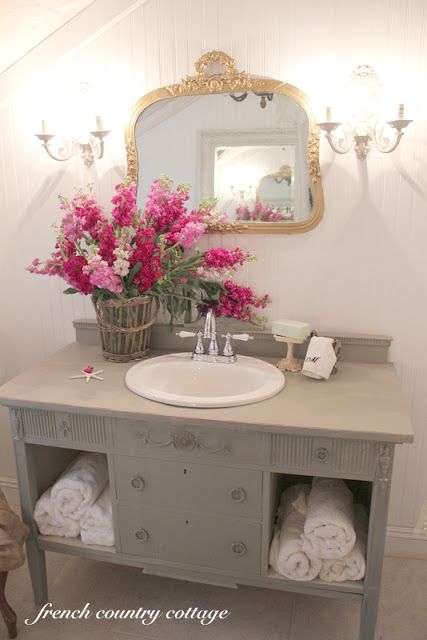 I love the way she took the doors off of this one for some open storage.
You could also add in a vanity that's completely open, like these shelves….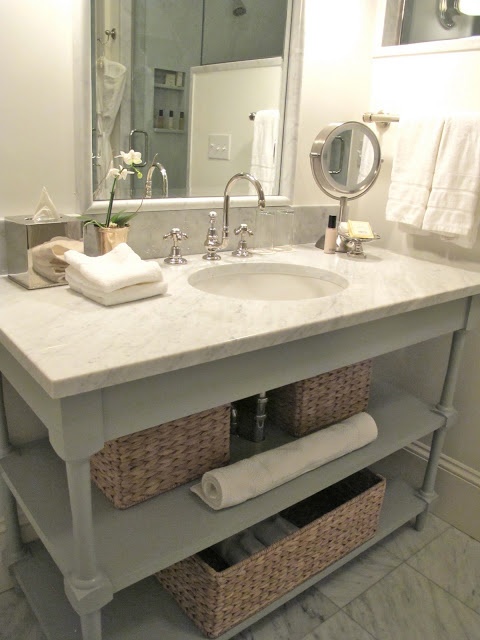 In our powder room, we were working with a small space, so we went with a curvy pedestal sink with legs. I added a skirt to hide the plumbing….
It's hard to find a good angle when you are photographing a tiny room!
Next, we'll move on to the bathtub. Free-standing tubs are so beautiful; like sculpture for the bathroom…
source unknown
I'd love to have a separate shower, like this one….
What do you think of this shower, with the steel "windows panes"?
This one is a shower/bath combo and it's ah-may-zing!
Next, we'll add a mirror….
You can see a few more mirrors here.
Then, I'd add some lighting. I love sconces in bathrooms, so I might go with something simple like this…
source unknown
(I like how the sconces shown above are mounted directly to the mirror frame.)
Or maybe we want something more fun and ornate…
Ok, I think this one is actually Italian, but it could fit into a French-inspired bathroom. I'm seriously loving this sconce and wondering if I could DIY a similar look because I bet the price is above my range!
You can see a few more examples of French-inspired lighting here.
Here's a few more French-inspired bathrooms for inspiration:
I think this next one is totally do-able for a homeowner. This makeover is gorgeous and she shows several other views of this room on her blog.
The next one is probably my favorite bathroom right now. The soft color scheme, the natural light, the marble, the lighting, and the Venetian plaster on the ceiling. Oh my….
See you tomorrow!