It's time for an Extreme Makeover…Christmas tree angel edition!
I know Christmas is over, but this angel makeover is a perfect project to do before you pack all your decorations away. And the after Christmas sales are going on in full force, so if you don't have an angel or if you like yours just fine the way she is, you can probably find a great angel to make over for a cheap price.
And most of us have a little downtime between Christmas and the new year. A craft project is a fun, relaxing way to spend some of it.
I gave my own tree angel a makeover a few years ago, but didn't take any "before" pictures. So, I bought another one a few weeks ago because, let's face it, what's a makeover without a good before-and-after?
*Some affiliate links used below. See my full disclosure here.
Here's our first angel makeover candidate (she came from the Dollar Store; similar here)…
I'm sure she's perfectly lovely on the inside, but the outside could use a little updating;)
The first thing I did was to remove her pouffy sleeves, her gold ribbons, her lacy skirt topper, and her shiny gold wings.
Poor thing, now her pipe cleaner arms are showing…
Next, I cut a rectangular length of linen fabric and hemmed it with hot glue. Then, I hot glued the linen skirt around her waist and took a piece of the lace overlay that I had previously removed and glued it to the underside of the linen skirt as a bit of trim….
To cover her arms, I placed another rectangular length of a pretty blue fabric (also hemmed with hot glue) around her shoulders and glued it in place like a shawl.
A length of ribbon, plus a ribbon rosette rounds out her dress…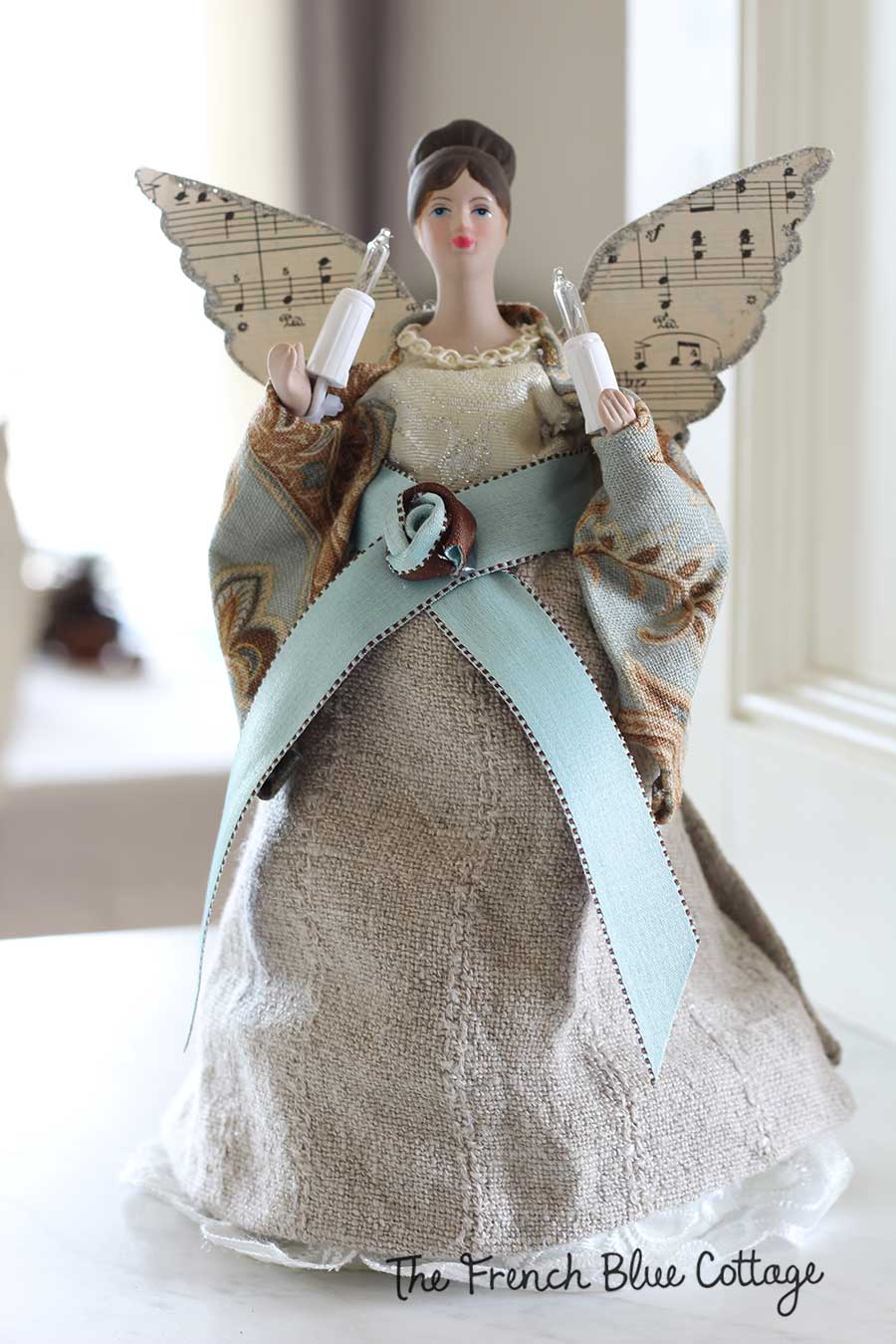 You may have also noticed that she got a new hair color! Nothing against blonde, but I envisioned her a little more like "Belle" from Beauty and the Beast. I turned her into a brunette with a little craft paint. Oh, and I also updated her lipstick with a bit of pink craft paint.
And a bell must be ringing somewhere, because this angel has a new pair of wings!
I used her gold wings as a pattern to trace the shape of the wings onto some old sheet music (doubled for thickness). They got some bling around the edges courtesy of glitter. I used Martha Stewart glitter in White Gold. I love this particular color and have used it on several projects.
This angel has Christmas lights inside, so this is what she looks like when they are lit up…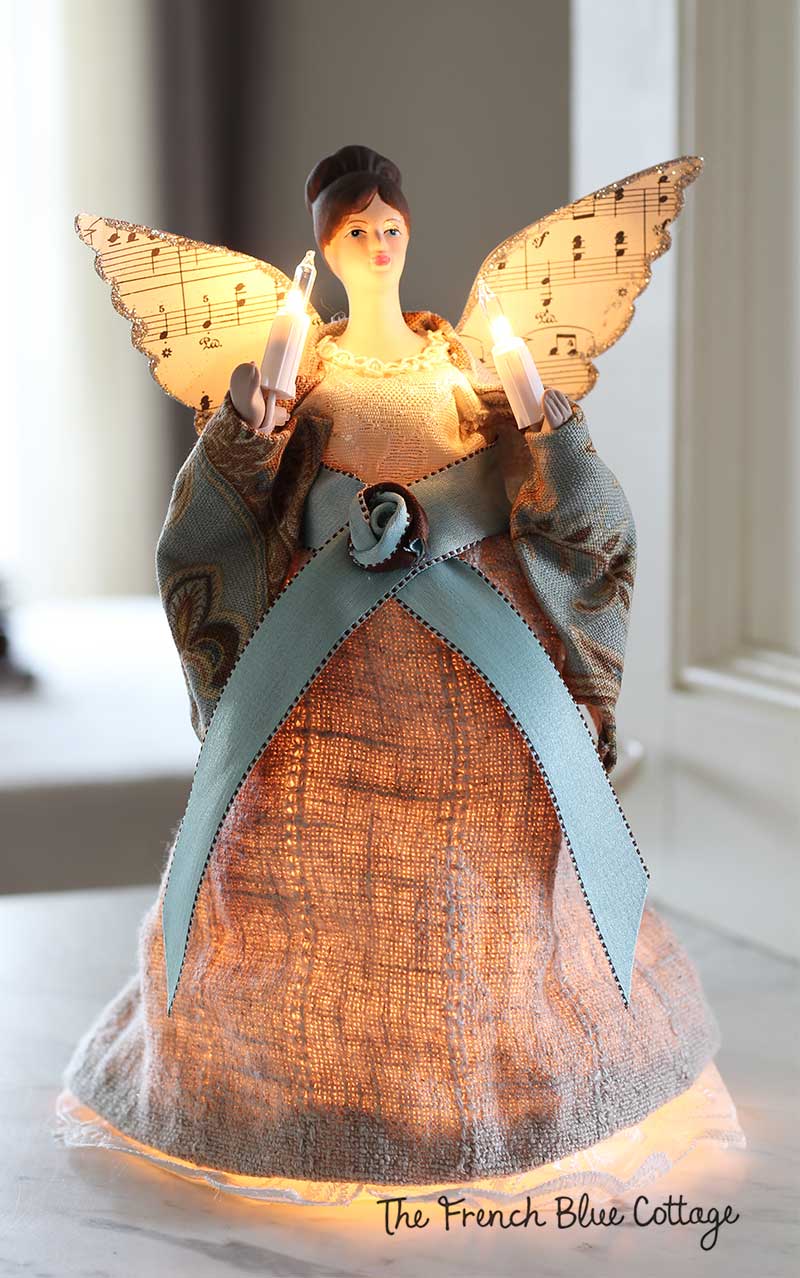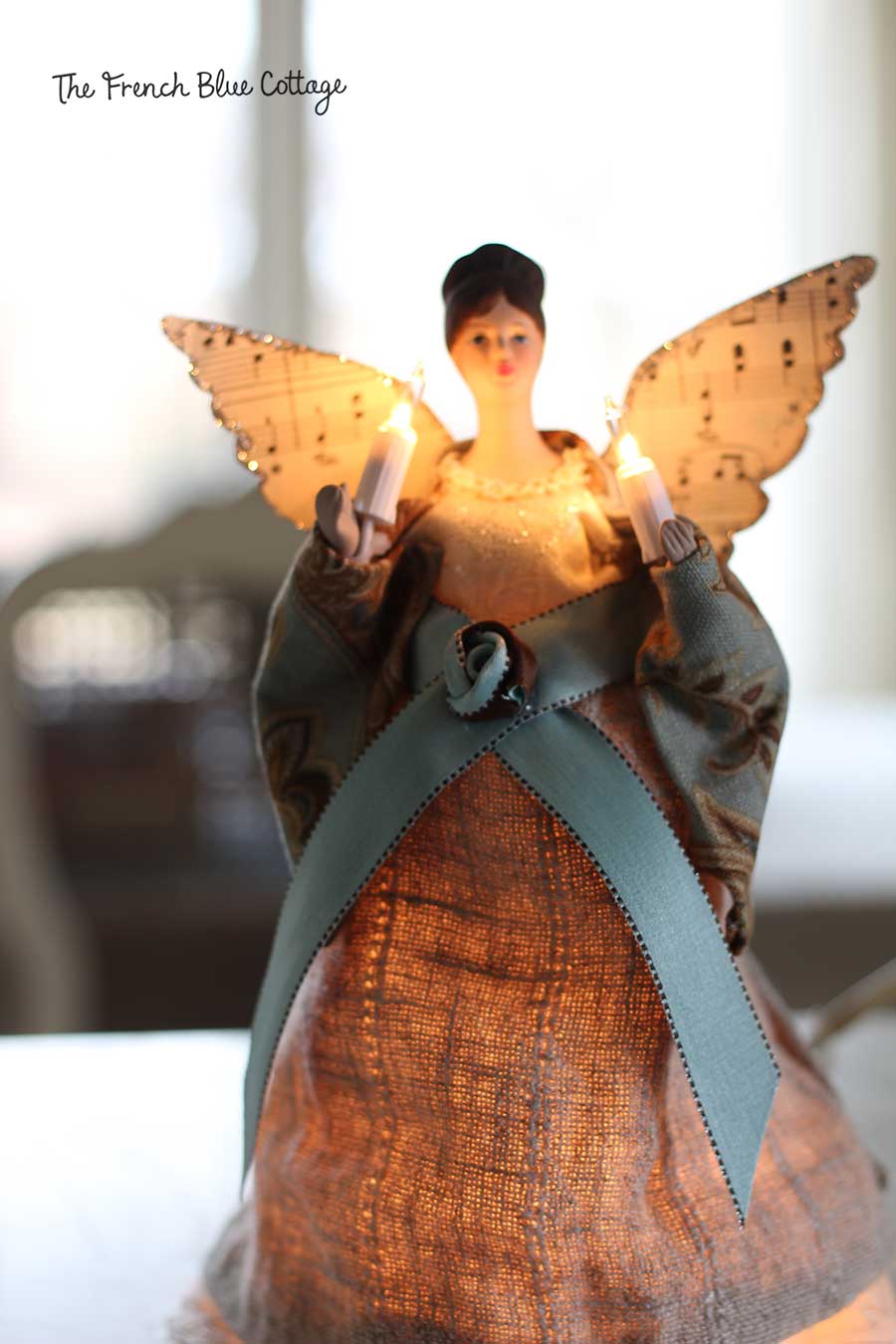 And because everybody loves a good "before-and-after", here's the side by side of the angel makeover….
Not bad for an $8 Dollar General store purchase!
Plus, I used scraps of fabric and ribbon that I already owned, so there was no added cost for that.
And because I didn't want the first angel to be left out, here's the "after" of the one that sits on top of my tree…
She also started as a strawberry blonde and became a brunette. I used the same linen for her skirt, but kept her chiffon overlay on top.
Her wings (which are shaped differently) are made from toile scrapbook paper with the same glitter…
And remember, the Christmas tree angel makeover doesn't have to be perfect. After all, it sits way up on top of the tree…
If you'd like to see more of my Christmas decorations, part one of my Christmas home tour is here, part two is here, and part three is here.
One last idea: some of you probably have a star on top of your tree, but this angel makeover could work for you, too. I recently heard of a tradition where you place a lighted tree angel out on the mantel, hearth, table, etc. and plug it in. She lights the way to the true meaning of Christmas, Jesus Christ. I love this idea and may use my smaller French country Christmas angel like this next year.