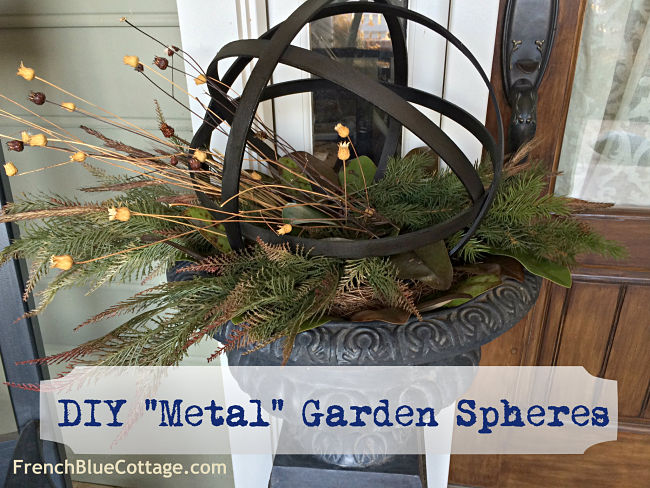 Have you seen those metal garden spheres?
They look like this….
I love the look of them, but not the price. So, I've been trying to find a metal that I could use to make them. It had to be thin and flexible. And not too expensive…otherwise, I might as well buy the real thing!
Problem was, I could't find any metal that would fit the bill.
Then, one day as I was leaving JoAnn's Fabric store, I passed by a display and did a double-take.
Embroidery hoops! And they were half off!
*Some affiliate links used in this post. See my full disclosure here.
These embroidery hoops are 14 inches in diameter. I purchased this size because I thought it would fit best in my front porch urns. If you plan to use a smaller or larger vessel, then I would suggest using that as your size guide.
I bought 8 of them at JoAnns's and just used the center hoop of each one. I'm sure if you are resourceful, you could figure out how to use the outside hoop, but I didn't feel like hassling with that one 🙂
If you prefer online shopping, I found some similar 14 inch embroidery hoops here. I could not find the listed width/thickness of this online version. The ones I bought at JoAnn's are 3/4 inch thick.
I painted them all with black spray paint and, once that dried, a very light mist of a metallic bronze.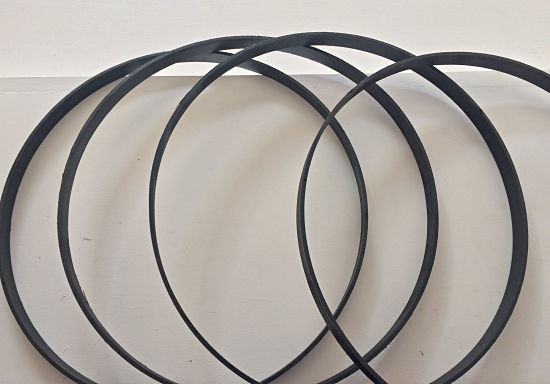 In hindsight, I could have painted them brown first and not black. They would have looked more like rusty metal that way. Oh, well.
Then, simply put one hoop inside the other….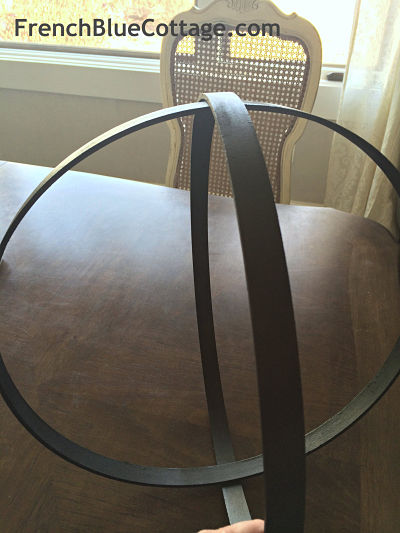 And add another….
And a final hoop going around the opposite direction….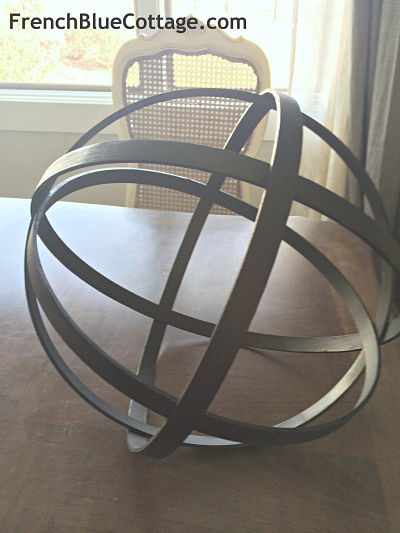 You could attach them, but I love that they stay together on their own and will store flat when I'm not using them. Plus I can take them apart to add larger decorations to the center if I'd like. How convenient is that?
I put the spheres on my porch in the urns that flank my front door.
It's still pretty cold here and I wanted to give them a "wintery" look, so I used mostly evergreens and some dried magnolia leaves and made an asymmetrical arrangement…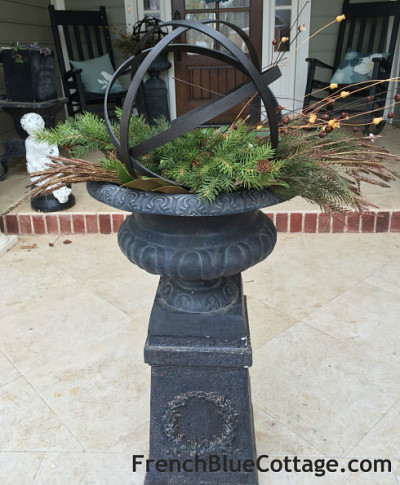 I started with a layer of moss…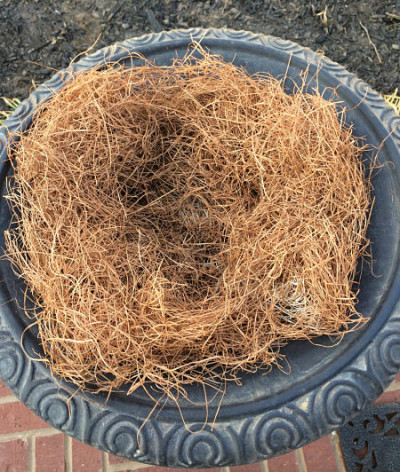 Then I put each sphere in an urn and began layering. I used some faux greenery….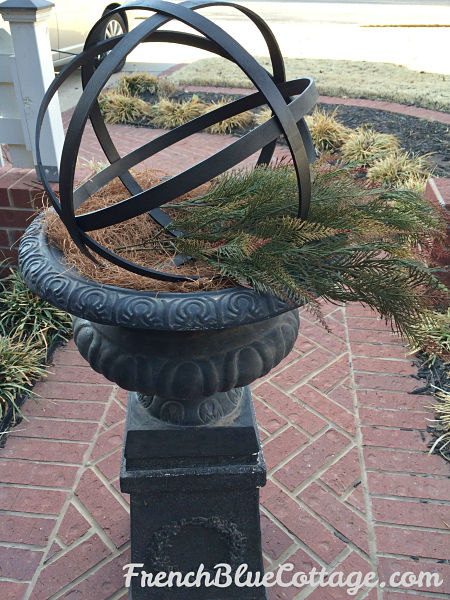 And added a little more faux greenery with little pinecones….
Next, I bundled some dried wheat….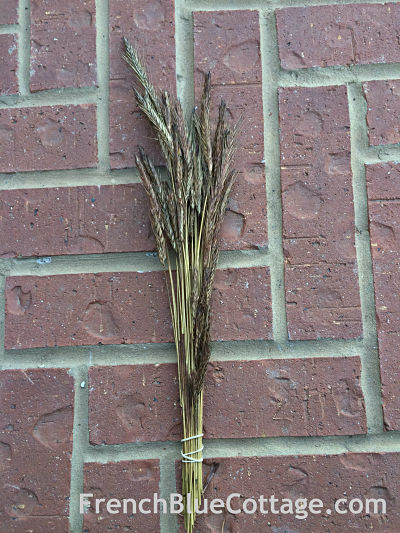 And added the wheat to the spheres plus some little dried…well, I don't know what they are….twiggy flower things?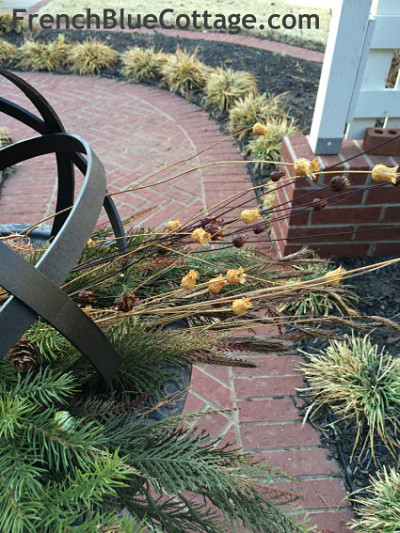 Finally, I put a layer of dried magnolia leaves around the edges, plus some in the center to cover up the faux stems…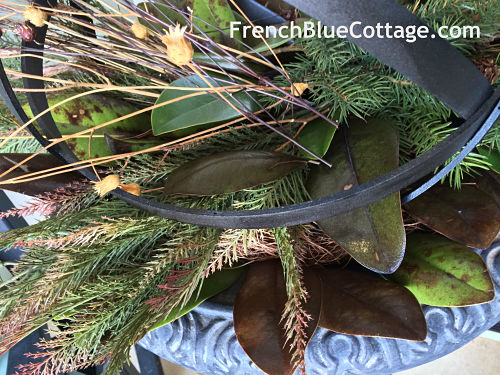 Mine are under a covered porch, but if you want to put them out in the elements, you probably need to get the real metal ones.
FYI: In the picture below, the spheres look a little squashed. Must have been a weird camera angle, because they look perfectly round in real life!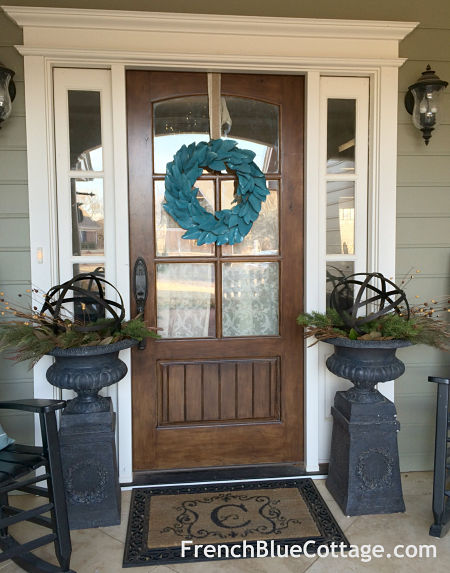 You can click here to see how I made the lacquered magnolia wreath.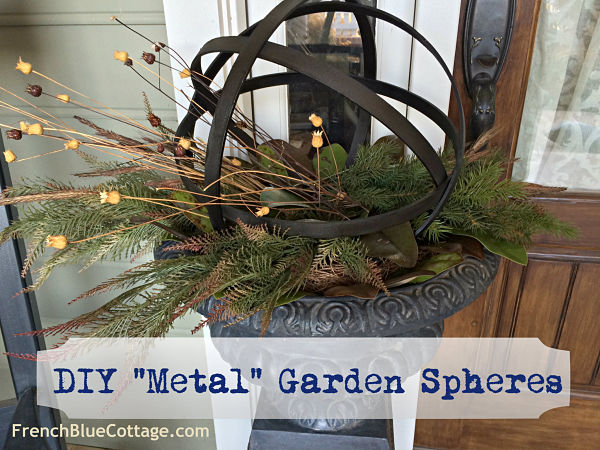 All in all, I'm quite happy with how my garden spheres turned out.
It was a fun and easy project that cost a whole lot less than buying the real thing.
And that's always a good thing!

Sharing at: