So, what are some elements of  interior architecture that really look French country?
1. Beams – Whether rustic or smooth, ceiling beams definitely add French charm.
This lovely kitchen has a center beam and trusses….
2. Arches – Curvature is such an important element in French design. You will often see arches in windows…..
source unknown
And archways leading from one room to another.
We added this arch to our entryway….
3. Thick mouldings – I am a big believer in putting money into mouldings and trims because it has such an impact and adds value to a home.
4. Fireplace mantels with some curves –
These limestone fireplaces are seen a lot in French country rooms and they often have a graceful curve to the "legs" or pillars of the surround….
source unknown
When we remodeled, a limestone fireplace just wasn't in the budget. But I designed ours with the look of a French mantel in mind.
Here is a close up of the corbel that we used to give the mantel some curve…..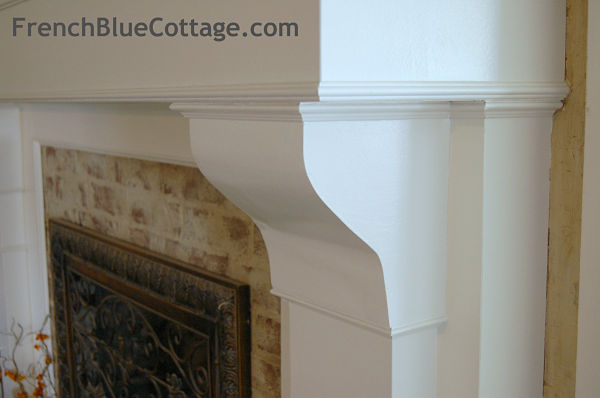 and here's the whole fireplace and mantel…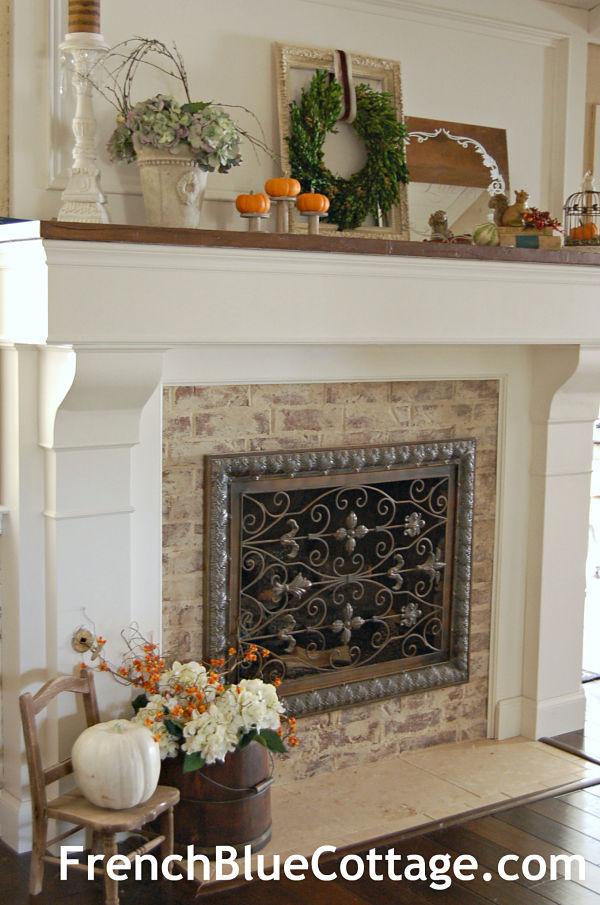 I painted it a creamy white, but it may someday get a faux limestone finish.
5. Planked walls and ceilings – Planked walls and ceilings can lend a French country or cottage look to a room….
source unknown
By the way, you can run the wall planks either vertically or horizontally.
We added these planks to our living room ceiling….
6. Panels – Wood panels or even the illusion of wood panels through the use of trims and chair rails make such a difference. They can make a room feel taller or wider.
These aren't your parents' 1970's panels, are they!
I love how they chose to paint these panels in a beautiful French blue-gray. It looks more interesting to me than the usual white.
7. Other ceiling details – While cathedral or vaulted ceilings seem to be about the most popular French country look, coffered ceilings are beautiful as well….
To add some of these interior architectural details would take major remodeling. But some, like thicker mouldings, planked walls/ceilings, and panels could be added with some carpentry skills. Every bit of architectural detail that you can add just enhances the way a room feels like no other home decor can.
See you tomorrow!