I don't know if this style has a real name, but I like to call it Paris Chic.
Parisian Glam would work, too.
This is a style that seems to reflect life in the city. It looks like it would be right at home in a slightly more modern, Paris apartment.
Paris Chic would be more clean-lined while still keeping the architectural interest, the soft muted colors, and some of the curvature of traditional French style.
This room looks very chic with its silk headboard and drapes and with the mirrored night stands. The crystal chandelier and the paneled gray walls give it its French flair.
Transitional Bedroom by Greenville Interior Designers & Decorators Linda McDougald Design | Postcard from Paris Home
I love how the old parquet floors and the aged plaster walls in this bedroom mix with the tufted headboard and the gilt bedside tables.
This room looks so fresh and light and très chic!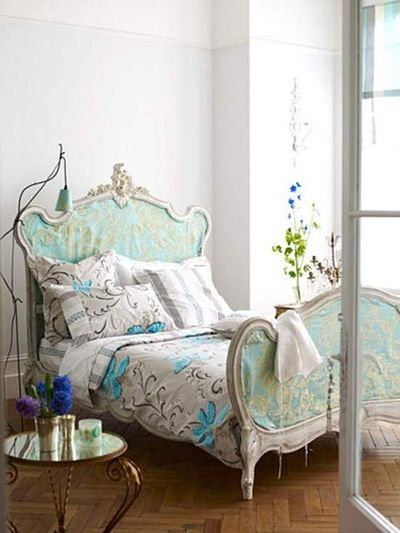 And what a glamorous French-style bathroom!
I looked around my home for signs of Paris Chic, and I must confess, there were only a couple.
This is my headboard. I bought it (from Craigslist, of course!) and painted it and added these padded panels that are covered in a linen and velvet damask. 
I also have these two sconces in the dining room. They are called Abilene by Savoy House and were originally in a vintage brass finish. I didn't want brass in this room, so naturally, I took them right out of the box and painted them!
Paris Chic style is a little fancier and more formal than my usual look. But mixing it up now and then makes all rooms a little more interesting, don't you think?
So, I'm going to be on the lookout for a gilt mirror or side table for the master bedroom or bath.
I hope you'll be back tomorrow for a little more French country. After that, I plan to write about some specific elements of French-Inspired Design.