I love home decor magazines and catalogs. It's an "I-can't-pass-them-up and I-read-them-cover-to-cover" kind of love 🙂
As much as I enjoy reading blogs and perusing through Pinterest, there's just something about beautiful photos that are printed on actual paper.
Anyway, I received a Grandin Road catalog in the mail and spied some candle rings covered in faux greenery. They have some with flowers, too, but the green ones were my favorite.
And (of course) I thought, "I can make something like that!"
*Some affiliate links used below. See full disclosure here.
So, here's how I made the candle rings that I talked about last week when I did the aged paint treatment for my candlesticks.
How to make candle rings:
First, I took some green floral stem wires (similar to these) and formed them into a circle that would fit on top of my candlestick. I used two wires per candle ring and shaped them so that they fit along the outside edge of the candlestick.
Then I gathered up a bunch of different kinds of faux greenery. I already had most of it on hand from projects in the past.
 I did buy these three specifically for this project. They were purchased at Michael's.
First, I chose one type of greenery and used wire cutters to snip off a section. I wound it around my wire form and used smaller gauge floral wire (like this) to attach it in a couple of places, being sure to leave some of the sprigs free….
Then I chose another type and added it in the same way….
Then I attached some fern fronds with hot glue…..
Next, I set the candle ring on the candlestick and looked at it more closely. There were a few spots where I could see the plastic parts where the greenery was attached to the stems.
These aren't too pretty…..
So, I hot glued some leaves to cover those areas….
I also filled in some bare spots and added some longer strands.
Then……..I completed this process 4 more times to make my five candle rings!
Here are all of them on my dining room table….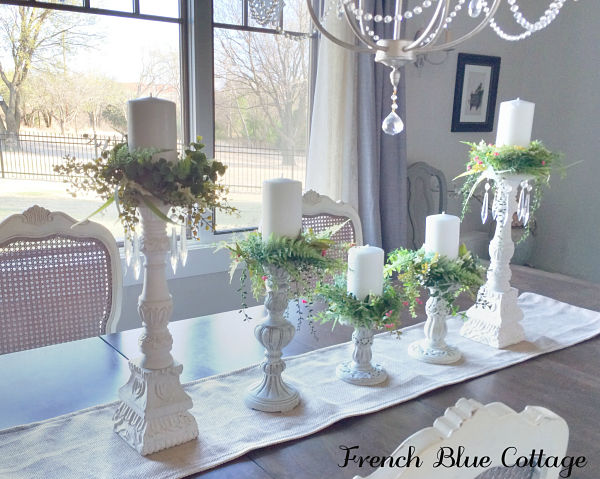 I took them outside to get a better picture of their true color…..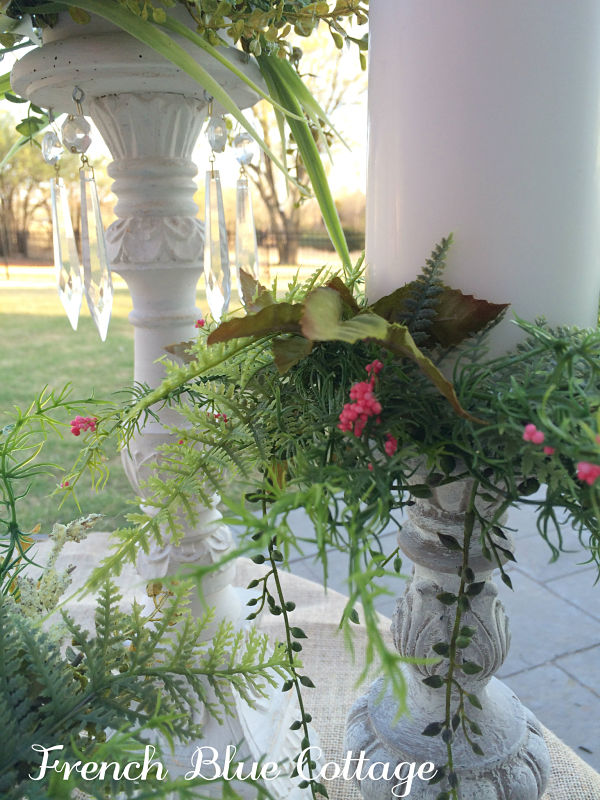 Have a great weekend!