Let's make sure that winter doesn't get the short end of the home décor stick by trying some more winter decorating ideas. The other day I shared three ways to transition from Christmas to winter decorating.
Today, I have five more easy ideas for winter decorating that you can implement in your home:
*Affiliate links used below. Click here for my full disclosure.
Don't you think that one of the most magical parts of Christmas décor is all the twinkly lights? Well, I think we should have some little lights to "keep the cozy" in the house all winter long.
1. Keep twinkly lights in the house all winter.
Earlier this week, I showed the wooden bucket that sits next to my fireplace. Right now it's filled with birch branches, faux evergreens, and a strand of regular Christmas lights.
You can also use those tiny battery-operated lights on wire strands; they're often called fairy lights. I found a set of three fairy light strands at Michael's and the best thing is that they have a remote control! How cool is that?
Your local store may not have this set, but I found another amazing deal with four strands of fairy lights here.
Here's a strand of the lights in a large jar…
I used another set in the jar on my entry table…
Of course, good old candle light is great in winter, too!
2. Choose a color scheme (I think cool colors or jewel tones look especially nice in winter) and/or choose a pattern to wind through some of your vignettes.
For the color scheme, I decided to use blue and white (no surprise there!), with some ivory, green, and natural wood tones. I used these colors in my mantel décor…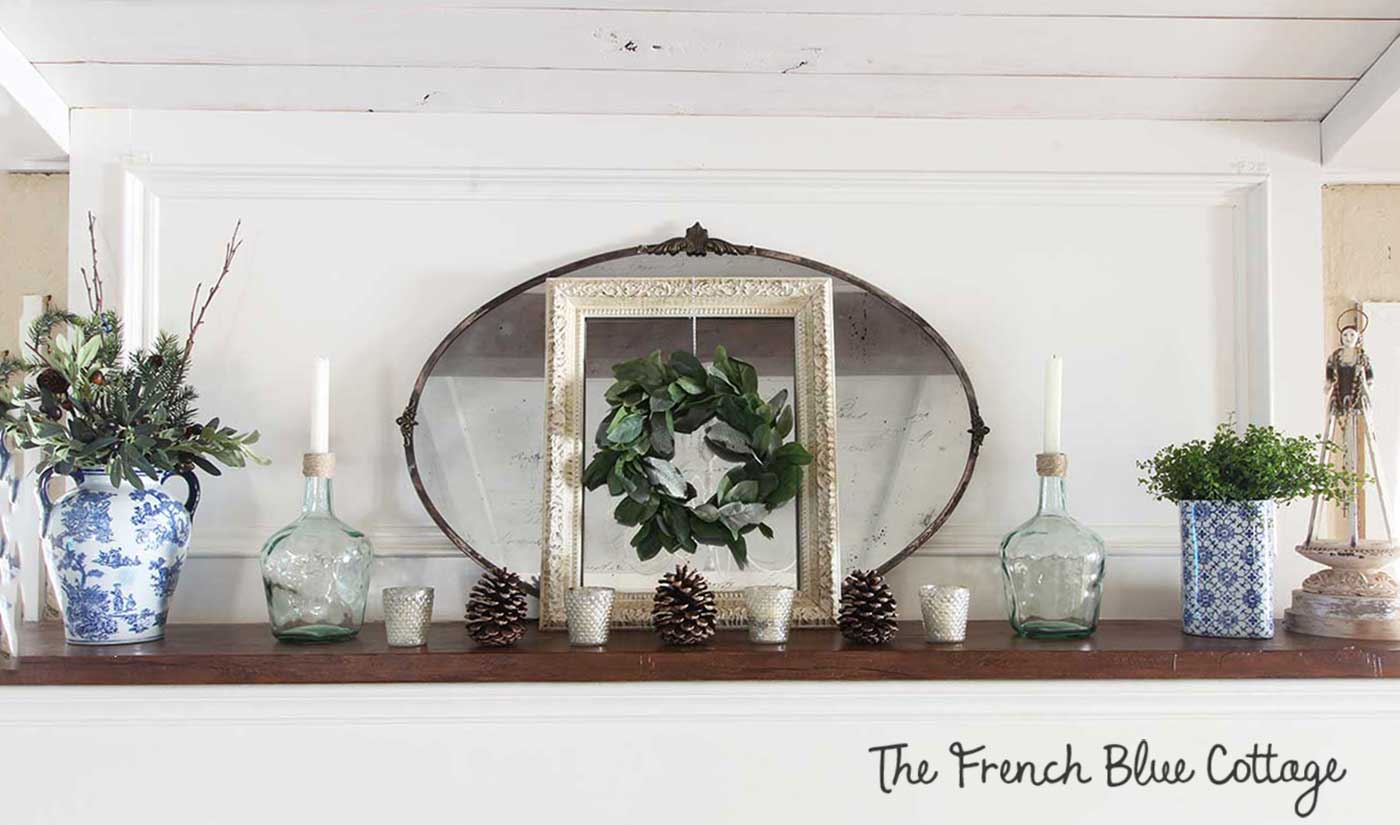 For the pattern, I chose a navy and ivory gingham.
I bought a yard of fabric at JoAnn's and cut lengths of it to make some bows and ties. I used it as a little scarf on this goose…
You'll also see this same fabric in the picture below and on my front porch. (The front porch photos are coming up later this week).
3. Use what you have and just add something woodsy or natural to it.
I have a basket hanging in my entryway. I just took the flowers out of it and replaced it with faux greens…
Here, I added a birch slice underneath an ironstone pitcher that I filled with faux greenery…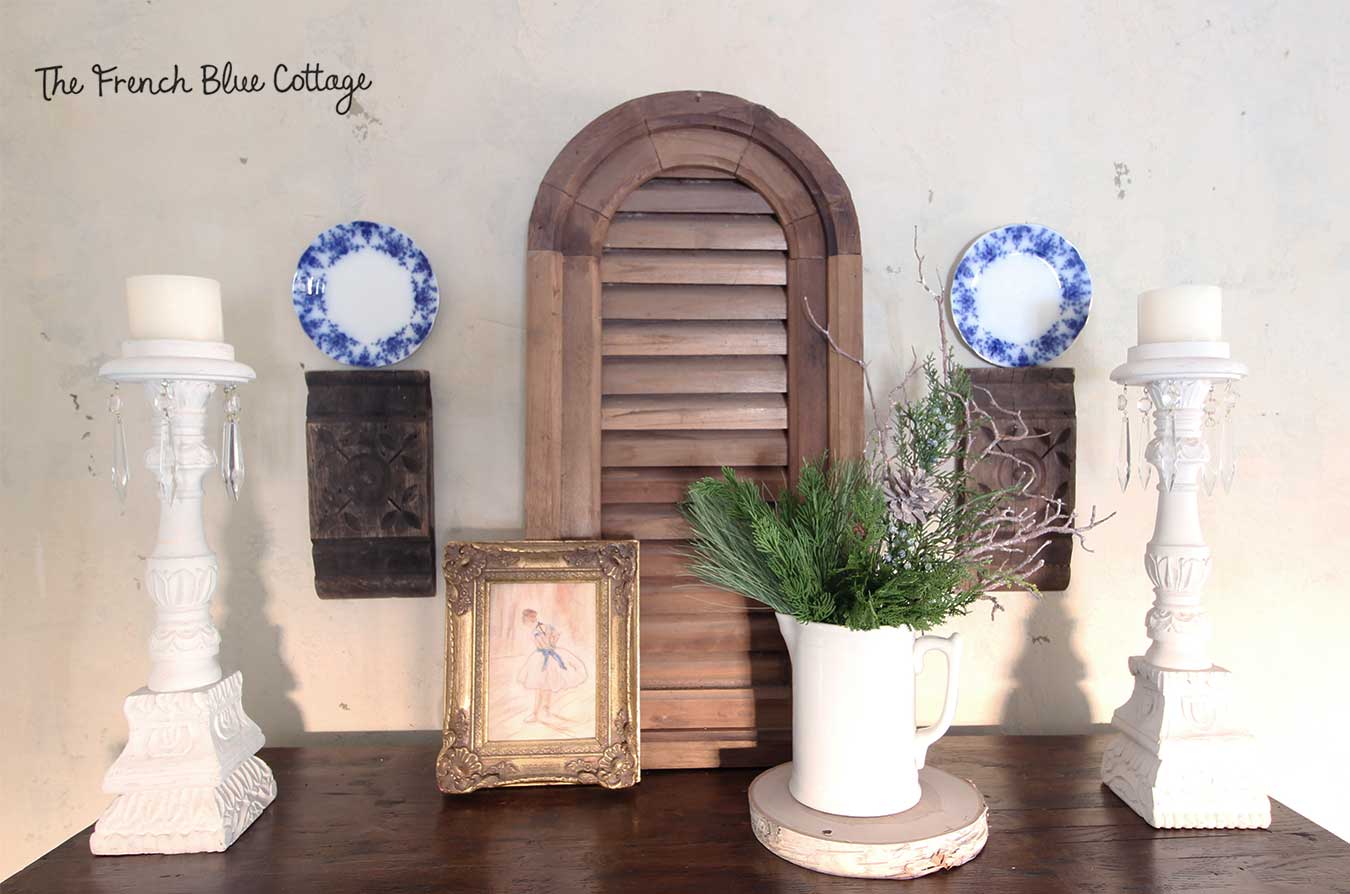 4. Add in more texture.
I made a few yarn balls with styrofoam and added them to the blue and white ceramic balls in a rustic wooden bowl. Birch candle holders from Hobby Lobby round out a simple, textural vignette…
5. Up the coziness factor.
This is the simplest of the ideas and is usually a given since we all get extra throw blankets out in winter, but consider using them in your décor by draping them over chairs like this….
I bought this blanket on clearance at Dillard's the other day. It's velvet on one side and linen on the other and has a very sweet double layered ruffle. It's made by Southern Living.
Or stack up blankets and quilts like this…
I even added a furry pillow to the top of this stack for extra coziness:)
Alrighty then; just to recap today's winter decorating ideas:
1. Keep some twinkly lights and candles.
2. Choose a simple wintery color scheme and/or pattern.
3. Add something woodsy or natural to your usual décor.
4. Add in more texture.
5. Up the coziness with draped or stacked blanket and quilts.
Have a great rest of your week and happy winter decorating!